Here's How You Can Watch the Original 'Ghostbusters' on the Big Screen
In celebration of this year's Ghostbusters Day (which is indeed a thing), Sony Pictures is re-releasing the original Ghostbusters film on the big screen on Wednesday, at select drive-ins and movie theaters. And not only will fans get to remember why "bustin' makes me feel good," as Ray Parker Jr. puts it in the movie's iconic theme song—they'll also get "a special message."
It's not clear what exactly that "special message" entails, but it should be noted that, according to the Lyric Cinema in Texas, the Ghostbusters re-release will feature bonus content from Ghostbusters: Afterlife, the next film in the franchise and the direct follow-up to 1989's (underrated!) Ghostbusters II.
Fans can head over to the official Ghostbusters website to find a list of participating theaters and drive-ins across the country. Ticket prices may vary depending on the venue, but a few extra dollars shouldn't be too much to ask of fans of the classic '80s supernatural-comedy—especially if there's a chance they'll get a sneak preview of Afterlife, which isn't arriving in theaters until March 2021.
Afterlife was originally scheduled to be released on July 10, 2020, but was delayed because of the ongoing coronavirus pandemic, which has brought Hollywood—along with pretty much every other facet of American life—to a standstill. Ghostbusters Day, meanwhile, usually takes place on June 8, the same date that the original film debuted in theaters, back in 1984. But because of the recent civil unrest and protests against police brutality and systemic racism that have followed the death of George Floyd, the annual fan holiday was postponed.
On June 26, the official Ghostbusters Twitter account announced that Ghostbusters Day would be observed on July 1, with the first movie's limited re-release beginning that day.
In the original Ghostbusters, Peter Venkman (Bill Murray), Ray Stantz (Dan Aykroyd) and Egon Spengler (Harold Ramis) are a group of parapsychologists who open up a paranormal-exterminator business. They're eventually joined by Winston Zeddemore (Ernie Hudson) and have to save New York City from an evil supernatural entity named Gozer.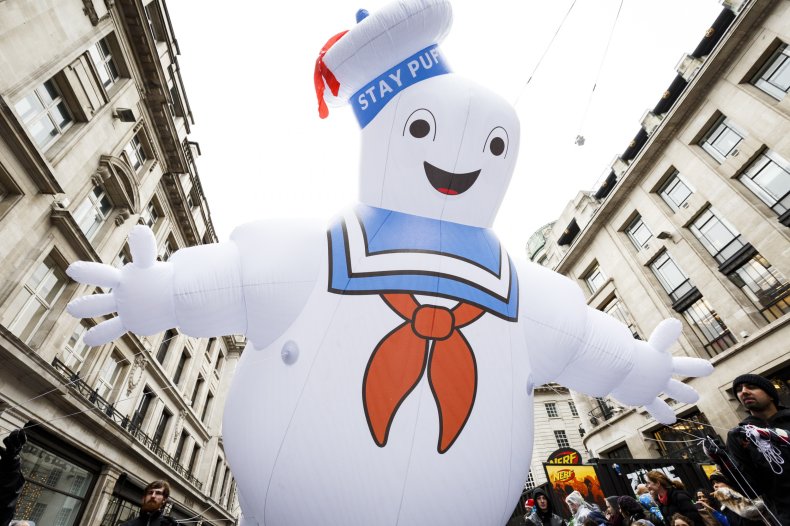 Actor and comedian Josh Gad recently brought the original cast back together for his "Reunited Apart" series. The tongue-in-cheek tribute featured Murray, Aykroyd and Hudson, as well as Sigourney Weaver (who played Murray's onscreen love interest, Dana Barrett), Annie Potts (who played the Ghostbusters' receptionist, Janine Melnitz), and Ghostbusters director Ivan Reitman. The virtual reunion was also a fundraiser for the Equal Justice Initiative, with Barefoot Wine donating more than $100,000 to the non-profit organization.
Fans can also count on those five cast members showing up in Ghostbusters: Afterlife. The upcoming film—which is directed by Reitman's son, filmmaker Jason Reitman—follows the grandchildren of the late Harold Ramis' character, Egon Spengler.