So many aspects of everyday life have changed over the past year. From education, to work, to even how we eat. Now, with the holiday season in full swing, some of those changes are amplified as a time usually based around togetherness has to be carried out from afar.
Usually, around this time of year, children flock to their local malls to meet Santa and offer up their last-minute Christmas wishes. Given social-distancing protocols in most states, such an event will be non-existent this year. In fact, one visit from Santa in a nursing home in Belgium was said to have resulted in 75 cases of COVID-19 earlier this month, Newsweek previously reported.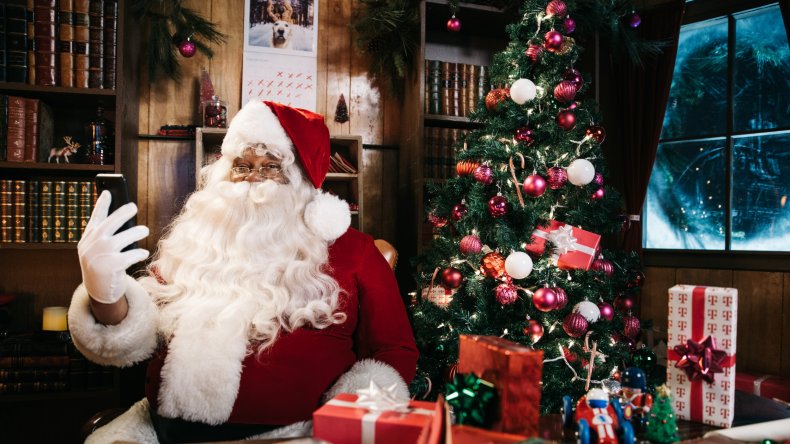 In November, Dr. Anthony Fauci announced that the big man in red is immune to the virus and will be able to carry out his duties as planned. But, that does not mean proper precautions should not be taken. Just like everyone else, Santa has adapted.
Rather than in-person visits to malls and department stores, just like so many of us, Santa has embraced Zoom. Through Cherry Hill Program's "Create Holiday Magic" families can sign up for a one on one facetime with Santa. There are multiple packages ranging in prices that include gift boxes and photos with your pup. Sessions can be booked through Christmas Eve.
T-Mobile is offering its own virtual Santa experience— for free. Each day at 12 p.m., people can register for slots to meet with Santa on a first-come, first-served basis. Families can schedule time with a Santa who is proficient in ASL, Spanish, as well as a Santa who is Black. T- Mobile will then send a recording of the call back to participants to revisit later on.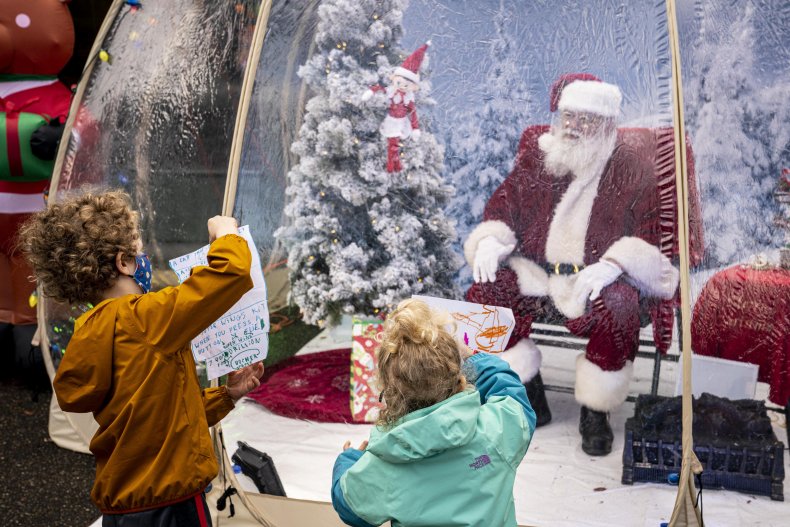 Some Santas have thought outside the box—or rather inside the snow-globe— with experiences that have gone beyond the screen while maintaining social distancing. Dan Kemmis, or Seattle Santa as he is known during this time of the year, set up shop a bit differently this year. Kemmis typically puts on a Christmas Eve walk and hands out gifts to the homeless community in downtown Seattle, The Seattle Times reported. Though this year he has set up a plastic dome, resembling a snow-globe, where he sits inside decked out in his Santa gear and poses for photos with visitors. He will send the proceeds from his snow-globe Santa display to help families with housing and the food bank, according to The Seattle Times.
Another way for children to connect with Santa from afar is through tried and true letters to The North Pole. Each year, the United States Postal Service offers "Operation Santa" where the post office posts some of the letters to Santa they receive online allowing good samaritans to answer the requests. Time is running out to help Santa out this year, gifts must be brought to the post office by December 19—so get wrapping.