A 30-year-old Nigerian woman who had been in the United States for five years on a work visa had to stop working when she was only eight weeks pregnant due to doctor's orders for bedrest. She had experienced five miscarriages already, and due to this high-risk pregnancy, she had to quit her job, despite being the primary income earner in her household. Even with her husband's income as a junior-level electrical engineer, it was difficult to make ends meet. After much deliberation, the couple decided for the first time since arriving in the U.S. to apply for food stamps to help feed their family. About seven months later, she gave birth to a healthy baby girl and came off food stamps when she returned to work two months later.
The woman in this story is my mother. I asked her what she would have done if the Trump administration's new "public charge" rule had been in effect when she was pregnant with me. She said without question that she would have foregone the food stamps. The desire to get her green card and the potential opportunities with it were too important to put in jeopardy.
As a pediatrician for over 15 years, I've witnessed a similar drive among the loving immigrant parents of my patients. And as a researcher who has created programs that connect families to social services and improve child health, I felt the news this week of the public charge rule like a punch to the gut.
I understand the impact. I have seen parents choose to remove their children from programs that keep them housed and fed. As a result of this rule, we can expect serious health consequences for our communities and our country.
The public charge rule allows officials to use a limited set of factors to determine whether a legal immigrant applying for a green card is likely to depend on government programs in the future. Under this proposed change, the use of government assistance like Medicaid, public housing programs and food stamps, known as SNAP, would weigh negatively against an immigrant coming to our country.
One out of every four children in the U.S. lives in an immigrant family. Nine out of 10 are U.S. citizens, 20 percent living in poverty. By 2050, one out of every three children will have at least one immigrant parent. While many argue that this rule only affects a small proportion of immigrants, the effects are already much more widespread. Not only are the proposed changes deepening fear of institutions and systems, but there is evidence that rampant misinformation throughout immigrant communities is causing those who should be unaffected to remove themselves from these programs, especially families with kids.
Most recently, I saw two parents disenroll from federal support programs out of fear. One, a Yemeni refugee mother who is too scared to keep her 9-year-old U.S. citizen daughter on Medicaid, and the other, a 23-year-old legal permanent resident from Ecuador who is reluctant to keep her 4-year-old daughter enrolled in the Women, Infants and Children (WIC) program. Neither of these families are affected by the proposed rule, but they illustrate the desired "chilling" effect at the root of the Trump administration's policy.
The health effects of these changes will be catastrophic. Research shows that clinical care accounts for just 20 percent of health outcomes, while the rest is impacted by our social environments and households. The use of food stamps has a direct correlation with decreased food insecurity, decreased rates of anemia and obesity, improved growth and cognitive development, and better early academic performance among children. Similarly, Medicaid coverage is linked to increased likelihood of continuous, regular preventive care, reductions in emergency room visits and preventable hospitalizations. The bottom line is that access to these support programs make people in our communities healthier, and as a result, we are all healthier.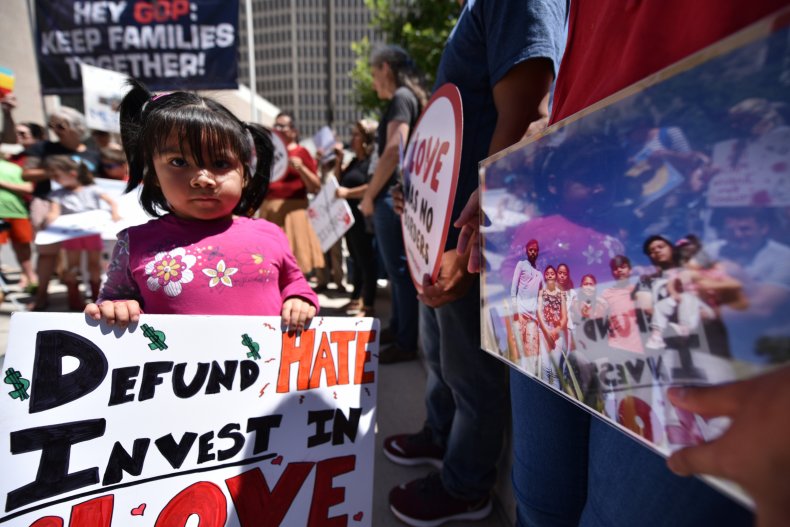 In 2016, my team and I, at Cohen Children's Medical Center–Northwell Health, started a program that provides families with legal and social service resources to address unmet social needs in clinical settings. By screening all children coming for a well visit for these needs, we've identified families with housing problems, food insecurity or lack of health insurance, and connected them to resources. More than 2,000 families later, we have seen immigrant parents have their needs met, which leads to healthier children.
Restricting access to basic needs threatens children and the overall health of this country. We must stand up to ensure the millions who could be intimidated to disenroll from programs don't. Many families have a trusted relationship with their health care providers, which is why physicians like me must partner with communities to ensure immigrant families use programs they are entitled to. And community leaders must be proactive in talking about public charge so that families know their rights.
This new rule is designed to oppress communities through racism and xenophobia. We must remember when one group is attacked, we all are at risk, and we must unite in support of the families who are threatened to ensure they can get the care they need.
Omolara Thomas Uwemedimo, M.D., is associate professor of pediatrics at Donald and Barbara Zucker School of Medicine at Hofstra/Northwell. She is the founding director of GLOhBAL at Cohen Children's Medical Center–Northwell Health, an inter-professional, clinical and research training in global and immigrant health to fellows, residents, medical students and public health students.
The views expressed in this article are the writer's own.