Here's Scientific Proof That Trump's Hands Are too Small To Hold A Water Bottle Like A Normal Adult
Update | A representative for FIJI Water replied to Newsweek with the following comment: "On the record…Well, just goes to show FIJI Water is perfect for any party!"
Original story below:
On Wednesday, President Donald Trump was giving a televised speech at the White House to recap his recent Asia tour. At about 3:30 p.m. EST, he began to wheeze and looked around for water, announcing that he didn't have any. Multiple journalists pointed out a Fiji water bottle to his right. Trump then picked the bottle up and, using both hands, drank from it.
Let us begin.
The bottle Trump was provided was a plastic Fiji Water-brand bottle. According to Fiji Water's website, its water bottles are available in four sizes:
330 mL: Our smallest bottle size, the FIJI Water 330 mL ships in a 36-count case. The Lil' FIJI is a perfect size for kids, it also fits easily in a purse or a car cup holder for on-the-go use. A great size for entertaining and events, it can also be a thoughtful treat for business clients and customers.

500 mL: Our most popular bottle size, the FIJI Water 500 mL ships in a 24-count case. Large enough to quench your thirst, yet completely portable, the 500 mL is the perfect serving size for adults. The FIJI Water 500 mL is also the ideal bottled water size to stock the office and conference rooms.

1 Liter: The FIJI Water 1 Liter bottle ships in a 12-count case. The 1 Liter is a reliable thirst-quencher that is well-suited for active lifestyles and greater hydration needs. Also a must-have item for the well-stocked family refrigerator.

1.5 Liter: Our largest-size and best value, the FIJI Water 1.5 Liter ships in a 12-count case. For those serious about hydration the 1.5 Liter is just the right size. This large size is also great for meals and group gatherings.
The bottle Trump used appeared to be the 500 mL. As of press time, Fiji Water had not responded to a request for comment as to whether its 500 mL bottle was designed to be grasped with one normal-sized adult hand or two. However, we can reasonably infer from the phrases "completely portable" and "the perfect serving size for adults" that this bottle was intended to fit comfortably in a single, normal-sized hand of an adult with normal-sized hands.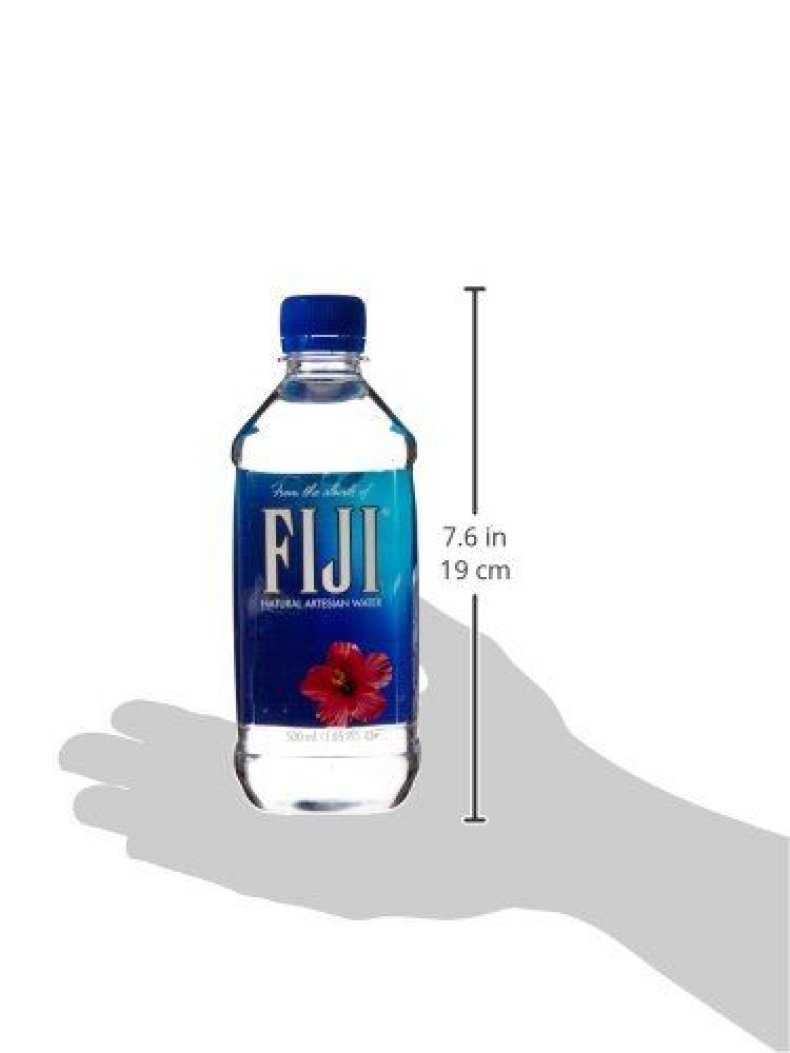 The average male hand measures 7.4 inches from wrist to fingertip and 3.30 inches across the palm. If Trump's hands are not sufficiently large for him to easily grasp the 500 mL bottle with just one of them, then the logical fit would be the next size down: the Lil' FIJI.
According to the National Center for Biotechnology Information, the average child's middle finger is about 2.83 inches long, which would make the hand length roughly 5.66 inches. Fiji Water was not wrong to describe this option as a "great size for entertaining and events, [and] a thoughtful treat for business clients and customers."
Trump has notably mocked Florida Senator Marco Rubio for drinking water during a televised speech (Rubio has already responded to Wednesday's incident) and former Secretary of State Hillary Clinton for appearing to lack "stamina." Trump himself is known for gripping a lot of things unnecessarily, like stair railings, but Google the "Trump drinking water two hands video" and you can see that this is definitely a thing.
This article has been updated to include comment from a FIJI Water representative.