Under President Joe Biden's proposed $1.9 trillion coronavirus relief plan, most Americans would receive a third round of stimulus payments—this time a more generous $1,400 per person and perhaps as much as $5,600 for a family of four and $7,000 for a family of five. Given the sizable amounts involved, the challenge, if the measure passes, will be to make sure you use the money in a way that delivers the biggest boost to your family's financial security.
"The stimulus funds should be viewed as a way to lessen one's financial stress, not as a windfall," says financial planner Nick Hofer, president of Boston Family Advisors.
The emergency pandemic relief package, dubbed the American Rescue Plan, still faces significant hurdles on the path to becoming law. Several moderate Republican lawmakers have expressed reservations, suggesting it will be tough to get the 60 votes needed to pass in the Senate, given its current even split between GOP and Democratic members, though with some procedural maneuvering, a slim majority might be enough. Even if it does pass, the timing is unclear, as the upcoming impeachment trial of former President Donald Trump, along with confirmation hearings for various members of the Biden administration, could cause delays, prompting some observers to suggest it could be spring before Americans see any new stimulus money.
Still, Biden says he is committed to providing the additional aid, piling onto the $600 payments in the last stimulus package to "finish the job of getting a total of $2,000 in cash relief to people who need it the most."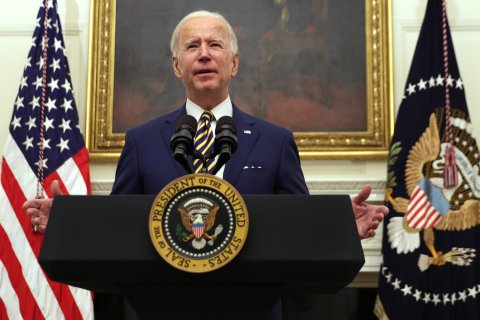 That would represent a huge one-time boon in income—bigger than either of the previous packages provided: In addition to the proposed $1,400 sum per individual, households would likely receive payments for each dependent, potentially including for the first time, adult dependents, such as those age 17 and older and college students, who were ineligible for funds in the two previous stimulus rounds. And that dependent bonus could be up to $1,400, rather than the $500 or $600 awarded in the two previous stimulus plans.
While qualifying details remain to be seen, if the bill follows the parameters of the previous payments, then individuals earning up to $75,000 and couples earning up to $150,000 in 2019 will receive the full amount. The checks diminish in size gradually for those earning more, topping out at $87,000 for single filers and $174,000 for joint filers, in the second stimulus round, and $99,000 for individuals and $198,000 for married couples, in the first stimulus round.
This means about nine in 10 Americans would likely qualify for some stimulus payment, according to the Federal Reserve Bank of New York—and the time to think about how to maximize the benefit to your family is now.
Hofer, the financial planner, suggests the process starts by zeroing in on the biggest stress points in your budget: "The first question to ask is, what is causing me the most anxiety? What is keeping me up at night?"
For many people, the answer, after such a financially rocky year, is likely not one thing, but several, from not having enough money tucked away for emergencies to past-due bills to high-interest credit card debt. Newsweek spoke with financial experts about how to prioritize competing money needs and ensure your stimulus check does the most good for your situation.
Take Care of Basics First
If cash is tight in your home and you're struggling to pay the bills for basic living expenses, there is no debate over where this stimulus check should go. Keeping the pantry stocked and a roof over your head always take top priority, so if you need to use this money to catch up on household bills for rent, utilities, or food, know you will be in good company.
The majority of the recipients of the $600 stimulus checks, sent out at the end of December and beginning of January, will be spending it on necessities too. Six in 10 Americans will use the money to immediately pay household bills, such as utilities, cable/internet, rent, mortgage and mobile phone bills. Another 11 percent intend to use the payment to feed their families, according to a survey from bill pay service doxo .
Those struggling should, if they have not already done so, reach out to their landlords, utility companies, car lenders and credit card issuers to see if there are any financial hardship assistance programs they can enroll in that will allow them to reduce or defer payments temporarily to avoid being penalized for partial or late payments.
"Worst case they tell you 'no,' but maybe you buy some time, or better, get an abatement," says Joshua Hargrove, a financial planner at Insight Wealth Partners in Plano, Texas.
Biden's plan also calls for extending the current eviction and foreclosure protections through September 30, which could provide some additional relief to those struggling with late rent or mortgage payments.
Or they could try accessing federal programs such as the Supplemental Nutrition Assistance Program, better known as SNAP, for food assistance, or the Low Income Home Energy Assistance Program (LIHEAP) for help with energy bills, or reaching out to charity groups such as Feeding America, a network of 200 food banks and 60,000 food pantries.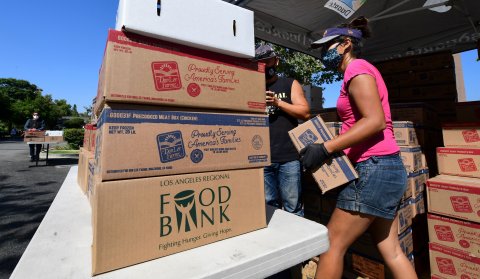 Stash It Away
After more than 10 months of living through a pandemic, most Americans have burned through the emergency savings they had in reserve coming into 2020. Back in September, three in five people already felt it unlikely their rainy day fund would last the remainder of the year or had already run out of savings, according to a survey by Clever. And 21 percent of Americans admitted to never even having emergency savings to begin with.
Overall, only 16 percent feel very comfortable with the amount they've squirreled away, according to a Bankrate survey conducted in summer.
If you won't need your stimulus check to keep current on your bills and do not already have between three and six months' worth of living expenses saved, financial experts recommend that you set aside this chunk of cash in an FDIC-insured high-yield savings account for a future rainy day. That's especially true if you are worried about the stability of your job or the looming end of extended unemployment benefits, which is now scheduled to happen in March.
A study conducted in June by the Federal Reserve Bank of New York found that recipients of the first stimulus check devoted the largest share of the money they got—36 percent, on average—to savings. When asked about how they would use a second stimulus payment, respondents indicated they'd increase the portion directed toward savings to 45 percent.
Those torn between rebuilding a dwindling or nonexistent savings balance and paying off credit card debt, should shore up their emergency reserve first, says financial planner Scott Hammel, of Atlas Wealth Advisors in Dallas.
"Incurring debt is never fun, but there are some things you can't pay with a credit card," Hammel says. "If you have to keep a revolving balance in the short term, accept it and move on."
Alternatively, you can shave off a portion of your stimulus payment and devote that to paying off high-interest debt while simultaneously building up your savings, as "both are equally important," according to Hofer.
Pay Off Debt
Echoing Hofer's feelings, many Americans seem to have split their first stimulus payments evenly between bulking up savings and paying down debt, as about 35 percent of each check went to repaying lenders—only one percentage point less than the share that went to savings, according to the Federal Reserve Bank of New York study. Respondents anticipated they'd spend about a third of the second stimulus payment this way as well.
It is a smart move considering even just a portion of this $1,400 stimulus payment could put a significant dent in the average $5,313 Americans owe on credit cards. And, with the average card rate at 16.28 percent, it will also drastically lower the total interest you'll pay as well.
For example, if you pay $200 a month on this average balance at the average interest rate, it will take you 34 months to clear the debt and cost you $1,320 in interest. But applying a one-time payment of $600 will shave off five months and $316 in interest. Using the full $1,400 check cuts the repayment timeline by nearly a year to just 23 months and $665 in total interest.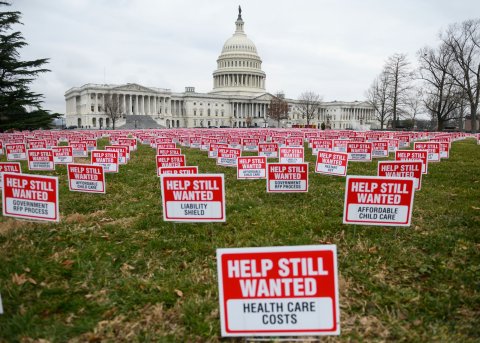 Putting your stimulus payment toward paying off debt could also provide a quick boost to your credit score, particularly if it is low. Credit Sesame ran simulations using data provided by more than one million of its members and found that 70 percent of those with credit scores between 300 and 500 could see at least a 21-point increase in their score within a month if they devoted the full $1,400 stimulus payment to their credit card debt. Applying a portion, say $600, provides a 19-point bump to 70 percent of this same group.
Those with better credit scores will see less of a benefit. Repaying $1,400 in debt will add only a four-point bump to 70 percent of those with scores in the 651 to 700 range and a zero- or one-point bump to those with scores above 700.
Invest in Your Future Self
When Newsweek, in partnership with LendingTree, surveyed Americans this summer about their greatest concerns following the financial fallout of the pandemic, the most common fear was being unable to retire on time "or possibly ever."
About 30 percent of Americans lowered the amount they set aside for retirement or stopped saving altogether in 2020 thanks to layoffs and economic uncertainty, according to a FinanceBuzz survey published in August. And almost a third tapped their retirement accounts, sometime in 2020, pulling out $6,757 on average, to cover expenses and job loss, a MagnifyMoney survey found.
If you're now on sounder financial footing and don't have high-interest debt, consider using the stimulus to bring your savings rate back up to where it was before Covid-19 or as a way to replace the funds you had to withdraw.
You can still contribute up to $6,000 (or $7,000 if age 50 or older), to a traditional IRA or Roth IRA until April 15 of this year and have it count on your 2020 tax. However, 401(k) and 403(b) contributions will count for the 2021 tax year.
Lend a Helping Hand
Have you current bills covered, little or no debt and ample savings? Consider helping others get on such enviable financial footing by donating all or a portion of your stimulus payment to non-profits providing pandemic relief to struggling families.
"If you haven't really been financially impacted by this pandemic, I urge you to consider helping others with these funds," says financial planner Michael H. Baker, co-owner of Vertex Capital Advisors in Fort Mill, S.C. "Find a family or two that could use groceries or help with some bills. Support your favorite local business."
In the first half of 2020 alone, more than $11.9 billion in global donations went to COVID-19 related causes, according to a report by the Center for Disaster Philanthropy and Candid. While that number exceeds philanthropic efforts for previous disasters, help is still needed. Only 5 percent of such fundraising was directed to persons and communities of color, despite being disproportionately affected by COVID-19, the CDP report found.
Charities across the nation are struggling as donations drop and demand for their services rise thanks to pandemic-fueled layoffs. Half of charities anticipate donation drops of at least 20 percent from May 2020 to May 2021, according to a survey by the Charities Aid Foundation of America. At the same time, Feeding America reports there has been a 60 percent increase in the number of people seeking assistance from its food banks and that an additional 8 billion meals will be needed through June 2021.
Maximize the impact of your giving by selecting nonprofits that apply 60 percent or more of each donation to its programs and services, rather than administrative or other costs, according to CharityWatch. Use websites like Charity Navigator, CharityWatch, or BBB Wise Giving Alliance to review the charities you're considering giving to and avoid potential scams or bad actors.
If you need help finding a worthy organization, Charity Navigator has compiled a list of well-reviewed nonprofits providing different forms of pandemic assistance from medical services to providing health supplies to helping communities deal with the stress of Covid-19.
Finally, if employed, check with HR, your company's employee handbook or workplace intranet, to see whether your company offers a donation matching program, allowing you to quickly double the impact of your gift.
Says Baker, "This is an amazing opportunity to care for each other as neighbors and Americans."