Here's What Happened at the First Drive-In Classical Concert Since Quarantine Began
On Saturday, July 11, the first classical concert series by a major arts organization was played front of a live audience in the United States since quarantine began. Mainly Mozart, a nonprofit based in San Diego, held the free show as a drive-in concert, with performances of octets by Mozart and Mendelssohn. The event took place in a dirt parking lot at the Del Mar Thoroughbred Club. The orchestra played two shows that afternoon—one at 3 p.m. and one at 6 p.m.
Despite minor technical setbacks, the San Diego Tribune reported that listening to "eight musicians happily collaborating and communing was a joy that transcended any small sound equipment difficulties."
Martin Chalifour, concertmaster of the Los Angeles Philharmonic (for the past 25 years), took to Reddit to tell all about the emotional and social-distance friendly experience.
Chalifour, who plays the violin, spoke about the ways the orchestra took precautions. He emphasized that string instruments is "safer." "We were a minimum of six feet with masks on—in rehearsal too (thanks to my friend Jerry Kohl's offer to use his shaded garden)."
"Vocals and wind players will typically need a transparent shield around them to protect others, or a huge distance," he added. String players also sit in the front row of an orchestra, so with masks on they have less of a chance of transmitting anything to the audience.
As for brass players, there were trashcans onstage in order to clean up any spit valve leavings, thus preventing the spread of possible coronavirus particles. More string instruments and less woodwinds/brass instruments are recommended in order to keep things safe at any live performances, with or without audiences.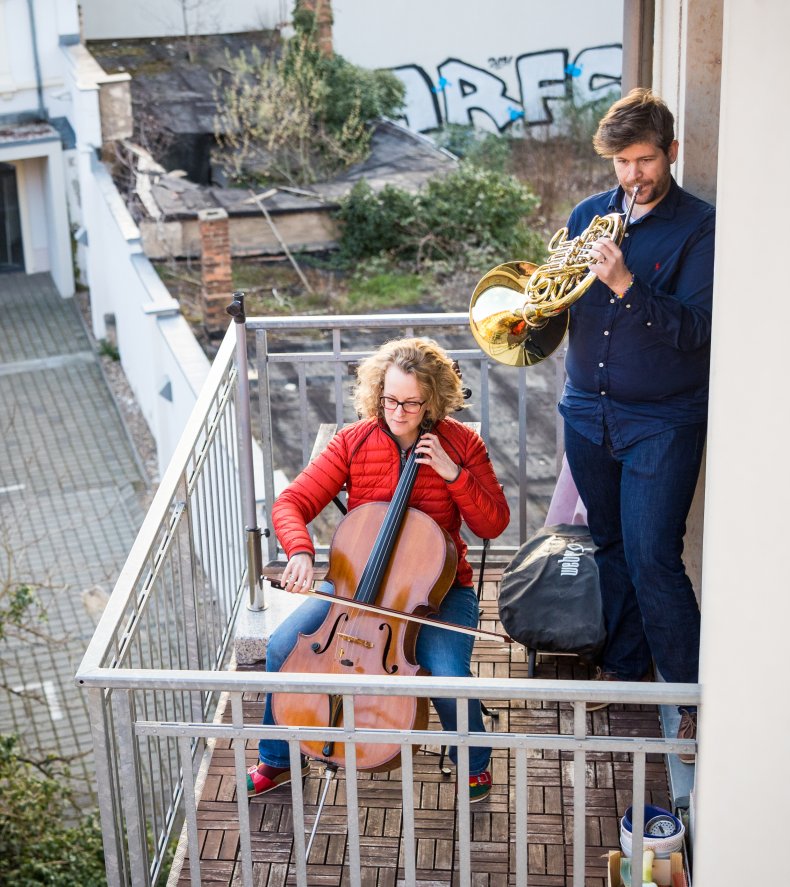 Rehearsal sessions for the concert also made sure that there was plenty of space between musicians, despite the acoustic challenge of practicing with distance. "So far it's been ok. Because we are outside where the sound is clean. But it's a bit softer volume in general so you have to really listen to others and concentrate" Chalifour shared.
"The real issue will come when we have to rehearse with a large group indoors, with the added distance. Some halls have too much reverb and will make that nearly impossible. 12 or 14 violinists playing the same line, but covering almost the length of tennis court? Good luck to us all," he quipped.
Everyone was very excited to get the band back together (pun intended) after the stressful experience. "We were glad to experience making music together, using our sense of timing and being able to play with spontaneity," Chalifour gushed.
He also said that the standing ovations they got at the drive-in concert, which was cars honking, had the same effect. "It's a little loud for some of us, but I don't mind at all," Chalifour admitted.
As for future concerts amid the pandemic, Chalifour is confident that pushing for more live events, as long as things can stay safe, should be done.
"Even this summer we've seen some organizations open their doors to a few donors while ensembles streamed a concert," he added. "A drive-in concert where everybody expresses their enthusiasm (with car horns and bright headlights) is much more exciting. It's about the shared experience between players and audience!"
The concertmaster also thinks that drive-in concerts will be the new normal until it's safe to perform for audiences indoors. "They're also so much fun I could see them making a big come back even when social distancing requirements loosen," he said.