Here's What John Krasinski Has Said About Selling 'Some Good News'
Some people are upset over Some Good News. After a massive bidding war, John Krasinski recently sold his low-budget quarantine YouTube show, Some Good News, to ViacomCBS. Now, the actor and director is getting a bit of backlash for selling his adorable and wholesome web-based show.
But during a Tuesday appearance on actor Rainn Wilson's Hey There, Human Instagram Live series, Krasinski explained that he never really had a long-term plan for the show, and wanted to do it in between other projects. "I knew it wouldn't be sustainable with my prior commitments," Krasinski said to his fellow Office alum.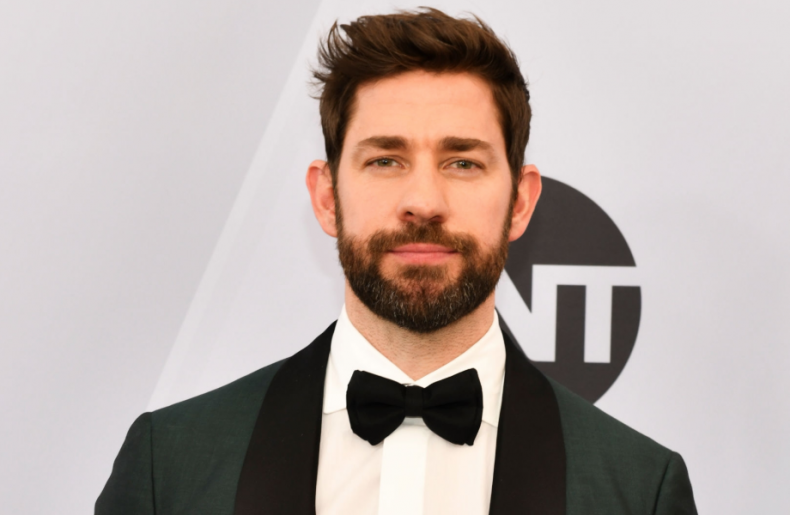 "It was one of those things where I was only planning on doing eight of them during quarantine, because I have these other things that I'm going to be having to do very soon, like Jack Ryan and all this other stuff," Krasinski continued. "More than that... writing, directing, and producing—all those things—with a couple of my friends was so much."
The 40-year-old also said that Some Good News was initially supposed to be a fun way to spread positivity—even though he knew it would have to come to an end at some point. "I would love to keep doing the show from my office forever," Krasinski explained. "It just wasn't sustainable." He faced a tough decision of whether to cap Some Good News at eight episodes, or find some other type of support system to continue the show.
That's how the project—which launched in late March amid the coronavirus pandemic—ended up at ViacomCBS. Krasinski won't be serving as a regular host for the CBS version of the show, but he said on Hey There, Human that he would still be sporadically involved. "In eight weeks [Some Good News] went from not existing to now being on one of these huge news networks," he said. "We have a lot of really fun stuff planned, and I can't wait to dig in. I'm going to be a part of it whenever I can, and I'm going to host a couple [episodes] and bring on a different community of people."
Krasinski continued, saying, "But we're really, really excited about it. I've received the most amazingly kind notes about how much that show meant to everyone, but the truth is, it meant no more to anyone than me. That's probably the most emotionally fulfilled I've ever felt in my entire life."
Not everyone has positive feelings about the show's jump to CBS, though. Some fans were initially upset when the news broke about Krasinski selling the YouTube series. They accused him of cashing out after creating a show whose goal was to spread good news.
A few industry sources revealed to The Hollywood Reporter that Krasinski originally resisted the urge to sell Some Good News, despite interest from many companies. He received a flood of offers after the first episode, and originally wanted to make the series free and accessible for all on YouTube. With the ViacomCBS deal, however, Some Good News can still reach a wide audience on TV.
Other fans were worried that Some Good News would be a part of CBS' exclusive streaming service, CBS AllAccess. Thankfully, Krasinski squashed those rumors. "Nope, not CBS AllAccess. That was indeed incorrect. Have a bunch of fun stuff planned with CBS network! SGN for everyone! See you soon!" he tweeted.
Since the show announced its new home, many fans have been tweeting at Krasinski, pitching their own ideas for feel-good news stories. Much-loved segments from the show's original run included a Hamilton performance, an Office reunion, cooking tips from Guy Fieri, as well as a star-studded virtual prom and graduation. A premiere date for ViacomCBS' Some Good News has yet to be announced.
Newsweek reached out to Krasinski for a comment, but did not receive one by time of publication.
Here's What John Krasinski Has Said About Selling 'Some Good News' | Culture