Here's What Most Americans Think Trump Should Do on Twitter
A lot of Americans want President Donald Trump to put his phone down and stop tweeting altogether, according to a new poll from YouGov released on Tuesday.
Asked by YouGov, "Should Donald Trump be posting messages on Twitter?" a majority of respondents said "no." Fifty-one percent responded no, while 32 percent said yes. Sixteen percent were not sure.
Perhaps predictably, there was a divide along party lines: Seventy-nine percent of Democrats thought Trump should give up Twitter, while just 23 percent of Republicans said the same. Meanwhile, nearly half—46 percent—of independents thought Trump should stop tweeting, while 32 percent thought he should continue posting.
The YouGov poll surveyed 1,000 U.S. adults from May 12 through May 14 through web-based interviews. It had a margin of error of plus or minus 3.8 percentage points.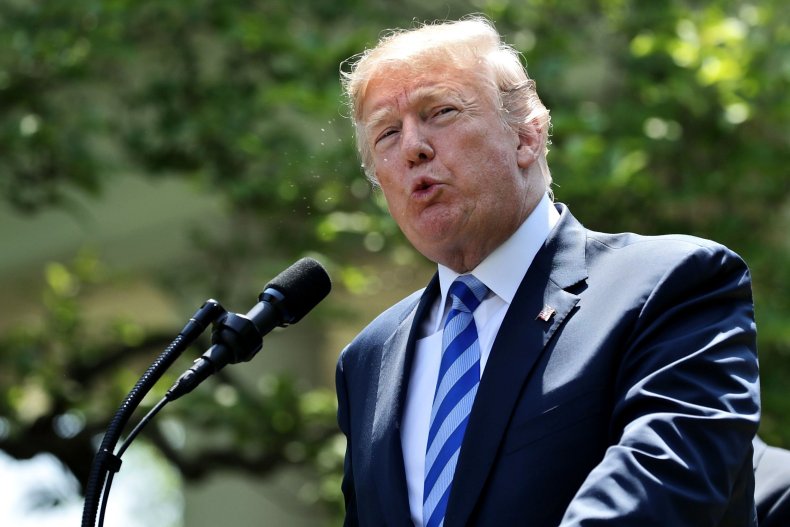 Trump, of course, tweets regularly and has seemingly shown little interest in reining in his posts.
"The FAKE [mainstream media] is working so hard trying to get me not to use Social Media. They hate that I can get the honest and unfiltered message out," he tweeted last year.
And indeed, reports have suggested White House aides have become used to either attempting to temper the president's posts—the unfiltered message—or distracting him from tweeting altogether. According to a report this week from New York Magazine, for instance, aides found getting the president to watch Fox & Friends in the morning helped quell Trump's temper, which, in turn, prevented him from lashing out in tweets that were sparked by other networks' coverage. That doesn't mean Trump has stopped tweeting out attacks, however.
Just Tuesday, he tweeted: "Can you believe that with all of the made up, unsourced stories I get from the Fake News Media, together with the $10,000,000 Russian Witch Hunt (there is no Collusion), I now have my best Poll Numbers in a year. Much of the Media may be corrupt, but the People truly get it!"
Trump's approval, on average, has risen a bit over the past few weeks, according to FiveThirtyEight's daily tracker, which averages public polls and weights for surveys' quality, recency, sample size and partisan lean. Still, the new poll from YouGov pegged Trump's approval rating at just 40 percent, which isn't Trump's worst popularity figure ever, but remains far from stellar.