Here's What Snap Polls Say About Who Won the Final Trump-Biden Debate
Early polls suggest good news for Democratic presidential nominee Joe Biden after his final debate with President Donald Trump on Thursday night.
Three snap polls, conducted immediately after the debate, showed that a majority of those who watched the debate believed that the performance of the former vice president was superior to that of Trump. A poll of Fox News viewers, shared online by the president's son Eric Trump, was in decided disagreement, with 74 percent picking the president over Biden's 24 percent.
A CNN/SSRS poll conducted among 585 registered voters who watched the debate found 53 percent believed Biden won, compared to 39 percent for Trump. Favorability ratings for both candidates were statistically unchanged before and after the debate. The poll has a 5.7 percent margin of error.
Early results of a poll from progressive pollster Data for Progress found that 52 percent of respondents believed Biden won, compared to 41 percent for Trump. Another 7 percent were undecided. The exact methodology of the poll was unclear, although it was not an open online poll and full results are expected to be released Friday.
A YouGov poll of 491 registered voters who watched the debate provided Biden with his biggest lead out of three that were not online surveys. Biden was declared the winner by 54 percent of respondents compared to 35 percent for Trump, with 9 percent believing the candidates tied. The poll has a 5.2 percent margin of error.
The president fared better in online polls, which experts have noted are far less reliable because they allow the supporters of a candidate to recruit like-minded others to participate and skew the results, while sometimes also allowing a single person to vote more than once.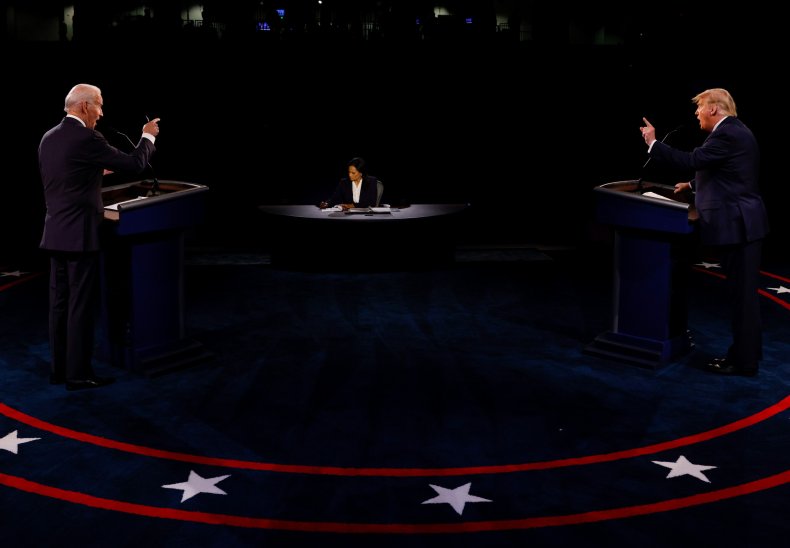 An online poll from NJ.Com that found Trump leading Biden by more than 10 percent was one of many favoring the president. Eric Trump shared screen captures of several other online polls that showed even bigger leads, including a Twitter poll from the conservative Hoover Institution finding that 87 percent believed Trump won compared to only 13 percent for Biden.
Polling in the aftermath of the first debate was similar, with most scientifically conducted polls favoring Biden and most open online polls favoring the president. Both campaigns claimed victory after each debate, with Trump and allies claiming that online polling results were evidence that he won.
While online polls are the least reliable type of poll in terms of reflecting true public opinion, scientifically conducted instant or snap polls also offer less than definitive evidence. Higher quality polls that are likely to be released in the days ahead should provide a clearer view of what voters thought of the candidates.
The debate was notably less heated than the previous meeting between the candidates in Cleveland, Ohio on September 29. Moderator Kristen Welker was declared the "winner" by many on social media, receiving praise for a steady performance in contrast to the struggles experienced by moderator Chris Wallace during the first debate.
Newsweek reached out to the Trump and Biden campaigns for comment.