Here's what 'Space Force' Viewers Really Think of the Show—And It's Not Pretty
Netflix's original series Space Force boasts an incredibly talented cast—Steve Carell, Lisa Kudrow and John Malkovich, to name a few. But despite the superstar names and the promise of becoming the next great workplace comedy, Space Force is being slammed by some viewers and critics.
There's a possibility the show had too much to love up, considering it both stars Carell and was co-created by him and Greg Daniels, the sitcom whiz involved with several iconic shows, including NBC's beloved version of The Office. Much to the dismay of Dunder-Mifflin die-hards, Space Force's humor is different from The Office, and Michael Scott is nowhere to be found.
Carell plays a similarly tone-deaf character who leads America's new military branch, Space Force. The humor sometimes revolves around one-liners, but mainly relies on over-the-top moments, like when America's security is relying on a space-bound monkey to repair a terrorized satellite, or when Carell submits himself to a moon life experiment that he's less than prepared for.
Fans expecting a cheeky comedy filled with lovable personalities, like The Office, aren't going to find that. Instead, they'll find lots of butting heads and mock-suspenseful moments that jeopardize American security.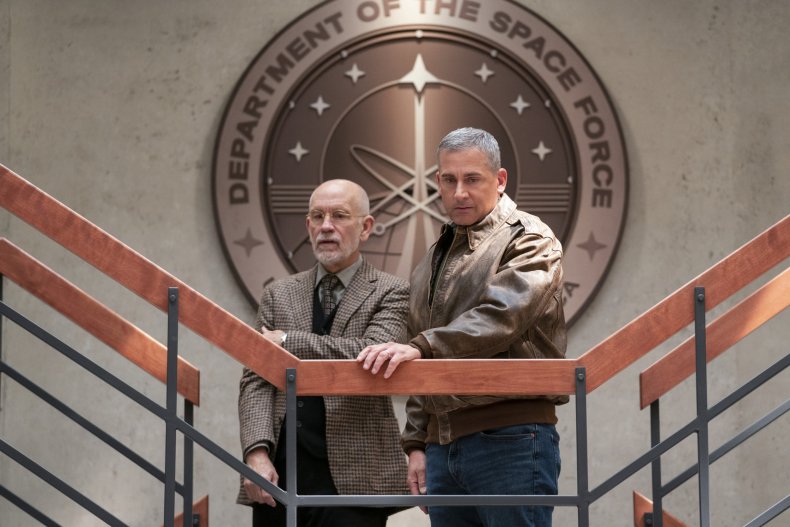 Critics didn't exactly support Space Force's launch. Vulture's Jen Chaney called the series a "massive misfire" and asked, "Why and how did a series co-created by The Office veterans Greg Daniels and Steve Carell, with a cast of really funny actors ... come out this bad?"
And if that wasn't telling enough, Space Force is sitting with a 39 perfect approval on Rotten Tomatoes by critics. The audience score is a good bit higher at 76 percent, but even with that positive number, Forbes pointed out recently that Space Force is ranked the 156th best Netflix Original on IMDb.
Viewers seem to have mixed opinions about the show's premiere. The first full season debuted on Friday, and Twitter is still split on the series.
Do a quick search on the social media platform and you'll be able to find a handful of commenters who loved the humor.
But you'll also be able to turn up tweets from other people who didn't find anything about the show funny.
Space Force has yet to be renewed for a second season, but it definitely sets up a plot for future episodes. (Viewers were left with specific questions about the series, which, if asked, would serve as major spoilers, so we'll leave them out.) We'll just have to wait and see what Netflix decides to do with the series.
In the meantime, you can decide for yourself by watching the first season on Netflix.