Updated | The Trump administration is reportedly floating a change to its federal family-planning program that reproductive rights advocates say would alter women's access to abortion and birth control.
Currently under consideration is an iteration of a Reagan-era policy known as the "domestic gag rule," which would ban health care providers that receive funds from the government's Title X program from performing abortions, or providing patients with any information about the procedure or where they can obtain it. While Title X funds can't go toward abortion services, the funds have historically been used for other health care needs at clinics that also provide abortions.
The Reagan administration's version of the policy was only in effect for one month in 1992, due to being slammed with legal challenges from women's rights groups as well as physicians, who said the rule would encourage them to be dishonest with their patients. When President Bill Clinton took office, he rescinded it. But now that the policy change is reportedly on the table once again, experts are beginning to envision what a domestic gag rule would look like in Trump's America.
"A patient walking into a Title X–funded health care facility is going to have their complete medical options withheld from them," Kashif Syed, Planned Parenthood's senior policy analyst, told Newsweek on Monday. "Physicians will essentially be forced to lie to patients in order to abide by the program's requirements."
Such a change to Title X would place reproductive health organizations like Planned Parenthood squarely in the administration's crosshairs. According to Planned Parenthood's site, 41 percent of all patients who visit the health clinics benefit from the program, and many of them are low-income, as 80 percent of all Title X patients fall below 150 percent of the federal poverty level.
That means low-income women and women of color—the latter of which make up half of the four million patients who benefit from Title X— would feel the impact of a domestic gag rule most, and find it even more difficult to access abortion as well as a range of other reproductive health services like birth control, cancer screenings and well-woman exams.
"What's at risk is the huge gains we've made in the reduction of unintended pregnancy, teen pregnancy and the availability and access to birth control and other reproductive health services," Syed said. "We have to understand that those gains are tied to a policy agenda meant to advance and expand people's access to info. The [proposed] rule would undermine decades of progress we've made."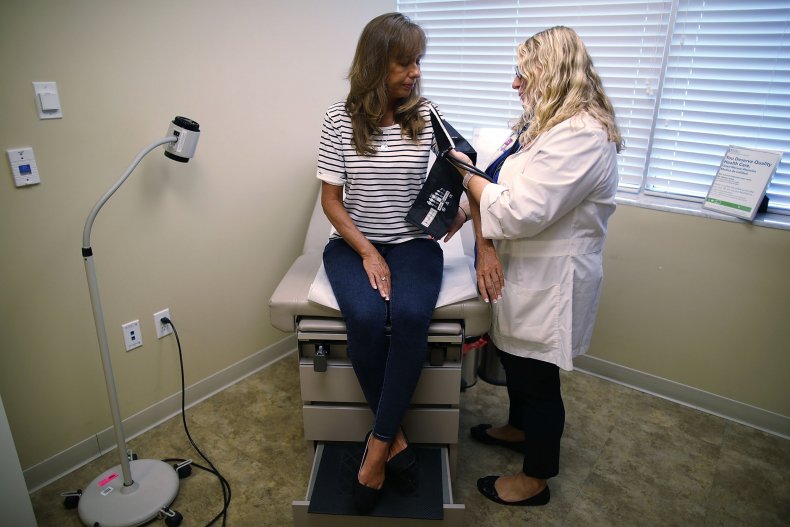 Reproductive rights groups are trying to make sure that doesn't happen. On Wednesday, the Planned Parenthood Federation of America, along with the National Family Planning & Reproductive Health Association and the American Civil Liberties Union, filed three separate lawsuits against the administration to block further changes to the Title X program, which they say has already been dramatically altered under Trump.
Indeed, the reported incoming change to Title X guidelines is just the latest attempt from the Trump administration to alter the program, which was established in 1970 under President Richard Nixon.
The suit challenges a separate guidance the Department of Health and Human Services (HHS), Office of Population Affairs, issued in February, calling for health care providers to push for family-planning methods like "fertility awareness" over other more reliable birth control methods backed by science. A Planned Parenthood spokesperson told Newsweek the organization is asking the court to declare the changes illegal.
"This is a radical shift, and the way the FOA [funding opportunity announcement] is written, it just flies in the face of the best medical practice," Tanya Atkinson, president and CEO of Planned Parenthood of Wisconsin and one of the suit's plaintiffs, told NPR. "It is a radical shift that could have a big impact on people's health."
HHS officials did not immediately respond to Newsweek's requests for comment.
This story has been updated to include more information on Title X funds.