Following President Donald Trump's positive COVID-19 diagnosis, the White House revealed that he is receiving an experimental antibody treatment along with other treatment drugs while staying in a presidential suite at the Walter Reed National Military Medical Center.
According to two separate memos released on Friday by White House Physician Dr. Sean Conley, the president is currently undergoing Remdesivir therapy and was given a single 8-gram dose of the experimental polyclonal antibody cocktail Regeneron, before heading to the Walter Reed Medical Center as a precautionary measure.
In addition to those treatments, he is also taking zinc, vitamin D, famotidine, melatonin and daily aspirin.
Conley says that Trump is "in good spirits" and that he is being evaluated by a team of experts during his hospital stay. He also mentioned that Trump did not require oxygen.
Remdesivir is an experimental intravenous antiviral medication that was announced as a prominent tool for fighting the coronavirus back in April. During a meeting at the Oval Office that month, Dr. Anthony Fauci, the director of the National Institute of Allergy and Infectious Diseases at the National Institutes of Health, said that while it wasn't a "knockout," the drug was still "a very important proof of concept"—adding that "what it has proven is that a drug can block this virus."
However, the drug has shown only modest results so far: it reduces hospital stays from 15 to 11 days but does not significantly reduce a patient's likelihood of dying from the virus.
Regeneron, the experimental antibody cocktail given to Trump as a single dose, has shown promising results in improving symptoms of COVID-19, as well as reducing virus levels in the body. It has not yet been approved by the Food and Drug Administration (FDA) and is currently being evaluated.
"He completed the infusion without incident," Conley said in his memo.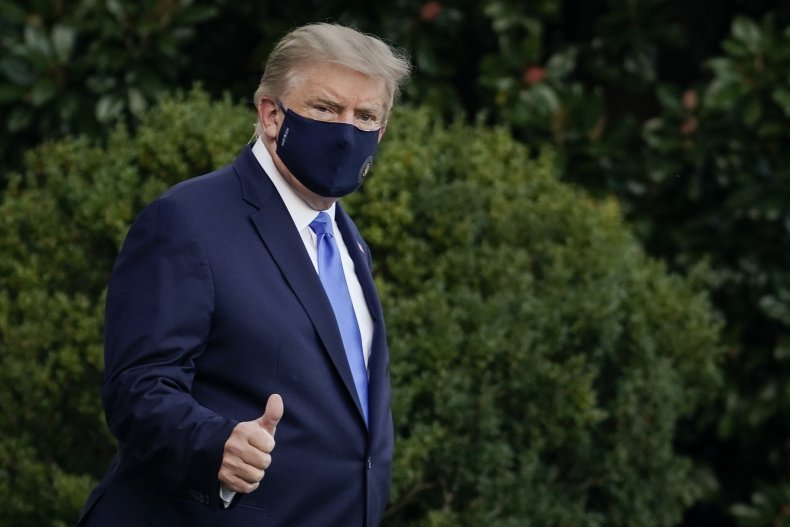 The Centers for Disease Control and Prevention (CDC) stated that individuals in their early to mid-70s are five times more likely to be hospitalized due to a positive COVID-19 diagnosis. The president's age (74) and weight (244 pounds) put him at significant risk for serious illness in connection with the virus.
Early Friday morning, Trump tweeted that both he and his wife Melania tested positive for Covid-19. He said they are beginning their "quarantine and recovery process immediately."
Trump has been at the Walter Reed Medical Center since Friday evening with mild symptoms including a fever, cough and congestion. Conley reported that the first lady has only a mild cough and a headache. Other members of the Trump family, including Ivanka Trump, Barron Trump and Jared Kushner, have reportedly tested negative, along with Vice President Mike Pence and second lady Karen Pence.
"I think I'm doing very well, but we're going to make sure that things work out," said the president in a video update from Walter Reed Medical Center via his Twitter page. "The first lady is doing very well."
Newsweek reached out to the White House for comment.