Here's What Will Happen to Jeff Lowe and His Animals as Carole Baskin Takes Over 'Tiger King' Zoo
Carole Baskin was awarded ownership of the Greater Wynnewood Exotic Animal Park in Oklahoma, but that doesn't mean she gets to keep the animals. Current owner Jeff Lowe will be taking all of the tigers, bears and more with him when he's forced to leave the property in less than 120 days.
In fact, it appears things are going on as planned for Lowe, who has been building a second animal park in Oklahoma. What Baskin gained in legal ownership was the old property, that former owner Joe Exotic had built.
"Please don't worry about our animals. As you saw on the Netflix documentary, I have been building the greatest Tiger Park the world has ever seen," Lowe explained in a statement.
The Netflix documentary series Tiger King showed the inner workings of Greater Wynnewood and how Lowe came to own it. Viewers know Baskin has had a long-standing rivalry with Exotic, who even tried to have her killed.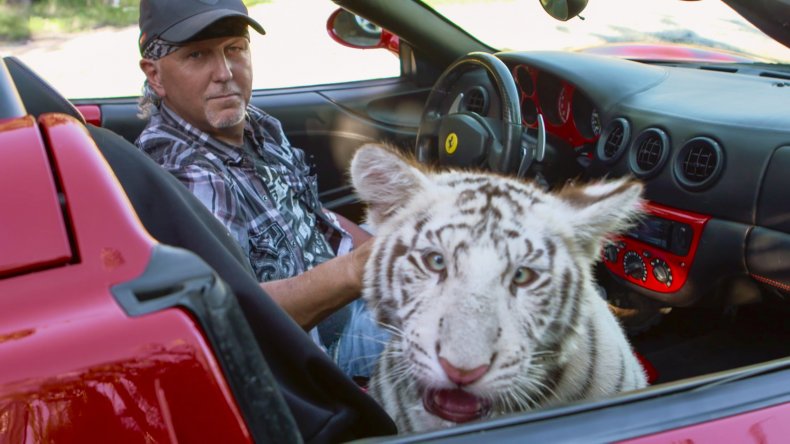 Lowe's new park, aptly called Tiger King Park, will open in September in Thackerville, Oklahoma. Until then, Greater Wynnewood is still taking in visitors. "But in the meantime," says Lowe, "we are still open for business! So, if you haven't had a chance to visit the zoo and see our animals, this may be your last chance!"
Baskin owns the Big Cat Rescue in Tampa, Florida, and appeared ready to take on Lowe's animals. She explained why the tigers were not given to her along with the property in a statement to Newsweek: "As we have pointed out many times, tigers have no economic value once they are too big to pet. So they are not 'assets' that Big Cat Rescue could seek to obtain ownership of and move to better homes in our legal action to collect on our judgment. We wish we could have."
Baskin had no further comment on what she plans to do with the Greater Wynnewood property.
Lowe also spoke about Baskin's takeover of the property and admitted it's not surprising. "We knew a year and a half to two years ago that Joe's mother had basically confessed on her deathbed that she'd helped Joe orchestrate an illegal transfer of assets to hide the zoo property from Carole's attorneys," Lowe told TMZ.
Newsweek reached out to Exotic for comment but did not receive a response in time for publication.
It appears Lowe and his wife Lauren are actually happy to be leaving the property, and they may not have the best memories of the space. In his conversation with TMZ, Lowe claimed there are "bodies" buried on the property, seemingly a part of a Native America burial ground.
To Entertainment Tonight, he also noted the property may be haunted. "It's always been our intention to leave this place," Lowe explained. "We don't particularly like it here, because of its geographical location. It's not a great place for a business, it was poorly constructed, so we're happy to let her have it.… I wish her all the luck in the world, and she can have these 16 acres of haunted memories."