Here's What You Need to Know About the Second Republican Debate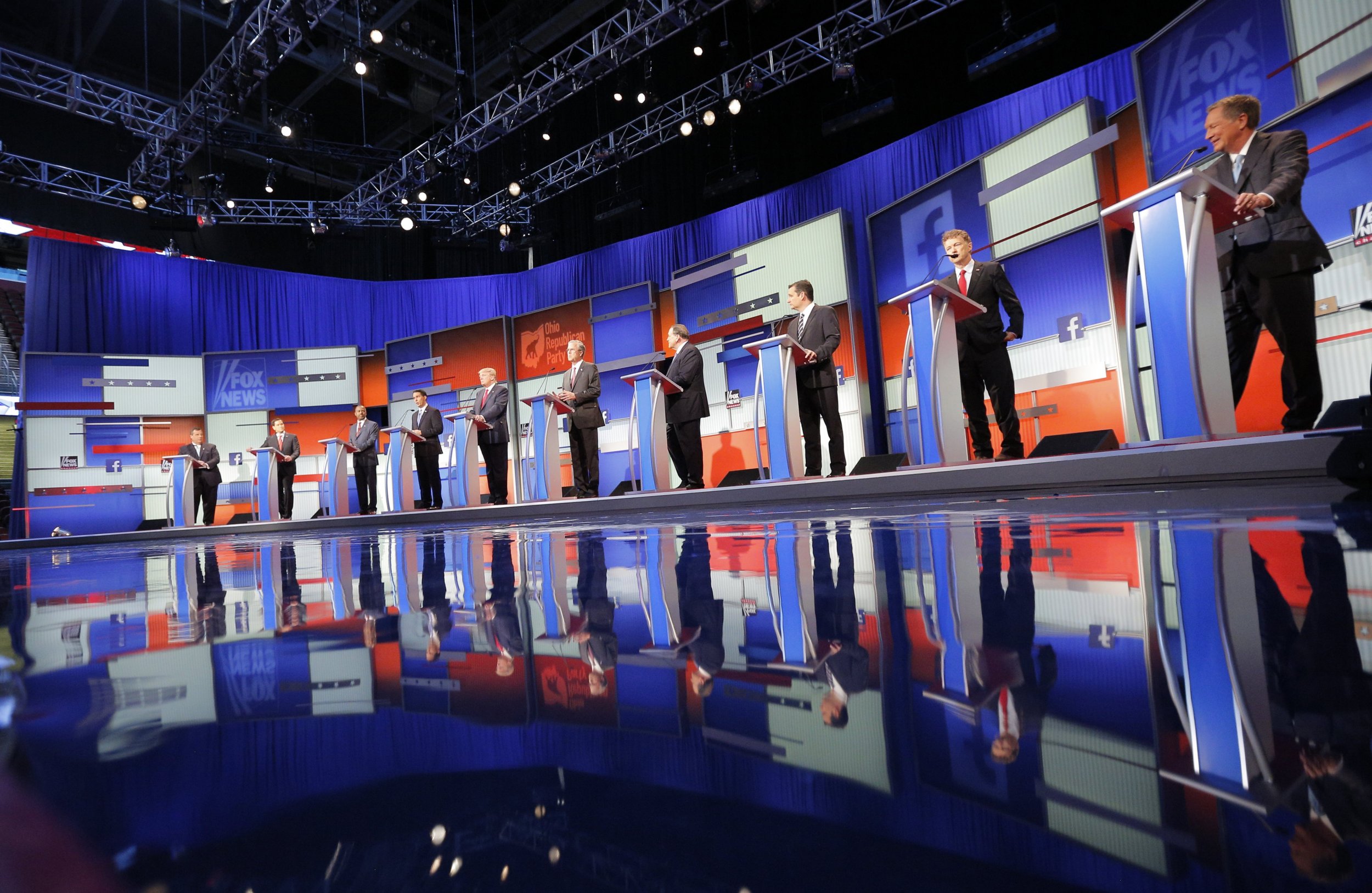 Media commentators have deemed it the "gloves-off" debate, with a focus on foreign policy.
Eleven Republican candidates will take the stage for the second presidential debate of the election cycle at the Ronald Reagan Presidential Library in Simi Valley, California, on Wednesday at 8 p.m. ET. Host CNN hopes the candidates interact more than they did when they first met on stage last month.
Donald Trump, who has consistently led the polls since he declared his run for the presidency in June, will take center stage, surrounded by the other candidates who will be positioned in a V-shape, with the most popular contenders closest to the middle. The candidates for the main debate are retired neurosurgeon Ben Carson, former Florida Governor Jeb Bush, Wisconsin Governor Scott Walker, Texas Senator Ted Cruz, Florida Senator Marco Rubio, former Arkansas Governor Mike Huckabee, Kentucky Senator Rand Paul, Ohio Governor John Kasich, New Jersey Governor Chris Christie and former Hewlett-Packard CEO Carly Fiorina.
As of Tuesday, Carson, who once performed the first successful surgery to separate conjoined twins, gained notable support and inched toward Trump's lead, 23 percent to 27 percent, in a new CBS News/New York Times poll. Bush, Huckabee and Rubio tied for third place with 6 percent.
Support for Bush and Walker dropped into single digits in the recent poll, 6 and 2 percent, respectively.
Fiorina joins the 10 candidates, who all competed in the first debate hosted by Fox News on August 6 in Cleveland. CNN changed its rules to include any candidate who polled in the top 10 between August 7 and September 10. The new rules favored Fiorina, who polled poorly in July and early August but gained support after her strong performance in the August's undercard debate. She was grouped with other lower-polling contenders. Support for the only woman Republican contender has risen, but remains in single digits.
Eyes will be focused on Trump, who is expected to have a showdown with Fiorina. Earlier this month, the real estate billionaire criticized her looks, saying, "Look at that face! Would anybody vote for that?"
He later shot back that he meant her "persona," not face. But Trump also has insulted Carson, Fox host Megyn Kelly and Mexican immigrants, whom he called rapists and criminals.
But some of the GOP hopefuls have criticized their main challenger. Carson, a devout Seventh-day Adventist, has questioned Trump's Presbyterian faith. Bush, the politician who many expected to be a front-runner, said Trump can't insult his way to the presidency. And Louisiana Governor Bobby Jindal slammed Trump's appearance, saying he "looks like he's got a squirrel sitting on his head." Meanwhile, Cruz has praised Trump in what seems like an effort to gain some of his fans.
"Whatever," Trump told his supporters at an event in Dallas on Monday, in response to the criticisms leveled at him by his GOP rivals.
The American public also expects some fireworks between Christie and Paul, after they clashed at the first debate over the National Security Agency's spying program that logged the phone calls by tens of millions of Americans. "I want to collect more records from terrorists, but less records from innocent Americans," Paul said in August. "That's a completely ridiculous answer," Christie interrupted.
The four remaining lower-polling candidates were cut out of the main event on Wednesday. Jindal, former Pennsylvania Senator Rick Santorum, former New York Governor George Pataki and South Carolina Senator Lindsey Graham will participate in an earlier televised debate starting at 6 p.m. ET.
Former Texas Governor Rick Perry, who dropped out of the race last week, and former Virginia Governor Jim Gilmore, who did not meet CNN's requirement of earning at least 1 percent support in three polls, will not be present on stage.
About 800 reporters have received media credentials for access to the debate, which is about half the number of reporters covering statehouses across the U.S., according to recent data from the Pew Research Center.
CNN's Jake Tapper, Dana Bash and Hugh Hewitt will moderate the live event.