Here's What's Next With The House Impeachment Inquiry After Trump Declines To Testify
House Democrats this week will transition to a new phase of their impeachment inquiry into President Donald Trump, one that is key if members hope to draft and pass articles of impeachment before lawmakers skip town for Christmas recess.
This time, witnesses will testify before the House Judiciary Committee. Evidence gathered by the House Intelligence Committee in hearings conducted in recent weeks also will be released and transferred to Judiciary members.
Here's what to expect in the coming days: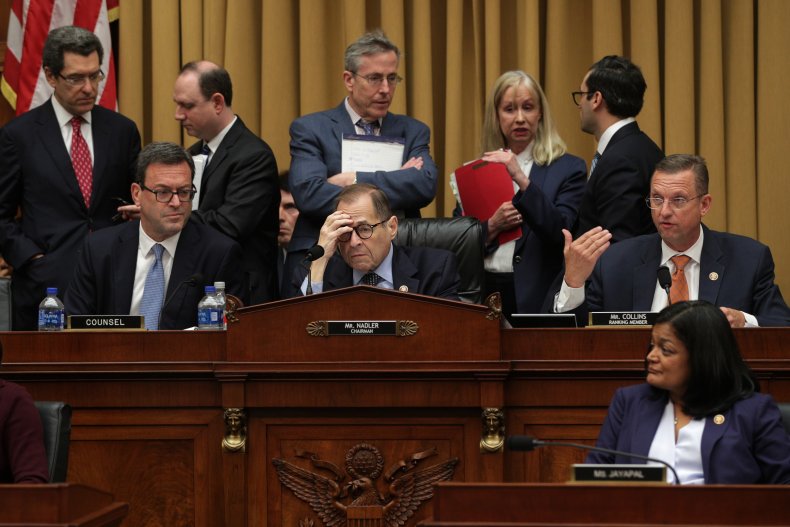 Newsweek subscription offers >
Monday: Members of the Intelligence Committee will be able to view a draft of the majority report that will outline the evidence gathered in the inquiry by Monday evening, according to a Democratic committee official.
Republicans on the Intelligence Committee released a minority report of their own Monday afternoon to rebut Democrats' findings. The 123-page document concluded that "the evidence presented does not prove any of these Democrat allegations, and none of the Democrats' witnesses testified to having evidence of bribery, extortion, or any high crime or misdemeanor."
Tuesday: At 6 p.m., the Intelligence Committee will debate and then vote to approve sending the majority's report over to the Judiciary Committee.
Wednesday: The Judiciary Committee at 10 a.m. will hold its first hearing since the official inquiry centering on the Ukraine scandal began. The hearing will feature four experts who will speak about the process of impeachment, rather than "fact witnesses" with knowledge of the Ukraine controversy. The committee released the witnesses' names Monday afternoon:
Newsweek subscription offers >
Noah Feldman, professor and director of Julis-Rabinowitz Program on Jewish and Israeli Law, Harvard University Law School
Pamela S. Karlan, professor of public interest law and co-director of the Supreme Court Litigation Clinic, Stanford University Law School
Michael Gerhardt, professor of jurisprudence, University of North Carolina Law School
Jonathan Turley, professor of public interest law, George Washington University Law School
Despite bemoaning the House's impeachment inquiry over an alleged lack of due process, Trump declined to participate by having someone present from the White House to ask questions.
"[W]e cannot fairly be expected to participate in a hearing while the witnesses are yet to be named and while it remains unclear whether the Judiciary Committee will afford the President a fair process through additional hearings," White House counsel Pat Cipollone wrote to Judiciary Chairman Jerrold Nadler (D-NY) in a letter Sunday. "More importantly, an invitation to an academic discussion with law professors does not begin to provide the President with any semblance of a fair process. Accordingly, under the current circumstances, we do not intend to participate in your Wednesday hearing."
When speaking to reporters outside the White House Monday, Trump accused Democrats of purposely scheduling a hearing for when he will be out of the country attending the NATO Summit in London. In his letter over the weekend, Cipollone made a similar charge.
"So, the Democrats—the radical-left Democrats, the do-nothing Democrats—decided when I'm going to NATO—this was set up a year ago—that when I'm going to NATO, that was the exact time," Trump said. "This is one of the most important journeys that we make as president. And for them to be doing this and saying this and putting an impeachment on the table, which is a hoax to start off with."
Before the White House's refusal to participate, Nadler said in a statement that "the president has a choice to make."
"He can take this opportunity to be represented in the impeachment hearings, or he can stop complaining about the process," the Democrat said.
Friday: The White House faces a 5 p.m. deadline to respond to Nadler's request as to if—and who—it plans to have represent them at additional, not-yet-announced hearings. It's unclear what the White House's response will be, but in his letter over the weekend, Cipollone signaled they might also decline to participate in any further hearings.
"[Y]ou have given no information regarding your plans, set arbitrary deadlines, and then demanded a response, all to create the false appearance of providing the President some rudimentary process," he wrote.
Update 4:20 p.m.: This story was updated to include the names of the witnesses who will testify on Wednesday before the House Judiciary Committee. It was further updated to include the results of a GOP staff report from the Intelligence Committee regarding the Ukraine scandal.
Here's What's Next With The House Impeachment Inquiry After Trump Declines To Testify | Politics