Here's When the 'Bachelor' Finale Featuring Emmanuel Acho Will Air
The Bachelor franchise is experiencing two story lines at once. Matt James is living out his love story onscreen while ABC's facing a race-related crisis in real time.
Chris Harrison is no longer the show's host, one of James' front-runners was canceled for attending a "plantation-themed" party and even Bachelor cast member past, and vocal Black Lives Matter advocate Taylor Nolan was exposed for having made racist tweets in 2011.
It seems nearly impossible to keep up, given the lovey-dovey moments on screen and the fires ABC needs to put out off screen. But it should all come together during the Bachelor finale, one designed to address the huge topic of race and racist contestants.
The season finale will air on March 15. To kick things off, James' possible engagement will be revealed. The season will probably end like any other, with a loving moment between James and his final rose recipient. But once the final rose is taken, a pre-recorded finale conversation is expected to examine the off-screen controversies.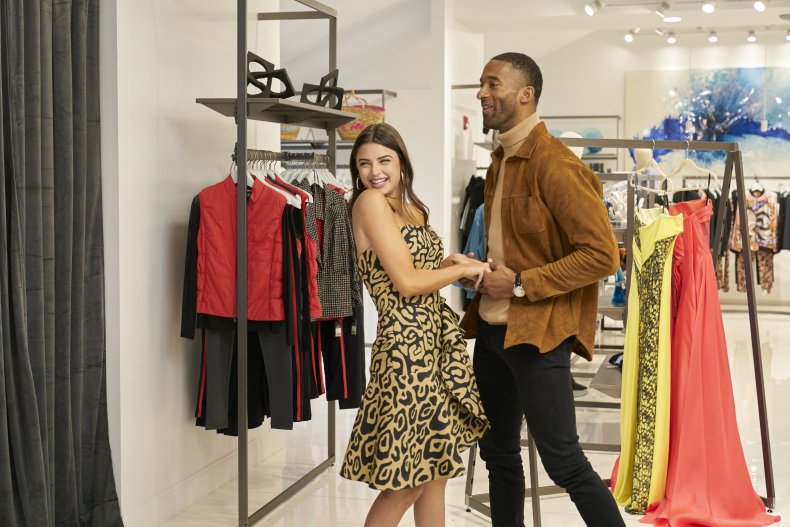 Harrison won't be in attendance at the After the Finale Rose special, which will be filmed ahead of time on Friday, according to Reality Steve. Former NFL player Emmanuel Acho will curate the discussion instead. He's the author of Uncomfortable Conversations With a Black Man, so Acho will likely bring a refreshing voice to the conversation that continues to haunt Bachelor Nation.
It seems each season has at least one controversial contestant with a racist past. This time it is Rachael Kirkconnell, whose photos from her sorority days (as recently as 2018) showed her in antebellum attire, Native American costumes and more. Other contestants have done similar things in the past, such as Garrett Yrigoyen, Becca Kufrin's former fiancé, who responded to the 2020 Black Lives Matter movement with a long Blue Lives Matter post. Yrigoyen was also slammed for liking racist and otherwise offensive memes on Instagram before Kufrin's season finale in 2018.
Kirkconnell's story isn't unique, but Acho's hosting may give ABC the opportunity to have difficult conversations, which will hopefully change the direction of the franchise. The woman's past wrongdoings sting a bit more knowing James is the first Black Bachelor in franchise history. What was promoted as a season featuring the most diverse cast yet will end with a conversation on how the show has failed, one with a Bachelor whose own statement on the racial insensitivity appeared to imply his break from the franchise as a whole.
James will likely speak with Kirkconnell on the series—whether they've ended up together or not—given the severity of backlash against her. Kirkconnell already issued a series of apologies on her Instagram account.
"I am ashamed of my lack of education, but it is no one's responsibility to educate me," she wrote in an Instagram post on February 11. "I will never grow unless I recognize what I have done is wrong. I don't think one apology means that I deserve your forgiveness, but rather I hope I can earn your forgiveness through my future actions." Kirkconnell followed her original statement with an eight-minute-long Instagram TV commentary video and a statement of support for former Bachelorette Rachel Lindsay, who slammed Kirkconnell's apology.
While Kirkconnell seems to be moving in the right direction, according to some, Bachelor Nation may need a bit of correcting, too. Lindsay recently deactivated her Instagram account due to intense harassment from Bachelor viewers after she called out Kirkconnell's first apology and actions after.
How Acho will approach the conversation is still unknown, though he has the support of many Bachelor Nation stars. Lindsay originally recommended the man when asked who should replace Harrison, and even spoiler icon Reality Steve praised the casting in a blog post on Tuesday. It seems Bachelor Nation is hopeful for a raw, relevant conversation. It will just have to wait until March 15 to see if that's what it really gets.