Here's When You'll Get Your 2022 Ford F-150 Lightning
Real world durability and high mileage testing of Ford Motor Company's F-150 Lightning prototypes is already underway and the first deliveries of the 2022 F-150 Lightning are slated to begin this spring.
When will you get your 2022 Ford F-150 Lightning? Ford has released new information detailing the ordering process and how long it expects to take for buyers to have keys to their new all-electric full-size truck hand.
Currently, production capacity stands at 75,000 F-150 Lightning models per year at Ford's Rouge Electric Vehicle Center in Dearborn, Michigan. A Ford representative confirmed to Newsweek that the company will be slowly ramping up production to that 75,000 mark. That's not an unusual process for a completely new model.
For the 2023 model year, Ford is targeting approximately 80,000 units per year capacity.
As the 2024 model year nears, in mid-2023, Ford expects to hit the announced 150,000 per year F-150 Lightning production level.
There are already 200,000 F-150 Lightning reservations. That means that many current reservation holders could be waiting until 2024 to receive their new truck. However, timelines may be shortened if a large number of reservation holders decide not to convert to orders.
Ford will begin accepting the first wave of reservation converts on Thursday. Additional reservation holders will be invited to place their orders in phases over the next few months.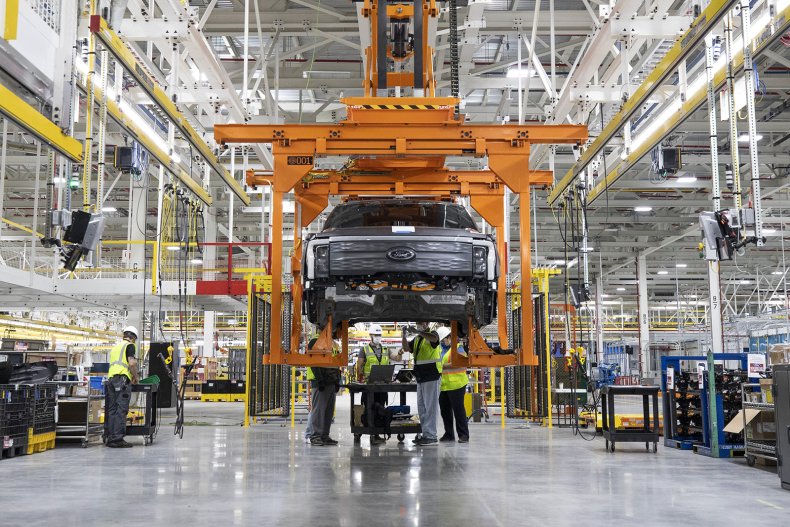 Invitations will be sent via email to the reservation holder. Customers can also receive notice to convert via their Ford.com account.
Initial reservation conversions will be for 2022 model year vehicles. Once that run is out, Ford will open order banks for model year 2023 trucks.
"With nearly 200,000 reservations, our teams are working hard and creatively to break production constraints in order to get more F-150 Lightning trucks into the hands of our customers," said Kumar Galhotra, president of The Americans and International Markets Group, Ford Motor Company. "The reality is clear: people are ready for an all-electric F-150 and Ford is pulling out all the stops to scale our operations and increase production capacity."
Ford confirmed to Newsweek that 2022 model year production will end near the end of 2022, similar in fashion to how the company rolls out other new vehicles.
Ford's spring 2022 target covers a large number of months, virtually the entire first half of the year. The company will continue to update those who placed orders of the build progress of their vehicle in the same fashion it does with Bronco orders.
The Ford F-Series has been America's best-selling truck brand for the last 47 years. Despite its popularity, the F-150 Lightning is drawing in new customers to the brand. More than 75 percent of reservation holders are new to the company's client list.
The 2022 Ford F-150 Lightning has a starting manufacturer's suggested retail price (MSRP) of $39,974 before any available tax incentives.