Here's Where Biden, Sanders and Gabbard Stand in the Next Six States to Vote in the Democratic Race
A week after Super Tuesday dramatically changed the 2020 presidential race, voters in half a dozen more states will head to the polls to choose the Democrat they want to see nominated.
Idaho, Michigan, Mississippi, Missouri, North Dakota and Washington will all hold primaries or caucuses on March 10. In total, 9 percent of all pledged delegates in the Democratic primary race will be up for grabs on Tuesday.
Only three Democrats remain in what was once a 28-candidate field: Former Vice President Joe Biden, Hawaii Representative Tulsi Gabbard and Vermont Senator Bernie Sanders. Biden and Sanders are locked in a tight contest for the party's nomination, separated by roughly 100 delegates. Gabbard, while still on the ballot, has picked up only a couple of delegates and is polling in the low single digits.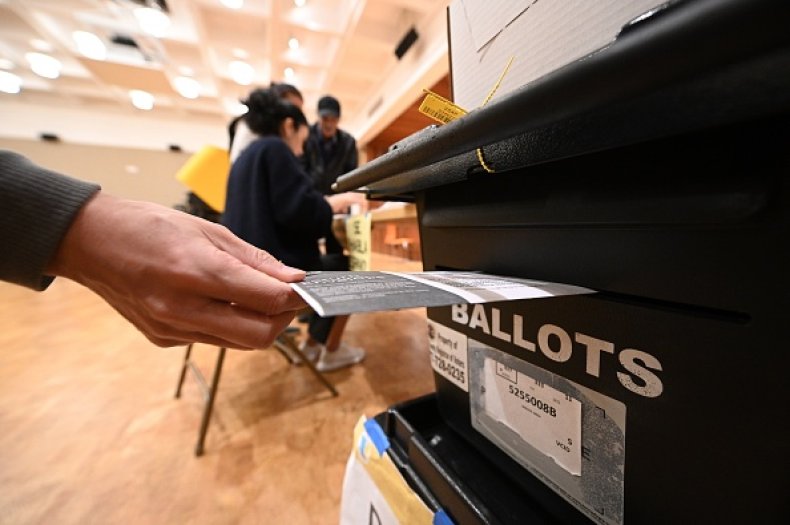 Following his surge on Super Tuesday, when he won 10 of the 14 states in play, Biden is leading the delegate count. As of Monday morning, the former vice president had collected 664 delegates. Sanders is in second place with 573. But both are still a long way from the 1,991 delegates needed to clinch the nomination.
The graphic below, provided by Statista, shows the candidates' delegate count heading into Tuesday's primaries.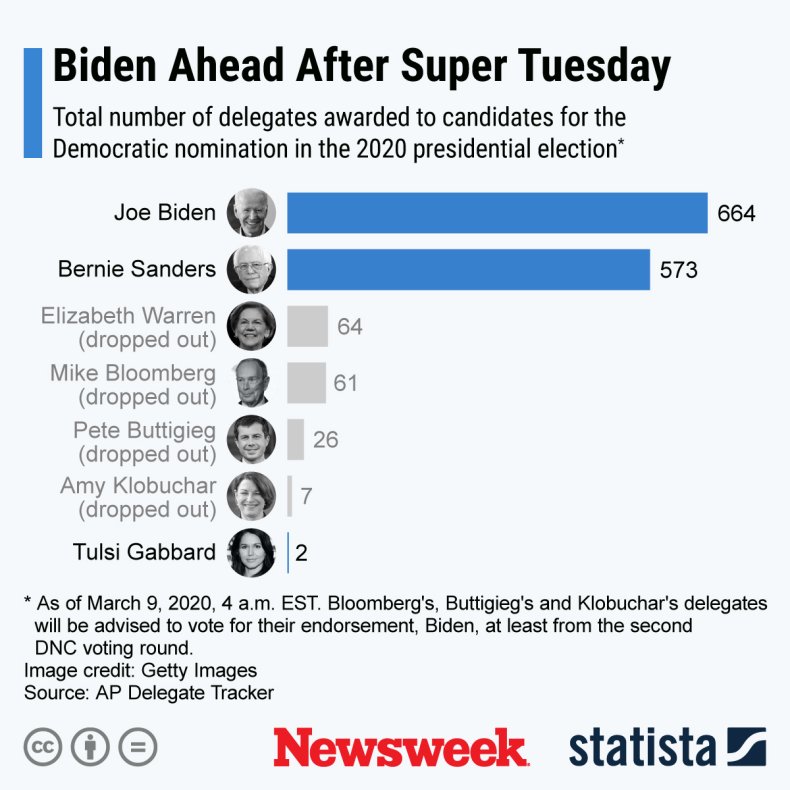 Here's a look at how candidates are polling in every state set to vote on March 10.
Idaho
There have not been any recent polls in Idaho, but FiveThirtyEight forecasters predict Biden will be victorious. According to the site, the former vice president has a 55 percent chance of winning the most votes. Sanders isn't too far behind, with a 45 percent chance of winning the most votes. The Vermont senator has a proven track record in Idaho, as he won the state by more than 55 points in the 2016 Democratic primary race.
Michigan
A Detroit Free Press poll released Monday showed Biden with a 24-point lead over Sanders in the Midwestern state. He has 51 percent support from likely primary voters, compared with Sanders' 27 percent.
Michigan is the largest state in play on March 10, with 125 delegates to award. Sanders won the state in 2016 in a shocking upset over Hillary Clinton. Polls before the primary that year showed the Vermont senator trailing Clinton by a sizable margin.
Mississippi
A Data for Progress poll conducted last week showed Biden with a whopping 55-point lead over Sanders in the state. The former vice president captured 77 percent support among likely Democratic primary voters, while Sanders had 22 percent. Gabbard was polling at 1 percent.
Missouri
Biden is also in the lead in Missouri, according to the Data for Progress poll. The survey, conducted from March 4 to 7, showed Biden with 62 percent support among likely voters. Sanders was in second place with 32 percent, and Gabbard came in last with 2 percent.
North Dakota
There have been no recent polls in North Dakota, although FiveThirtyEight forecasters predict Biden will win the state with an average of 48 percent. According to the site, he has a 63 percent chance of winning the most votes, while Sanders has a 37 percent chance. North Dakota is one of the smallest states in play in the Democratic primary race, as it has only 14 delegates.
Washington
The race in Washington appears to be much closer, compared with other states that are voting March 10. A poll from KING-TV in Seattle, conducted last week, found Biden and Sanders had nearly the same amount of support among Democratic voters ahead of the primary.
According to the survey results, 36 percent of likely Democratic voters will vote for Biden, and 35 percent will vote for Sanders. Thirteen percent said they'd vote for "some other Democrat."