Here's Where Mackenzie Scott Bezos Donated $1.6 Billion of Her $36 Billion Fortune
Mackenzie Scott, formerly Mackenzie Bezos, donated roughly $1.67 billion to more than 100 non-profit organizations over the past year.
The author and Amazon shareholder published a breakdown of her philanthropy efforts on Tuesday and encouraged others to support the advocacy groups listed. Scott's update came about 14 months after she committed to donating most of the $36 billion fortune she received after her divorce from Amazon CEO Jeff Bezos. Scott acquired about 4 percent of the technology company's shares in the divorce settlement.
Since then, Scott's donations prioritized initiatives that work within nine designated advocacy areas. In Tuesday's update, she said those areas are: racial equity, LGBTQ+ equity, gender equity, economic mobility, empathy and bridging divides, functional democracy, public health, global development and climate change.
Organizations whose pursuits focus on racial equity received the largest fraction of Scott's donations, totaling more than $500 million. Those focusing on issues related to economic mobility received close to $400 million, the second-highest sum.
Scott said she selected the 116 organizations listed with help from a team of advisors "with key representation from historically marginalized race, gender, and sexual identity groups," who provided insight into groups effecting significant change.
More than 80 percent of gender equity groups that received donations are operated by women, more than 90 percent of racial equity groups are operated by leaders of color, and all LGBTQ groups are operated by LGBTQ leaders.
"Every one of them is tackling complex challenges that will require sustained effort over many years, while simultaneously addressing consequences of the COVID-19 pandemic," Scott wrote on Tuesday. "And every one of them would benefit from more allies looking to share wealth of all types and sizes, including money, volunteer time, supplies, advocacy, publicity, networks and relationships, collaboration, encouragement, and trust."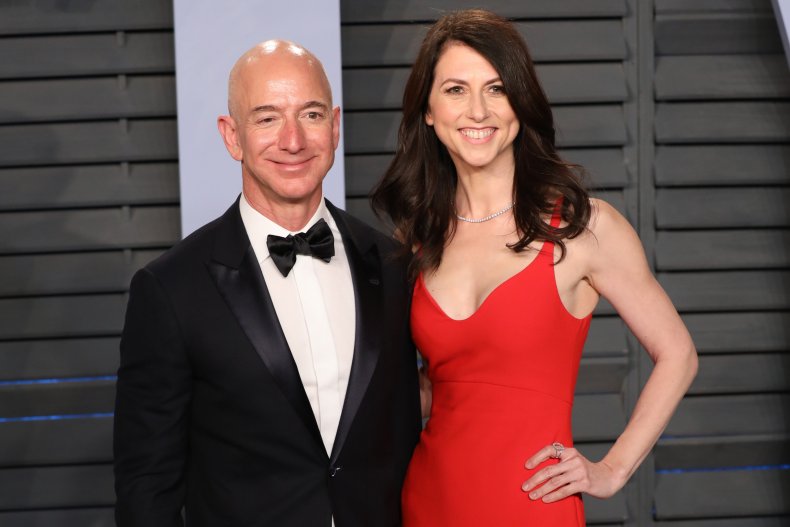 Scott published details about her expanded donation efforts as her ex-husband's net worth continues to increase. Bezos, the richest person in the world, was one of several hundred U.S. billionaires to reap enormous profits during the first few months of the new coronavirus pandemic. Bezos' personal wealth rose considerably in 2020, alongside Amazon's stock prices.
In June, Bloomberg's Billionaires Index showed his net worth jump $13 billion in 24 hours, the largest single-day increase reported by the index since its introduction in 2012. Its latest figures, updated on Monday, listed his net worth at more than $180 billion, up at least $66.5 billion since this time last year.
Bezos donated $100 million to non-profit organization Feeding America, which comprises a network of more than 200 food banks nationwide, soon after the onset of the U.S. virus outbreak. Following Bezos' announcement about the donation in April, many pointed out that the sum accounted for less than 1 percent of his fortune, according to CNBC. His net worth was about $148 billion at the time.
Newsweek reached out to Amazon for comment, but did not receive a reply in time for publication.