Arizona's incumbent Senate candidate, Martha McSally, is expected to gain the Republican nomination during Tuesday's primary vote.
Few polls conducted throughout the race include results for McSally's GOP challenger, businessman and first-time candidate Daniel McCarthy. However, results of one survey, released by Change Research toward the end of June, indicated McCarthy would fare better against presumptive Democratic nominee Mark Kelly in November's general election.
The poll, conducted on behalf of 314 Action Fund, collected responses from 946 likely Arizona voters. It showed Kelly with the majority of voter support overall, with a slightly wider lead over McSally than McCarthy. The results incorporated responses before and after presenting poll participants with short biographies about all three candidates. Initial responses placed Kelly 8 points ahead of McSally and 6 points ahead of McCarthy.
The Change Research poll noted that just 26 percent of its participants had an opinion about McSally's primary opponent, a skin care company executive who is relatively new to politics, before reading his bio. After they learned more, the results showed McSally behind Kelly by about 12 points. McCarthy polled roughly 5 points higher than McSally, who has served as Arizona's junior senator since 2019.
Despite some surveys indicating Arizona Republicans and left-leaning independents view McSally unfavorably, most polling data released throughout the late spring and summer indicates she will win the GOP nomination instead of McCarthy on Tuesday.
"I don't think the primary is even a contest tomorrow. Martha McSally will win by a very large margin. Her opponent has run a very strange campaign and has made it a point to alienate as many people as possible in the process," Kirk Adams, Arizona Governor Doug Ducey's former chief of staff, said in previous comments to Newsweek about the primary vote. Ducey is also a Republican.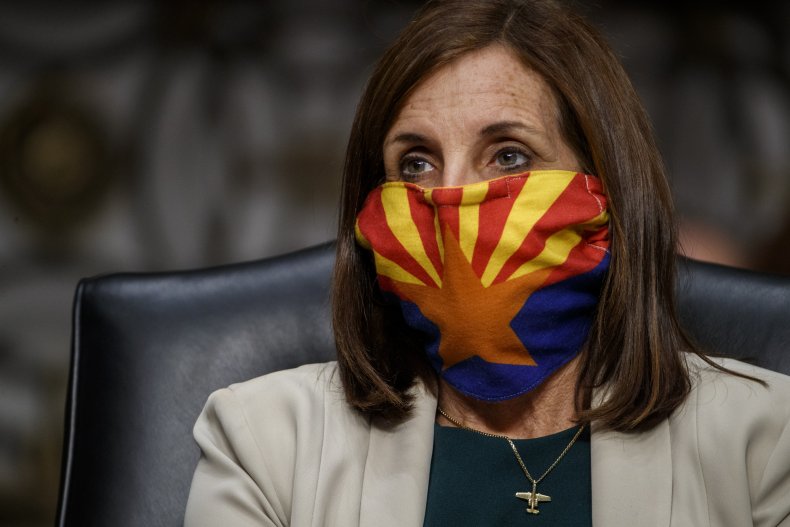 Similar to the Change Research survey, a majority of polls that weigh the outcome of a race between McSally and Kelly anticipate the presumptive Democratic nominee will win the Senate seat. A survey administered by Redfield and Wilton Strategies, published July 30, placed Kelly ahead of McSally by 18 points. Kelly's lead over McSally had increased from the 15 points determined by the results of an earlier poll.
By the end of July, additional polling statistics released by Change Research suggested McSally's support had grown among her voter base. It showed her trailing Kelly by just 2 points. Real Clear Politics' latest polling averages estimated Kelly's lead over McSally stood at about 6.8 points, when statistics collected throughout July were considered.
Newsweek reached out to the McSally and McCarthy campaigns for comments but did not receive replies in time for publication.