Here's Where You've Seen Antonia Lofaso Before She Was Featured on 'The Bachelorette'
It's "Hometown" night on The Bachelorette and this week, you may recognize a familiar face. Ben Smith will bring his friend and client to meet Tayshia Adams, and she's a reality star in her own right.
Antonia Lofaso, Top Chef and Food Network star, happens to be one of Smith's clients when he works as a personal trainer. Now, Lofaso will step out of the kitchen and onto the grounds at La Quinta Resort and Club, where she'll meet Adams and play a role in the Bachelorette's relationship with Smith.
There's a definite chance that viewers will recognize Lofaso when she's seen on The Bachelorette. In addition to appearing on Top Chef, Lofaso has been on the television shows Chopped and Restaurant Startup, and has been featured on a variety of other series on and off Food Network.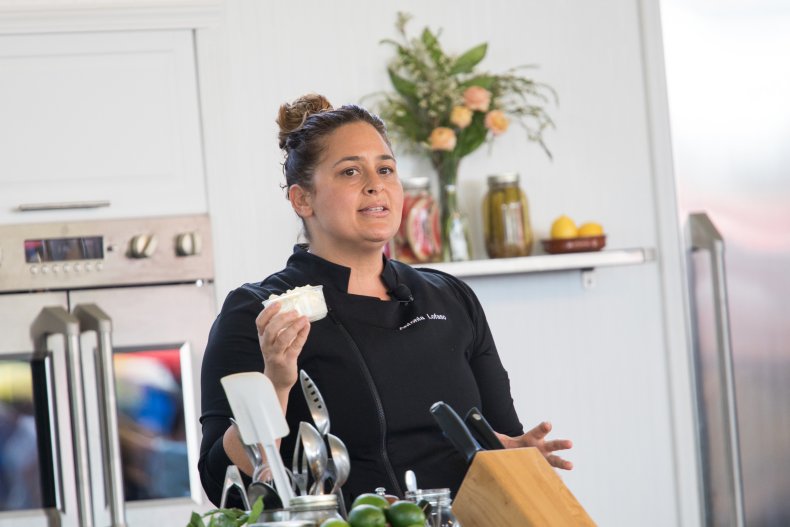 On Instagram, Lofaso has over 178,000 followers. She's also the executive chef at three restaurants: Scopa (located in Venice, California) DAMA (in Los Angeles, California) and Black Market Liquor Bar (in Studio City, California.)
Lofaso will appear on The Bachelorette alongside Smith's sister, Madalyn. They'll all visit together after Adams and Smith have their own Venice Beach-themed one-on-one date, according to Reality Steve. A warning, though: If you click the Reality Steve link, you're bound to fall into possible finale spoilers, and find a reveal as to who is going home on Tuesday night.
Unfortunately, after the dates are done, Adams will be required to let one of the men go. She'll enter next week's double-night finale with just three men left, though spoilers imply that one of the eliminated men may come back to talk to Adams.
Next week, viewers will see the fantasy suite episode, and watch Adams' own family members meet her final men. Then, the Bachelorette will be forced to choose just one man to spend her life with. If Adams will actually end up engaged has yet to be seen.
"Hometown" dates are sure to be unconventional this season, given that The Bachelorette crew was unable to leave La Quinta for any travel or additional filming. That means all of the family members who participated in Tuesday night's episode had to visit the set.
And as if that wasn't enough of a change, remember that this season began with a completely different Bachelorette. Clare Crawley was the first woman cast, though she found true love at a nearly unbelievable rate. Crawley and Dale Moss left the show engaged after filming for just 12 days. They're still together, so regardless of whether Adams indeed gets a happy ending, viewers have gotten to see at least one love story unfold during Season 16.
The Bachelorette will air next Monday and Tuesday at 8 p.m. ET, to conclude Adams' season.