Here's Which '90 Day Fiancé: Before The 90 Days' Season 2 Couples Are Still Together
Angela Deem was one of 90 Day Fiancé: Before The 90 Days most controversial characters, and she's taking her story even further on 90 Day Fiancé Season 7. Angela's relationship with Nigerian lover Michael has been a talking point of the TLC fanbase since they first premiered on Season 2 of Before The 90 Days.
With Angela and Michael back in the spotlight, some viewers could be curious as to which Before The 90 Days Season 2 couples are still together. The controversial relationships premiered on TLC in 2018, but since, have unfolded even further on social media. Here's what's happened to the long-distance relationships since they were last seen on screen.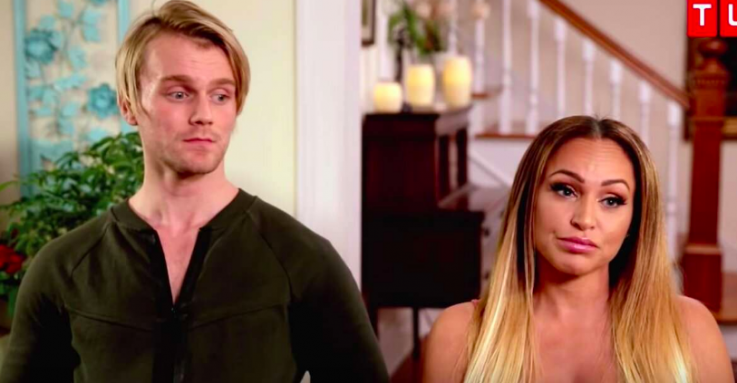 Darcey and Jesse
This 90 Day couple is no longer together, as most fans know. Darcey and Jesse split before the filming of Before The 90 Days Season 3, where Darcey appeared with a new long-distance boyfriend, Tom Brooks.
Ricky and Melissa
Though Season 2 began with Ricky pining over a relationship with Melissa, it quickly evolved into another storyline entirely. Instead of connecting with Melissa, Ricky followed his trip to Columbia by finding another online love: Ximena. The pair were engaged after a week together, even though Ricky had originally planned to propose to Melissa.
According to Soapdirt, the pair split after public drama involving claims that Ricky and his estranged wife Natalia may have used the show for publicity. Ricky and Natalia later filed for divorce and were supposedly separated at the time of filming Before The 90 Days Season 2.
Paul and Karine
According to Instagram, Paul and Karine are still together. Karine posted a Halloween photo of the couple, as well as their son Pierre, on her account in early November. From the photo, it appears the couple currently live in Kentucky.
Rachel and Jon
Rachel and Jon are still together, albeit in a long-distance relationship. The 90 Day couple have a joint Instagram account, which is used to post updates about their relationship, family and visa. In a February post, they revealed they are saving up for an American visa.
Tarik and Hazel
This couple is also still together. Despite some giant obstacles, like when Tarik accused Hazel of ending a pregnancy when her period came late, they seem to be happy. Tarik often posts photos of Hazel with loving captions on his Instagram.
Angela and Michael
Despite public backlash, Michael and Angela are still together. The pair have been ridiculed for their relationship—many viewers have called Angela abusive—but that hasn't stopped the couple from trying to relocate their relationship to America.
Here's Which '90 Day Fiancé: Before The 90 Days' Season 2 Couples Are Still Together | Culture