Here's Who is Closing to Observe Juneteenth on Friday, the Newest Federal Holiday
Numerous businesses will be closed for Juneteenth, the new federal holiday commemorating the emancipation of Black slaves in 1865.
Though the actual holiday falls on Saturday, June 19, all federal employees will have Friday off, including federal courts. Many state and local government offices will also have Friday off. The U.S. Postal Service (USPS) will remain open, but will discuss future recognition of the holiday, a USPS spokesperson told Newsweek.
Numerous businesses will treat Juneteenth as a paid company holiday. However, few have announced closures for the holiday. Many will stay open on Friday and Saturday. Some will offer their employees special holiday pay for working on June 19.
The media companies Vox and NPR, the sports apparel company Nike, the electronics retailer Best Buy and the electricity and natural gas company National Grid will all commemorate Juneteenth as a paid company holiday, NPR reported.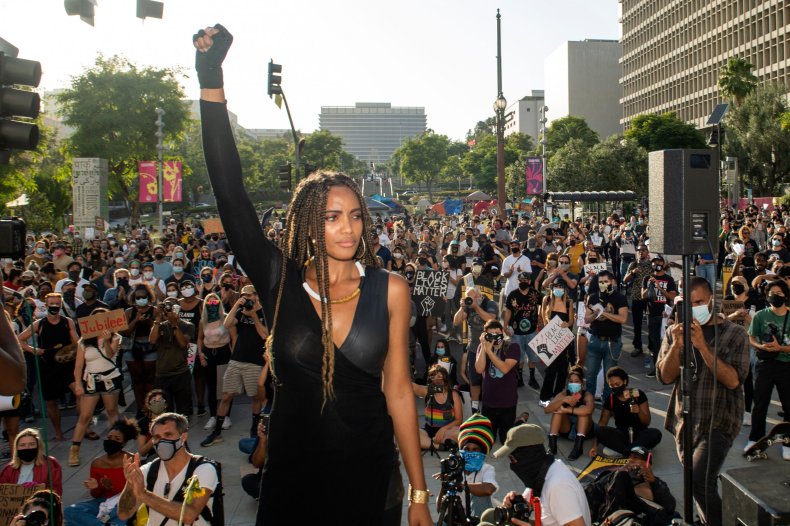 The national retail chain Target will remain open, but the company will grant hourly time-and-a-half pay to employees who work on June 19. The retailer's corporate employees will get a paid holiday, a company spokesperson said on its website.
The social network Twitter and credit card payment application Square have both made Juneteenth a paid company holiday too, CNN reported.
The following talent agencies will close on Friday, according to Deadline, an entertainment industry publication: Creative Artists Agency, ICM Partners, United Talent Agency, and Endeavor (previously known as William Morris Endeavor). The offices of the Screen Actors Guild and American Federation of Television and Radio Artists will also be closed.
The New York Stock Exchange and NASDAQ will both be open on Friday, but they will soon decide whether to close when the holiday occurs in future years.
Commenters and racial justice activists on Twitter advised white and non-Black business owners not to produce Juneteenth-themed merchandise or hold sales, The Daily Dot reported. Instead, some commenters advised shoppers to support Black-owned businesses or for companies to donate Juneteenth profits to organizations supporting the Black community.
"I'm never going to frown at a company recognizing a day that is culturally important to so many Americans, really to all of us," Meredith Clark, an assistant professor of media studies at the University of Virginia, told CNN. "But at the same time, I want to see that sort of action matched with commitment to changing the culture inside these organizations."
On Thursday, President Joe Biden signed a resolution proclaiming Juneteenth as a national holiday. It is the first national holiday declared since then-President Ronald Reagan named Martin Luther King Jr. Day a holiday in 1983.
Only 14 Republican House representatives voted against making Juneteenth a federal holiday. All are white men.
Update (6/17/2021, 9:46 p.m.): This article has been updated to include a statement from the U.S. Postal Service.