Here's Who Peter Weber Picks on 'The Bachelor' Finale and If They're Engaged
Peter Weber's Bachelor season full of questions and concerns finally has an explanation. Spoilers for Weber's finale broke on Thursday from spoiler blogger Reality Steve, and they explain all of those emotional clips that tease a confusing end.
From the sound of it, Weber's season really will be unlike any Bachelor franchise ending fans have seen before.
Fans know Weber is left to choose between two women: Hannah Ann Sluss and Madison Prewett. There's now confirmation that he did and is officially in a relationship with one of his final two. This debunks all further rumors and theories, ones that include Hannah Brown, Kelley Flanagan or even one of the Bachelor producers.
Peter Weber is officially dating Prewett, though they aren't engaged, according to Reality Steve. Fans guessed correctly that Prewett self-eliminated on the show, and while Weber does run after her, it's not as clear-cut as it seems.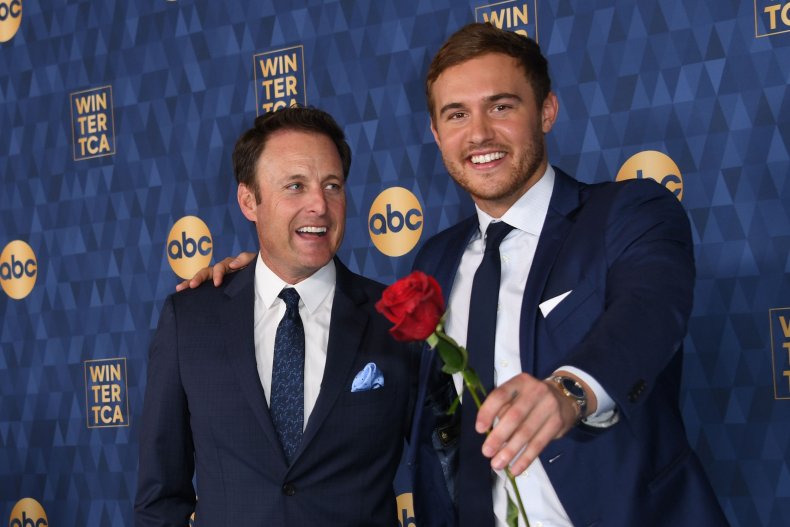 Weber runs to find Prewett while Sluss is still in the running. In order to make his final decision, Weber brings the competition back to America after Prewett packed up her bags and left. Apparently, he didn't want Sluss to feel like he chose her just because she was the last woman standing.
It's unclear when and how Weber lets Sluss go, but he put time and effort into winning both Prewett and her family over back in the United States.
Much of the season's end will feature heavy conversations that dive into Weber's sex life, and Prewett's discomfort in his decisions. Viewers will remember Prewett told Weber she's a virgin, and wouldn't be able to accept an engagement from Weber just days after he potentially slept with two other women.
Weber did become intimate with the other remaining women, and Prewett expressed her hurt. While she didn't give Weber a total ultimatum, she did admit it would be difficult for her to continue in the competition if he decided to have sex with anyone.
Prewett explained she was upset by Weber's decision, which could have immediate consequences toward her feelings for him. Though she stayed on the show past the rift, Prewett will apparently leave after she gets to meet Weber's family again.
The biggest twist from the finale will be how long it takes Weber to win back Prewett. Unlike past Bachelor reunions, which happen in one conversation, it sounds like Weber took weeks or months to regain Prewett's trust before the pair started dating exclusively.
Spoilers also say Weber plans to propose to Prewett on the After The Final Rose special.
The Bachelor finale will air Monday at 8 p.m. ET.