Here's Who Qualifies—And Who Might Not—for the December Democratic Debate
Although the new criteria the Democratic National Committee released Friday for the sixth Democratic primary debate is intended to whittle the field, it appears that at least half a dozen candidates already qualify—or are well on their way to— qualifying for it.
Former Vice President Joe Biden, Sen. Bernie Sanders (I-VT) and Sen. Elizabeth Warren (D-MA) already meet all of the DNC's criteria to qualify for the December 19 debate, according to Politico's tracking of each major candidate. Indiana Mayor Pete Buttigieg, Sen. Kamala Harris (D-CA) and entrepreneur Andrew Yang appear likely to qualify, too.
But billionaire Democratic donor Tom Steyer and Sens. Cory Booker (D-NJ) and Amy Klobuchar (D-MN), all of whom have qualified for the November 20 debate, could be on the chopping block come December. Former Rep. Beto O'Rourke (D-TX) has qualified for the November and December debates in terms of the number of required donors, but he currently lacks the poll results for both.
Buttigieg, Harris, O'Rourke and Yang have only reached the donor mark for December's debate. Steyer, Booker and Klobuchar have not accomplished either, but it's possible they may do so, considering they lack a little more than 30,000 individual donations and have until December 12 to qualify.
Rep. Tulsi Gabbard (D-HI), who announced Thursday that she would not seek re-election in Congress in order to focus solely on her presidential bid, has met November's donor criteria but currently lacks the support in polls. Her number of individual donors do not qualify her for the December debate, but she is less than 30,00 donors shy of doing so.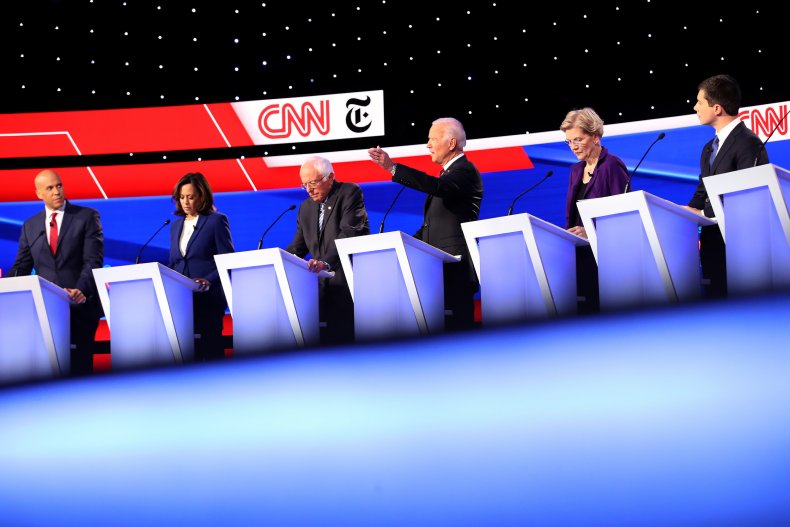 The move to dwindle the primary field is intentional, and the inability to qualify for the December 19 debate will likely cause more candidates to drop out. The DNC said the increase in the donor threshold means candidates "must demonstrate broad-based support" among "grassroots fundraising."
The DNC's qualification criteria for November's debate is two-fold: score at least 3 percent in four or more qualifying polls or 5 percent in two state polls in Iowa, New Hampshire, South Carolina or Nevada; and receive a minimum of 165,000 unique individual donors, which must also include at least 600 donors in no fewer than 20 states.
Upping the ante for December's debate, candidates must again meet two criteria: score 4 percent in four national or statewide surveys in Iowa, New Hampshire, South Carolina or Nevada, or 6 percent in two state polls in Iowa, New Hampshire, South Carolina or Nevada; and rake in no less than 200,000 unique individual donors, on top of 800 donors from 20 states.
The December debate will be co-hosted by PBS NewsHour and Politico at the University of California, Los Angeles Luskin School of Public Affairs.