Here's Who Tayshia Adams Chose on 'The Bachelorette' and If They're Still Together
Tayshia Adams' season of The Bachelorette came to a close on Tuesday night when she got engaged to one of her remaining suitors. Zac Clark got down on one knee and proposed to Adams, and the Bachelorette said yes, meaning she left the show in a lasting relationship.
Clark poured his heart out to Adams in the final moments.
"Nothing has ever felt so right in my entire life," he said. "You've helped me experience a love I didn't know existed, and you've made me smile more than anyone has ever made me smile. I love you because you're a fighter. I love you because you're a strong independent woman, you make everyone around you better."
Unlike other Bachelorette seasons, Adams' finale didn't clarify that she and Clark are still together. So, we'll just choose to assume they're still in love until Adams posts a confirmation post on her Instagram account.
Clark and Adams first met when Adams replaced Clare Crawley as the Bachelorette. Clark appeared to be an early frontrunner for Adams after an emotional one-on-one date with Adams. During their dinner conversation, Clark revealed his former drug addiction and passion for helping others recover.
From Clark's vulnerability, and conversations about his past, Bachelorette viewers fell in love with Clark and his advocacy. Adams seemed to feel similarly. Throughout the season, viewers commented about the pair's connection on Twitter. Many claimed Adams and Clark had a chemistry that was lacking between the Bachelorette and other contestants.
Others, however, called Clark "creepy" online and pointed out one, unidentifiable characteristic about Clark they just didn't like.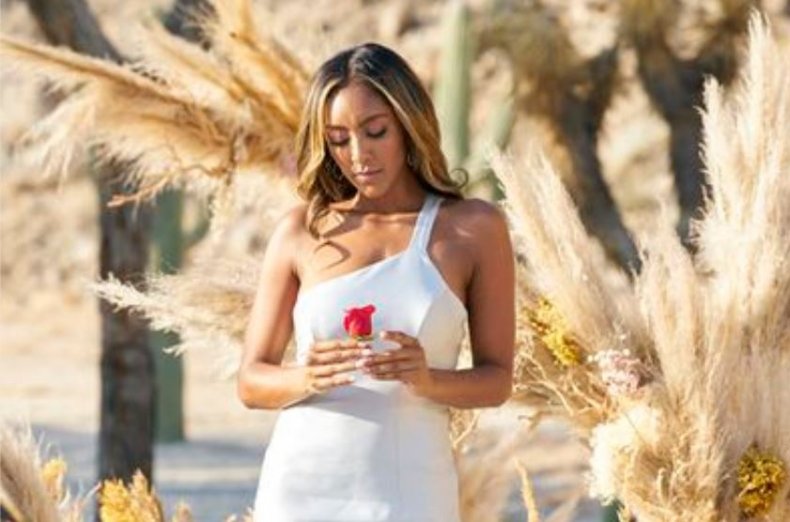 Spoilers for the series named Clark as the final rose recipient early in the season, even though they'd fluctuated. Some claimed the pair had split, but that turned out to be false.
During the finale episode on Tuesday, Clark also admitted he was ready for the "next step," meaning a possible engagement. He did ask Adams' father for his blessing in the case of a proposal. His love for Adams was a talking point, both with family and the Bachelorette, and it seemed impossible to doubt he was truly falling for Adams.
He confirmed this again while speaking of the proposal. "I'm gonna propose to the woman of my dreams," Clark said, just before meeting Neil Lane to pick out Adams' diamond ring.
While Bachelor Nation celebrates Adams' love story, they may also remember that another engagement came out of the 2020 Bachelorette season. Crawley left the season after just a few episodes when she fell in love with Dale Moss. Moss proposed after they'd only known each other for 12 days. And the somewhat rushed relationship paid off. Crawley and Moss are living a happily engaged life, too, meaning this is the first Bachelorette season with two, happy engagements.
Already looking for more? The Bachelor will begin on January 4, 2021, so you won't have to wait long for more roses, drama and love stories.