Here's Who Voters Think Joe Biden Should Pick as His Vice President
Presumptive Democratic presidential nominee Joe Biden plans to announce the members of the committee that will help him select his vice presidential running mate by May 1, but voters are already weighing in with their perspective.
New polling by YouGov and The Economist, which was conducted from April 26 to 28, found that Democratic voters are split between several potential vice presidential candidates. However, progressive Senator Elizabeth Warren of Massachusetts, who previously was running for the Democratic presidential nomination, leads the pack with more than a quarter of Democratic voters seeing her as the best choice for Biden.
Warren was backed by 26 percent of Democratic respondents, while Biden's other former rival for the Democratic nomination, Senator Kamala Harris of California, came in second with support from 18 percent of the party's voters. Stacey Abrams, who ran unsuccessfully to become Georgia's governor in 2018, came in third with 12 percent, and Senator Amy Klobuchar of Minnesota, who also previously sought the Democratic presidential nomination, came in fourth with 11 percent.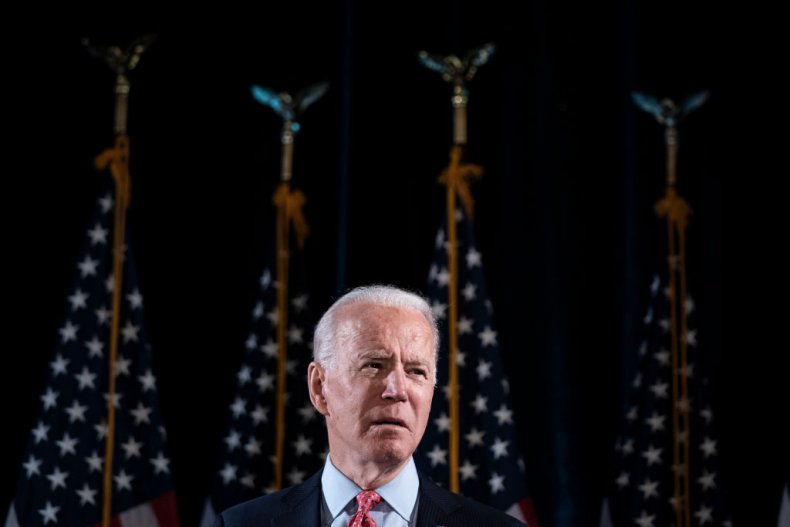 Michigan Governor Gretchen Whitmer was backed by 3 percent of Democratic voters, while Senator Tammy Baldwin of Wisconsin was supported by 2 percent. All of the lawmakers included in the poll have endorsed Biden and have been widely speculated to be under consideration to join the former vice president's ticket. Biden has previously committed to selecting a woman to be his running mate.
Newsweek has reached out to the Biden campaign for comment.
The YouGov/Economist survey also polled Republicans and independents about their preference for who Biden should select to join his ticket. When their viewpoints were considered along with Democrats, Warren still came out as the front-runner. Fifteen percent of all voters said Warren should be Biden's running mate, while Harris came in second with support from 9 percent, and Abrams was third with 8 percent.
The polling also found that Biden was supported by more voters overall than President Donald Trump. Although neither candidate was backed by a clear majority of respondents, Biden was supported by 47 percent and Trump was supported by just 41 percent. Additionally, 6 percent of voters said they were not sure, while 4 percent said they'd vote for another candidate and 2 percent said they would not vote.
A previous survey by Data for Progress found that Warren would be the best running mate to unite the Democratic Party. The majority (61 percent) of progressive voters who backed Senator Bernie Sanders of Vermont to be the Democratic presidential nominee said that they were more likely to vote for Biden if he selected Warren as his vice presidential candidate. Harris came in second, with 42 percent of Sanders supporters saying she'd make it more likely for them to support Biden.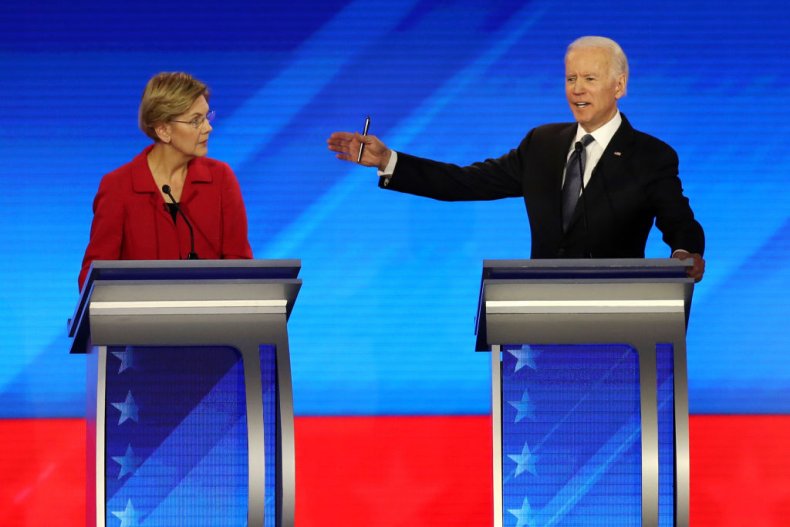 For her part, Warren has said publicly that she would gladly run alongside Biden.
"Yes," the senator from Massachusetts responded confidently when she was asked directly on MSNBC whether she'd be willing to join Biden's ticket.
"We both want the same thing. We want this country to work, and we want it to work for everyone," Warren added.
"He's a man who has a good heart, and that's what we need in a leader—someone who is steady, who is prepared, but ultimately who cares not just about himself, but cares about everyone else," she said.