Here's Who We Think Will Be Evicted From 'Big Brother All-Stars' First
Big Brother All-Stars is about to heat up on Thursday night with the first live eviction of the season. The summer strategy game is off to a mild start with few feuds, backstabs and controversies (though some fans do think the season is rigged). Still, there's time for all that to change as the season goes on.
Sitting on the block Thursday night are Kevin Cambell and Keesha Smith. The two All-Stars don't have any incredibly strong alliance ties in the house at this point. And that's not their own fault—the game just began.
Power in the house shifted quickly when Cody Calafiore won the first Head of Household (HoH) competition last week. Because of his instant leadership, his own alliance appeared to be the force to reckon with. So far, Cody's alliance mainly includes Nicole Franzel, whose casting on the show has been controversial in its own right due to rumors she spied on pre-game conversations for CBS, and Tyler Crispen.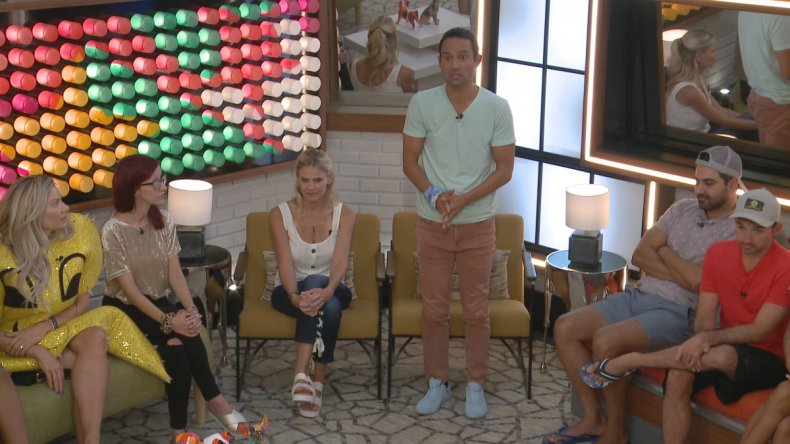 But even with the three seemingly sitting high above the other houseguests, there doesn't seem to be any real push to eliminate either Keesha or Kevin. It's so early in the game, the house is likely to vote together, simply for the reason of keeping the peace.
We at Newsweek expect Keesha will be the first houseguest eliminated from the show on Thursday night because of Kevin's strong social game, and how it's impacted live-feed conversations.
As recently as Thursday morning, houseguests on the live feeds appeared to choose Kevin to stay in the house come eviction time. Kayser Ridha spoke about the possibility of Keesha, but implied the house was leaning toward evicting her. Big Brother Daily transcribed his Thursday conversation.
And Kayser's tactics reflect the baseline comments in the house. Other houseguests have agreed to side with Cody's leadership goals, ones that apparently aim to remove Keesha from the game.
Kayser and Janelle Pierzina are a strong alliance that has been seen on three seasons of Big Brother now. Early in the game, they appear to be the opposition to Cody's friends. We're predicting a giant brawl between the two sides in the coming weeks unless they choose to play it cool to build trust within the separated communities.
What would be even more entertaining, though, is the birth of a secret alliance between the early enemies; that'd be something no one would expect.
Fans of Big Brother know one thing: There's always room for major plot twists and shocking moments. Anything can happen before the Thursday night eviction, and we're so ready to see it unfold.
Here's Who We Think Will Be Evicted From 'Big Brother All-Stars' First | Culture