Here's Who Won't Get a Stimulus Check Amid the Coronavirus Pandemic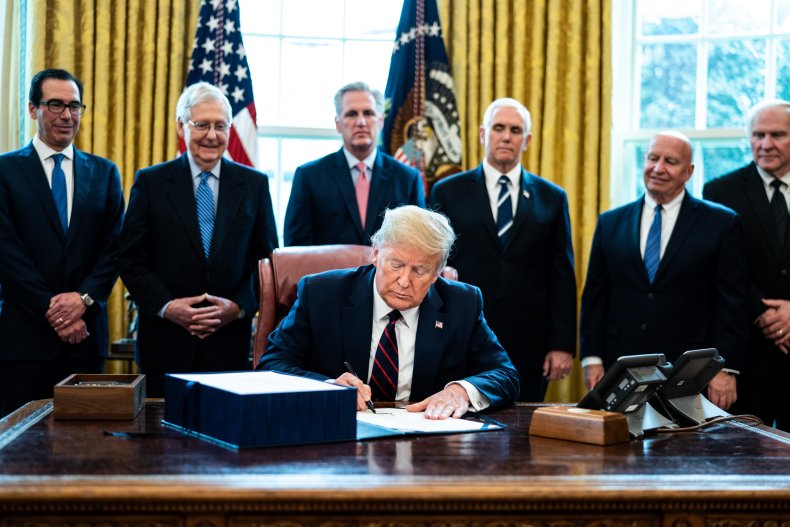 Last week, Congress passed the massive $2.2 trillion CARES Act that provides relief for Americans who need it as the novel coronavirus pandemic has forced businesses across the country to close their doors and brought the U.S. economy to a sharp decline.
Included in the relief package is a provision that will see millions of Americans receive a one-time check of up to $1,200 if single and $2,400 for married couples, along with an additional $500 per child.
The Internal Revenue Service will use the tax return information they received for the 2019 tax year, or the 2018 tax returns for those who have not filed yet this year. The stimulus checks will be directly deposited to the bank accounts the IRS currently has on file.
If the IRS does not have a tax filer's direct deposit information, their website states that "in the coming weeks the Treasury plans to develop a web-based portal for individuals to provide their banking information to the IRS online, so that individuals can receive payments immediately as opposed to checks in the mail." Treasury Secretary Steve Mnuchin said Americans can begin expecting checks by April 17.
The requisites for receiving a check are as follows: Single filers who make less than $75,000 annually will receive the full amount, as will heads of household making less than $112,500 and married couples making less than $150,000. The IRS will be going off of the latest tax returns filed.
Who Won't Receive a Check?
Single tax filers who make above $99,000 annually will not be receiving a stimulus check. The head of a household making above $136,500 will not receive a check. Married couples making $198,000 or more with no dependents will not receive a check, either.
While parents will receive $500 per child, those children above the age of 16 who are claimed by their parents are not eligible to receive a check. This means that college students who are claimed by their parents will not be eligible for their own $1,200 check. Dependents under the age of 24 whose parents still pay for at least half of their expenses will also not be receiving a stimulus check.
Nonresident aliens, meaning immigrants without a green card in the U.S., will not be eligible to receive a check. This includes those who are ineligible for a Social Security number and have been paying taxes using an Individual Taxpayer Identification Number.
The IRS is urging those who have not filed a 2018 or a 2019 tax return to "file as soon as they can to receive an economic impact payment."