Here's Why 300,000 U.S. Immigrants May Not Be Able to Vote in November Due to COVID
Thousands of immigrants in the U.S. who are on the path to citizenship may not become American citizens in time for the 2020 presidential election on November 3 due to delays caused by the coronavirus pandemic, according to a recent analysis by an immigration resource center.
Boundless, which helps immigrants complete the steps necessary to obtain green cards, pursue naturalization and navigate other legal proceedings related to the immigrant experience, said about 252,000 immigrants have already encountered delays that impede their path to citizenship. If the administrative delays caused by the pandemic continue, that number will reach about 315,000 by the end of August, according to a Boundless report published last week.
The delays occurred at a time when 10 percent of voters in the 2020 U.S. presidential election were expected to be immigrants, according to a study published earlier this year by Pew Research Center. The number of immigrants eligible to vote in U.S. elections has been rising steadily over the last 20 years, the study found.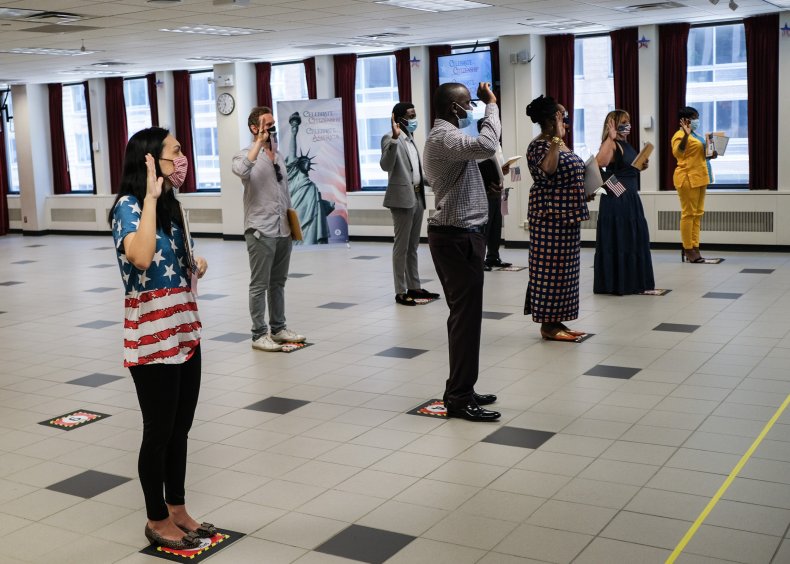 The number of people applying to become American citizens has also increased and was in late 2019 up 30 percent over the number reported in late 2015, before the 2016 presidential election took place, Boundless found.
"Before the COVID-19 pandemic upended the immigration system, and controlling for past anomalies driven by Congress, demand for U.S. citizenship this fiscal year was at its highest level in modern history," Boundless co-founder Doug Rand said in a press release.
Like many businesses and services around the country, U.S. Citizenship and Immigration Services (USCIS) offices shuttered in March in response to the threats posed by the coronavirus pandemic. With offices closed, immigration officials had to postpone the in-person interviews that aspiring Americans are required to complete as one of the final steps toward citizenship. Naturalization ceremonies, the final step in the citizenship process, were also temporarily postponed.
The USCIS began reopening its offices and holding naturalization ceremonies with social distancing measures in place in June. The agency said it was decreasing the number of in-person interviews in its offices, a decision that encouraged social distancing but limited the number of people who could go in to complete that important step toward citizenship. However, Boundless said it was unaware of any in-person interviews that USCIS rescheduled as of July 16.
The USCIS told Newsweek it is working to catch up on the postponed naturalization ceremonies and in-person interviews as quickly as possible under the Centers for Disease Control and Prevention's reopening guidelines. The agency's caseload was already high due to its number of naturalization requests more than doubling between 2010 and 2017, according to USCIS spokesperson Jessica Collins.
"Since resuming in-person services on June 4, our first priority has been to conduct naturalization ceremonies for those whose ceremonies were postponed due to the temporary COVID-related closures," Collins told Newsweek. "We have also prioritized rescheduling interviews for naturalization and adjustment of status that were postponed. We've reopened our offices in accordance with the CDC's guidelines, which require us to follow social distancing guidelines and other health protocols designed to keep the USCIS workforce and those visiting our offices safe. We are conducting naturalization interviews and are committed to conducting as many interviews as we can in manner that is safe for our staff and for the public."
Collins said USCIS adapted its naturalization ceremonies during the pandemic to "incorporate social distancing, including curbside and drive-up ceremonies that allow applicants to stay in their cars as they take the Oath of Allegiance."
"We are on track to naturalize all candidates who had their ceremony postponed during the temporary suspension of in-person services by the end of July 2020," Collins said.
Most states' voter registration laws require voters to register online, by mail or in person between one week and one month before the election in which they wish to vote. A majority of immigrants who become citizens by August are able to register in their states in time to participate in the next presidential election, according to Boundless.
Though the administrative delays are creating roadblocks on thousands of immigrants' path to citizenship, immigration officials are taking steps to adapt the typical proceedings as the pandemic continues to pose threats throughout the country. According to Boundless, more than 110,000 immigrants successfully completed naturalization earlier this month, due in part to the drive-thru ceremonies that some USCIS offices introduced to help some individuals complete the citizenship process.