Here's Why Chris Harrison Is Still Hosting the Women Tell All 'Bachelor' Episode
Monday night's episode of The Bachelor comes at an odd time for the franchise, and despite real-time franchise changes by ABC, Chris Harrison will host the episode.
This may confuse some viewers who expect the episode, which was filmed post-Bachelor filming, to feel current. The episode, however, likely won't address any of the current racial issues the series is facing—issues that saw Harrison step back from his role as host.
Harrison is taking a hosting break after he defended Rachael Kirkconnell for racist behavior in her past, like dressing in Native American costume and attending a "plantation-themed" sorority party. The former host did apologize for his statements, which aired in an Extra interview with Rachel Lindsay and baffled many viewers. After backlash, he announced he'd step down, for now, to educate himself on equality.
But the "Women Tell All" episode was recorded before all of those events. That's why Harrison is still hosting, and there's a good chance the episode doesn't mention the racial controversies at all. That is unless it was edited after filming to add current material an/or disclaimers.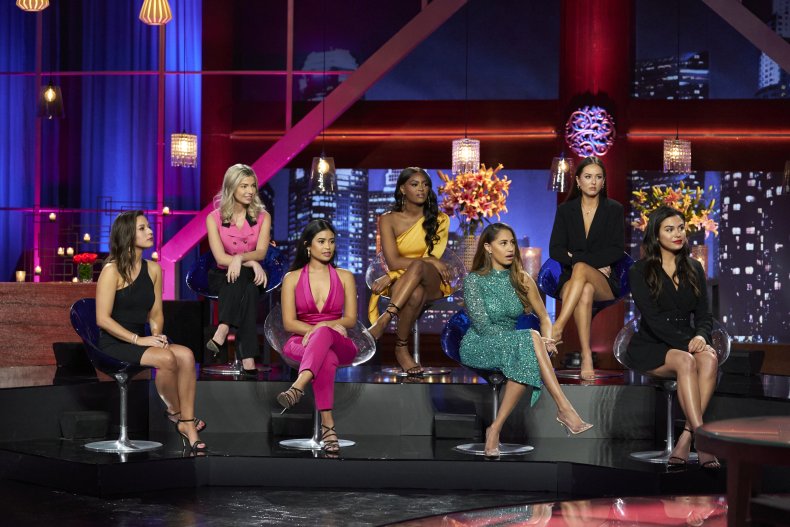 This episode, which airs before the finale each season, will look back at the drama between women in the house. That means Anna, "Queen" Victoria and more will be asked to face their "mean girl" moments that Twitter tore apart during the season.
The conversations about race and how The Bachelor can move forward on diversity should happen during the finale's After the Final Rose special, which airs each season. Harrison won't be on that show. Emmanuel Acho, a former NFL player and Black rights advocate who authored Uncomfortable Conversations With a Black Man, will guide the difficult conversations, likely including Kirkconnell.
Until then, the Bachelor fluff will continue. "Queen Victoria" Larson will be one of a few women featured on the "Women Tell All" episode. While she's generally hated by Bachelor viewers, Larson is the exact kind of woman the "Women Tell All" episodes are designed to center on those who sparked tension in the Bachelor mansion.
Photos from ABC show Abigail Heringer in the "hot seat," too. This means the woman, who is the first disabled contestant on the series, will probably get a chance to talk directly to James about their breakup and what went wrong.
If you're looking for ABC to address the real-time conversations, you'll have to wait until the finale. For now, pour yourself a glass of wine and buckle up for some dramatic explosions surrounding James' season.
If you're looking for spoilers on who James ends up with, and if they're still together, click here.