Here's Why January's 'Bachelor' Premiere Will Be Three Hours
Bachelor Nation is in for a treat with Peter Weber's extended premiere episode.
The series will launch on January 6 with a three-hour premiere, according to a press release from ABC. This is a major change-up from the 23 seasons prior to Weber's, which typically run two hours and focus on one major event.
Instead of sticking to footage of each woman getting out of a limo, and then entering the first night's cocktail party, viewers will see the first one-on-one and group dates on premiere night. While the introductions will be important, as it will give viewers a chance to know each woman, the show will start with some additional drama.
According to the press release, former Bachelorette Hannah Brown will appear on night one. "Thirty Women Are Eager to Win Peter's Heart and Final Rose When Bachelorette Hannah B. Steps Out of the Limo, All Bets Are Off!" the release says.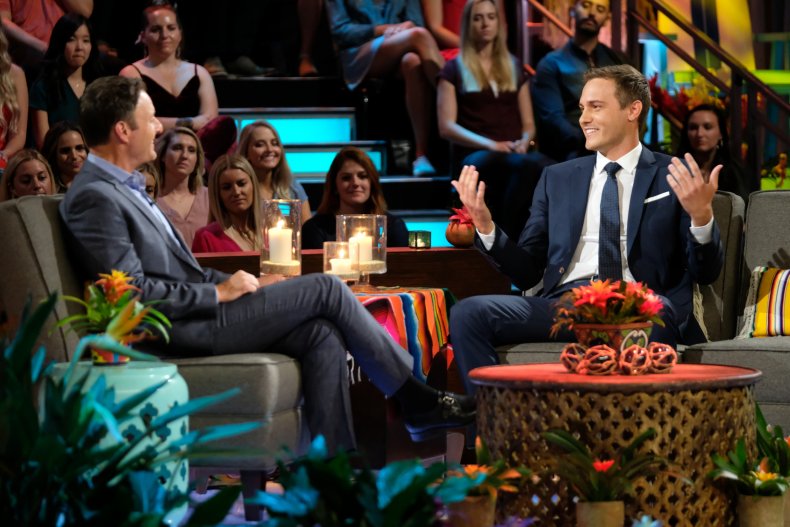 This won't be too big of a surprise for most viewers, as Brown's visit has already been teased. A trailer, in which the pair look cozy, premiered during the Dancing With The Stars finale. In it, Weber asks Brown to stay on the show as one of his contestants. However, spoilers indicate that Brown won't stay, but simply visited the show to have a conversation with Weber. Reality Steve claims Brown will appear again later in the season, but not to prompt a romantic reunion.
The spoiler blog revealed what will happen in the three-hour episode. Apparently, the woman to have the first one-on-one date with Weber is named Madison. Then, Brown will plan a group date for the women. That's where Brown's conversation with Weber comes in, according to the spoilers.
"That's where the cliffhanger to the episode will be," Reality Steve wrote on Twitter Wednesday. "It'll end with the audience thinking that Hannah is about to join the show as a contestant, when anyone can clearly see that's not the case. But they're gonna make you think she does..."
Weber was one of the final four contestants on Brown's season of The Bachelorette, which premiered in 2019. The pair are known throughout Bachelor Nation as the couple who were intimate in a windmill. Their interactions sparked conflict between Brown and another contestant, Luke Parker, who didn't approve of Brown's decision to be sexual before marriage. Because of the situation, Bachelor Nation rallied behind Brown, and her comments about the windmill became a constant conversation in the press and for the show's fanbase.