Here's Why Lana Del Rey Is on the Defensive Over Instagram Comments About Beyonce, Ariana Grande and More
Lana Del Rey is speaking out after facing major backlash over a controversial social media post that went viral.
On Thursday, the "Summertime Sadness" singer announced her seventh album in a lengthy statement shared on Instagram that also addressed criticisms of her lyrics. The post opened by invoking the names of a few high-profile female artists—including Beyoncé, Ariana Grande and Nicki Minaj—and noting that they've had success with songs that deal with sexual subject matter. Del Rey seemed to be saying that that should entitle her to sing about what she'd like to, "without being crucified or saying that I'm glamorizing abuse."
Later that same evening, after getting slammed on social media for what many perceived as racist commentary, she took to the comments section of the original post to defend herself.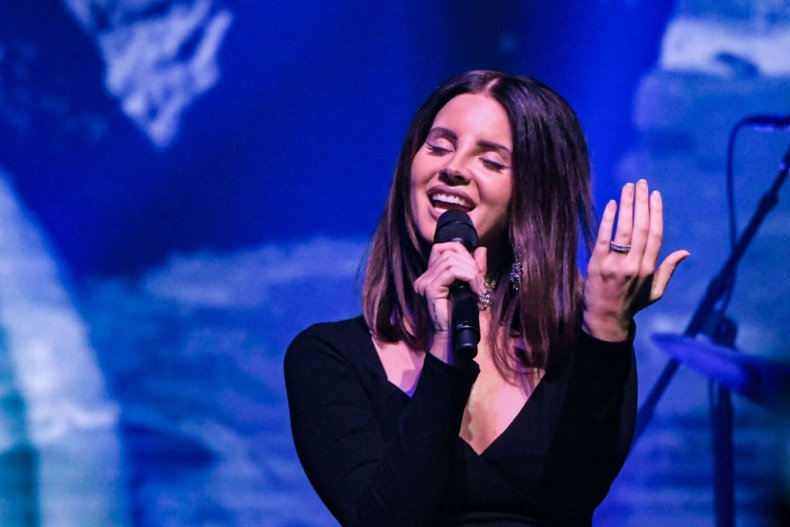 "To be clear because I knowwwwww you love to twist things. I f***ing love these singers and know them. That is why I mentioned them. I would also like to have some of the same freedom of expression without judgment of hysteria. There you go," she began.
"By the way, the singers I mentioned are my favorite singers, so if you want to try and make a bone to pick out of that like you always do be my guest, it doesn't change the fact that I haven't had the same opportunity to express what I wanted to express without being completely decimated and if you want to say that that has something to do with race that's your opinion but that's not what I was saying," Del Rey continued.
The Norman F**king Rockwell! singer said she was sad that people interpreted her post as a "WOC issue" when she was just focusing on her favorite singers. "This is the problem with society today, not everything is about whatever you want it to be."
Del Rey added, "It's exactly the point of my post – there are certain women that culture doesn't want to have a voice it may not have to do with race I don't know what it has to do with. I don't care anymore but don't ever ever ever ever bro- call me racist because that is bulls**t."
"And my last and final note on everything – when I said people who look like me – I meant the people who don't look strong or necessarily smart, or like they're in control etc. it's about advocating for a more delicate personality, not for white woman – thanks for the Karen comments tho." she concluded. "V helpful."
Del Rey's original Instagram post posed a "question for culture," and name-checked several singers, comparing the subjects of their songs to hers.
"Now that Doja Cat, Ariana [Grande], Camila [Cabello], Cardi B, Kehlani and Nicki Minaj and Beyoncé have had number ones with songs about being sexy, wearing no clothes, f**king, cheating, etc – can I please go back to singing about being embodied, feeling beautiful by being in love even if the relationship is not perfect, or dancing for money – or whatever i want – without being crucified or saying that I'm glamorizing abuse???????" she wrote in the Thursday statement.
Many took to social media and dragged Del Rey for her remarks.
"You need to just apologize and not make excuses. No need to mention or step on black women in your white feminist essay," one person commented on Instagram.
"Lana is reinforcing the damaging steroytope that black women are strong, sexualised, and that women like her are delicate, etr. This is wrong on so many levels," another chimed in.
"You can delete the entire first paragraph and your statement would STILL be problematic, peak white feminism," a third wrote.
So far, of the women mentioned in Del Rey's rant, only Doja Cat appeared to respond. "Gang sunk that dunker," she wrote.