Here's Why People Think 'Big Brother' Season 22 Is Totally Rigged
Big Brother All-Stars has been airing on CBS for less than a week and there is already controversy brewing in the fan community. This is nothing new, but the complaints this season are a bit different from years before.
Some fans are claiming Season 22 is rigged because of the season's first competition.
When Big Brother houseguests entered the house in Wednesday night's live move-in episode, fans saw them compete immediately for the chance of becoming the Head of Household (HoH). To qualify for the HoH competition, though, they had to complete a puzzle. And fans immediately slammed CBS for allegedly making the task harder for women in the house.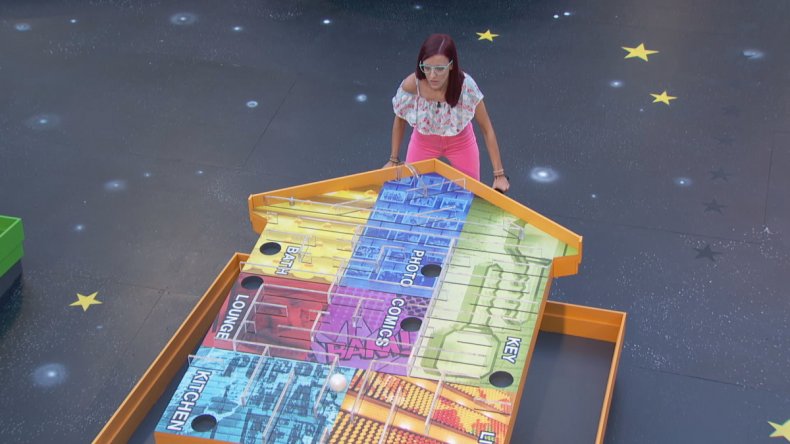 Groups of four entered the game and competed individually. All were asked to navigate a giant, handheld maze to land a ball in a slot that identified which room in the house a specific object resided. But fans noticed women playing the game had to identify objects in rooms that were much harder to get to on the game board. The men, however, appeared to have rooms that were closer.
This wouldn't matter so much if there wasn't a time limit to the game, but players only had four minutes to complete it. Because of that, not as many women qualified for the HoH competition as men. Newsweek reached out to CBS for comment on allegations the game was rigged in favor of men but didn't hear back at the time of publication.
Longtime fans of Big Brother know that its stars aren't without flaw. Past contestants have been slammed for misogynistic and racist behavior and comments in the game.
All-Stars also saw houseguest and former Season 16 winner Nicole Franzel in the spotlight for allegedly acting as a "spy" for CBS to report and pre-game alliances between former contestants. She denied the allegations in a live feed conversation with Tyler Crispen, which you can see below.
In week one, Cody Calafiore is the HoH. He's already nominated two people for eviction: Kevin Campbell and Keesha Smith, which fans saw on Sunday night. Next up is the Veto competition, which will air on Wednesday. If you can't wait that long to know what happens, though, you can read the spoilers here.
So far, Cody has decided to start an alliance with Nicole F. and Tyler Crispen. Because Cody holds the power week one, it seems his two closest allies will remain safe, sans a giant twist.