Here's Why Twitter Labeled Trump's Tweet About Inaccurate Election Results As 'Potentially Misleading'
Twitter labeled President Donald Trump's tweet about inaccurate election results as "potentially misleading" Thursday, saying the post violated the social network's Civic Integrity Policy.
"We've added a label to this Tweet for making a potentially misleading statement regarding the process of mail-in voting, and to offer more context for anyone who may see the Tweet. This action is in line with our recently-updated Civic Integrity Policy," Twitter Safety wrote in a tweet that included a retweet of Trump's initial message.
Trump's tweet included a retweet from True The Vote, a right-win organization that, according to the website, helps other organizations recruit and train election workers and "defend the veracity of the electoral process, and deter election fraud."
"Because of the new and unprecedented massive amount of unsolicited ballots which will be sent to "voters", or wherever, this year, the Nov 3rd Election result may NEVER BE ACCURATELY DETERMINED, which is what some want. Another election disaster yesterday. Stop Ballot Madness!" the president's tweet said.
In its statement, Twitter Safety noted that the updated Civic Integrity Policy outlines how the company determines if a tweet should be labeled as potentially misleading.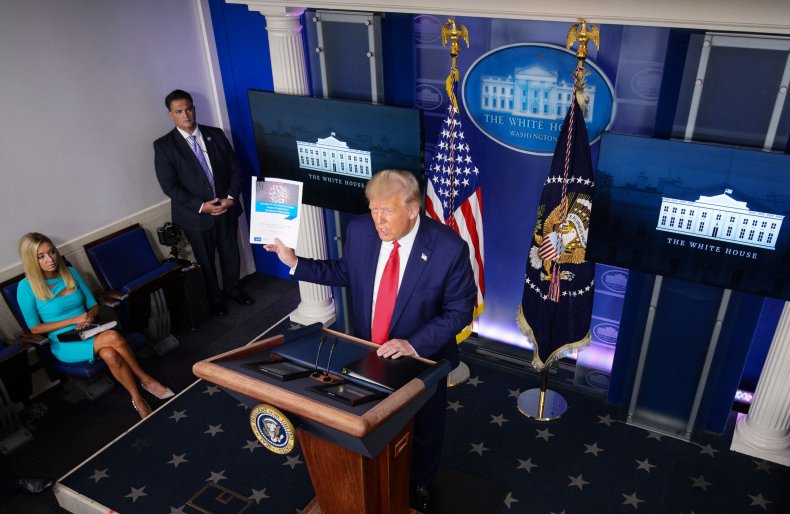 "You may not use Twitter's services for the purpose of manipulating or interfering in elections or other civic processes. This includes posting or sharing content that may suppress participation or mislead people about when, where, or how to participate in a civic process," the policy states. "In instances where misleading information does not seek to directly manipulate or disrupt civic processes, but leads to confusion on our service, we may label the Tweets to give additional context."
Newsweek was directed to Twitter's Civic Integrity Policy after reaching out for comment.
A subsequent tweet from Twitter Safety notes that Trump's tweet was in line with one aspect of their Civic Integrity Policy, which states that a tweet can be labeled misleading if it shares, "disputed claims that could undermine faith in the process itself, such as unverified information about election rigging, ballot tampering, vote tallying, or certification of election results."
This is not the first time Trump has seen his tweets labeled as misleading by Twitter.
On August 23, Twitter placed a public interest notice on one of Trump's tweet's for "violating our Civic Integrity Policy for making misleading health claims that could potentially dissuade people from participation in voting."
The tweet from Trump read, "So now the Democrats are using Mail Drop Boxes, which are a voter security disaster. Among other things, they make it possible for a person to vote multiple times. Also, who controls them, are they placed in Republican or Democrat areas? They are not Covid sanitized. A big fraud!"
On September 3, two additional tweets from the president violated Twitter's rule "about civic and election integrity."
Those tweets suggested that American voters should attempt to vote twice, by mail-in and in-person.
"go to your Polling Place to see whether or not your Mail In Vote has been Tabulated (Counted). If it has you will not be able to Vote & the Mail In System worked properly. If it has not been Counted, VOTE (which is a citizen's right to do)," Trump wrote in one tweet.
In an email sent to Newsweek, Thea McDonald, the deputy press secretary for Trump's campaign, wrote, "Another Day, another episode of Twitter trying to silence the leader of the free world who is fighting every day to make sure Americans have the free, fair election they deserve."
"Social media companies are not the arbiters of truth or elections, and the fact that they pick apart the president's tweets while blatantly giving Democrats a free pass for shredding election integrity rules and disenfranchising voters with their radical universal vote-by-mail scheme is shameful," the email added.
Updated September 17, 2020, 2:29 p.m. ET, to include a statement from a press secretary for Trump's campaign.