Here's Why You Might See Kanye West as a Vice President Pick on Your November Ballot
Kanye West may not be officially running for President in every state, but he's still on California's ballot...for an entirely different reason. West is now listed as a vice president option, in case his dive into politics wasn't confusing enough already.
The American Independence Party (AIP) named West as the VP alongside independent presidential candidate Roque "Rocky" De La Fuente, and neither had a say in it. The reason why West was chosen for VP? "Well, he wasn't available for President," AIP Chairman Markham Robinson told Newsweek.
The AIP picked West because of his political views, as well as his celebrity connections. Robinson explained having a former endorsement from Elon Musk—who he called "one of the smartest people in the world—secured confidence in West, as did West's reliance on the Bible to enforce his points. "Kanye is an example of a good thing that we found along the way," Robinson said. "His platform is was really pretty good. We loved the fact that he used scriptural references to justify his points."
West has been vocally anti-abortion, which is one of the AIP's leading platforms. Meanwhile, the topic of abortion doesn't appear on De La Fuente's campaign website.
De La Fuente didn't know West was going to be his California running mate until it was official. He's on the ballot in 16 states and is eligible as a write-in an additional 12. In all but California, he's running alongside author Darcy Richardson. But California's laws give the endorsing party, in this case, the AIP, the only say on both presidential and vice-presidential nominations.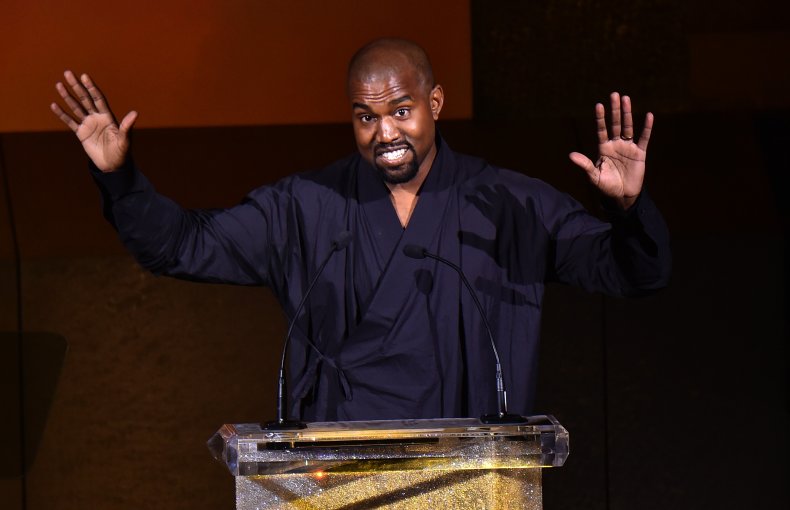 "I was not consulted to see if I wanted Mr. West as my running mate," De La Fuerte told Newsweek. "Obviously, we're a weird—and I wanted Mr. Richardson as my running mate—but it was their decision and their decision only."
While De La Fuente didn't choose West, he does see possible merit in the pairing. He noted West is popular in the 12 to 24 age bracket. He also pointed to the diversity their pairing represents. "We'll probably be the first ticket in the nation that is brown—I'm brown, Mexican-American—and Mr. West is African American. So let's see what happens in California."
And that could be a reason for the choice.
Robinson said in conversation with Newsweek that it is his belief having a Hispanic and Black candidate may draw votes from either President Donald Trump or former Vice President Joe Biden. "A few people are going to be dislodged based on identity politics, but if they are, they probably shouldn't vote anyway and we're a nice receptacle for their votes," he explained.
Though there could be a small chance they'll end up running the country together, West and De La Fuente haven't spoken. Newsweek attempted to contact West for comment on the nomination but didn't receive a response. De La Fuente said he hasn't tried to speak with West, and West hasn't reached out, either.
So what's the ideal outcome? Both De La Fuente and Robinson stressed the importance of creating a better three-party system so American voters aren't forced to choose between two controversial candidates. U.S citizens have been heard complaining about their options during the 2020 pre-election topics, some claiming they'll "settle for Biden" and others hesitantly voting from Trump's re-election. While De La Fuente and Robinson don't expect to win the state of California, they expect to gain some votes from citizens craving another option.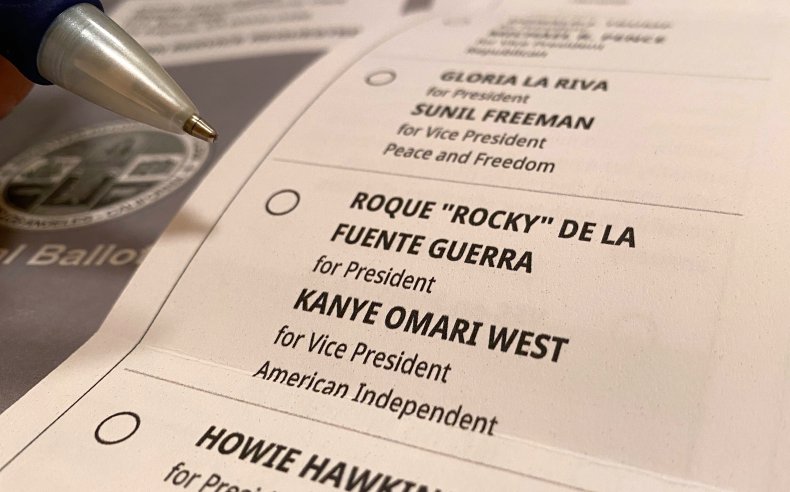 "There are all sorts of people who are more deserving and smarter than our leader," said Robinson. "That's a real problem. Somehow, we have yet to contrive a solution to selecting the best people to do things for us for the right reasons."
Some reports claim the decision by the AIP to include West was a strategy to distract voters from Biden. Neither De La Fuente nor Robinson sees this as realistic. "It makes no difference. In California, you have 60 percent of California are democrats. The republicans only represent 30 to 35 percent," De La Fuente noted. "Even if we are able to get half a million or one million votes for the American Independence Party, it will still not make a difference. California will be democrat."
Robinson echoed the point. "It could [take votes from Biden], it could also take them away from Trump. It's really hard to say, isn't it? Exactly how that works."
Though the AIP has endorsed De La Fuente and West, Robinson—as seen on his Twitter account—vocally supports Trump. He told Newsweek he'll vote to re-elect the sitting president come November 3.
In addition to appearing as a vice-presidential nomination, West is still running for President in a handful of states though, like De La Fuente, he didn't qualify in all.