Herman Cain's Most Infamous Gaffes: From 9-9-9 to Pizza, Trump's Federal Reserve Board Pick Has History of Bizarre Remarks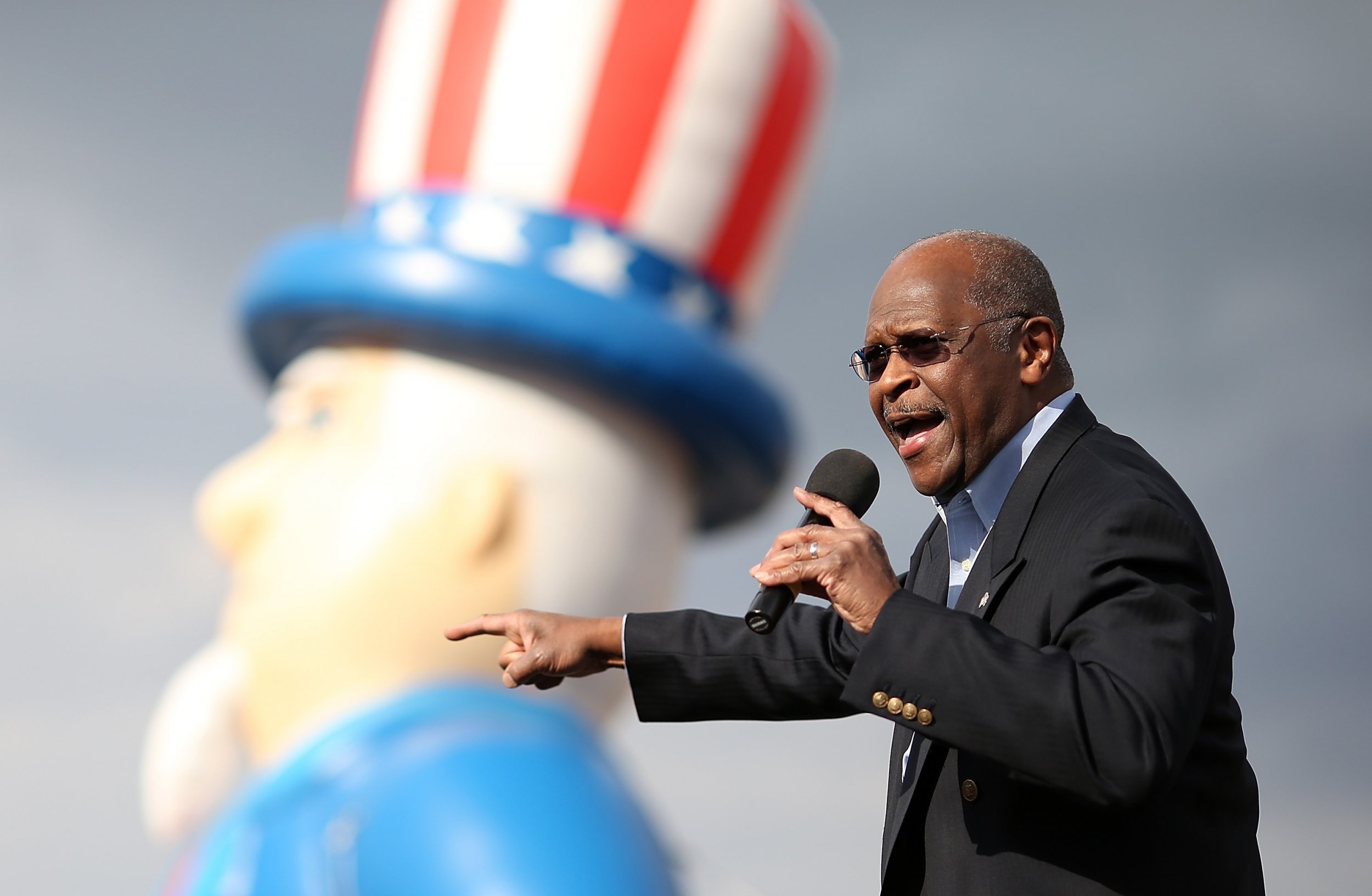 President Donald Trump nominated former Tea Party presidential candidate and Godfather's Pizza CEO Herman Cain to the Federal Reserve Board Thursday.
"I've recommended Herman Cain. He's a very terrific man, a terrific person. He's a friend of mine. I have recommended him highly for the Fed. I've told my folks that's the man," said the president.
If his nomination is approved by Senate, Cain, who famously introduced the world to his 9-9-9 economic plan that would replace all current tax policy with a 9 percent personal income tax, 9 percent federal sales tax, and a 9 percent corporate tax, would be part of the body that controls U.S. monetary policy.
"I doubt that will be a nomination," Utah Senator Mitt Romney, who competed against Cain in the 2012 Republican presidential primary, told Politico Thursday. "But if it were a nomination, you can bet [what] the interest rates he would be pushing for.... If Herman Cain were on the Fed, you'd know the interest rate would soon be 9-9-9."
Cain, who briefly polled as the frontrunner in the 2012 Republican primary quickly lost favor in the public's eye and eventually suspended his campaign after he was accused by at least four women of sexual harassment.
Cain does have some experience with the Federal Reserve. He served as chairman of the board of the Federal Reserve Bank of Kansas City Omaha Branch in the early 1990s and then as deputy chairman of the Bank of Kansas City until 1996.
Still, if nominated, he would be one of the most overtly political board members in recent years. In September, Cain formed a pro-Trump PAC called America Fighting Back, which has a mission statement to "protect Donald Trump and his agenda from impeachment."
Cain also has a history of gaffes and notorious moments from his years on the campaign trail that could be hard to shake off during a Senate confirmation hearing. Here are a few of them:
"We need a leader, not a reader."
Cain used this line, likely lifted from the fake President Schwarzenegger in The Simpsons Movie, during a New Hampshire campaign event in 2011.
Cain has expressed his aversion to reading on multiple occasions. During another campaign event, Cain criticized former President Barack Obama for passing a long bill. "Don't try to pass a 2,700-page bill—and even they didn't read it! You and I didn't have time to read it," he said. "We're too busy trying to live—send our kids to school. That's why I am only going to allow small bills—three pages. You'll have time to read that one over the dinner table."
"How do you say 'delicious' in Cuban?"
During a campaign stop in Miami, Cain seemed to forget about the existence of Spanish.
Cain tasted a Cuban coffee in front of a gaggle of press and declared that he loved it. "How do you say 'delicious' in Cuban?" he asked enthusiastically.
"A poet once said, 'Life can be a challenge, life can seem impossible, but it's never easy when there's so much on the line.'"
Cain suspended his presidential campaign in 2012 with an announcement that concluded with these lyrics, which he claimed a poet said. The lyrics were actually sung by Donna Summer in an obscure song that was featured on the soundtrack of Pokémon: The Movie 2000.
Ubeki-beki-beki-beki-stan-stan
In a 2011 interview with the Christian Broadcasting Network, Cain was asked if he was ready to answer "tough questions," like "What is the name of the president of Uzbekistan?" Cain responded,"I'm ready for the 'gotcha' questions, and they're already starting to come. And when they ask me who is the president of Ubeki-beki-beki-beki-stan-stan I'm going to say, 'You know, I don't know. Do you know?'"
Imagine there's no pizza
Presented without comment.
That cigarette ad