Herman Cain's Unlikely Republican Rise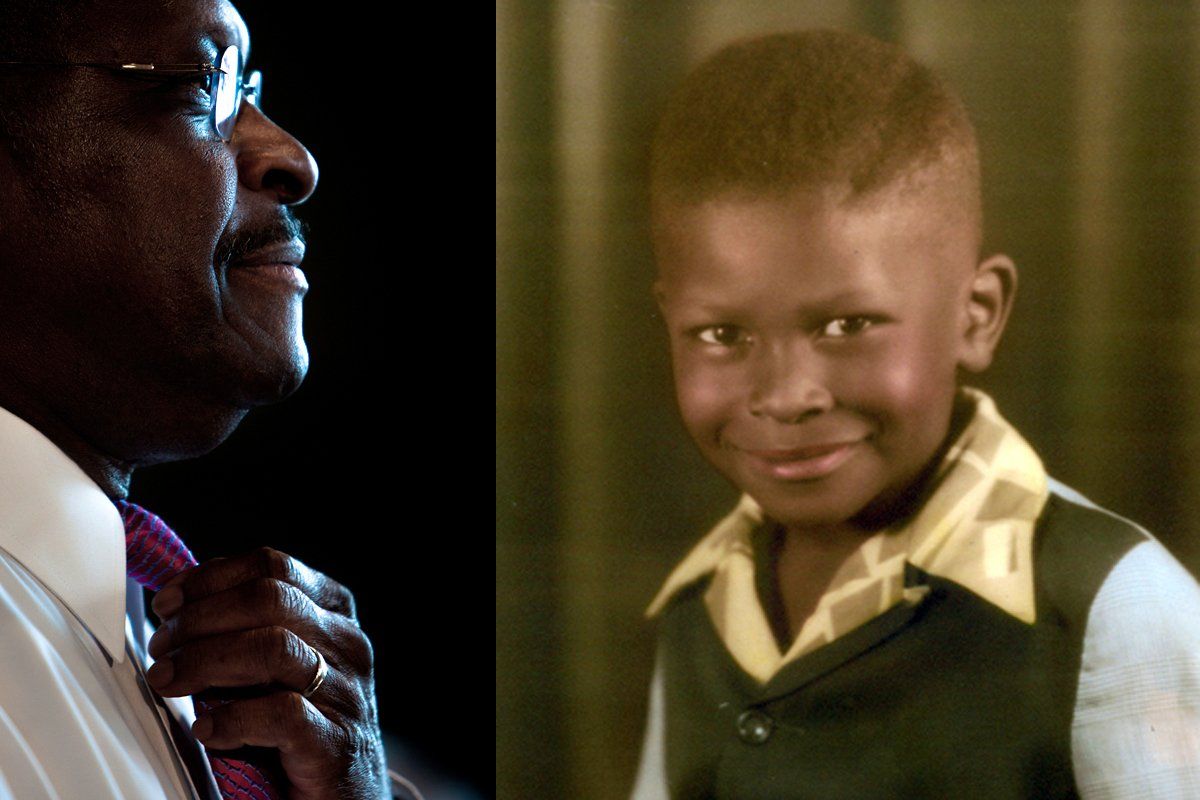 Herman Cain had last been at the Hyatt Hotel in Columbus, Ohio, in July as a ridiculously unlikely Republican candidate for president, a man who summarizes himself as an "ABC."
"American black conservative," Cain says.
Now, by the magic of his personality, a preacher-bred speaking style, a bootstrap personal narrative, and a catchy name for a tax overhaul, the ABC was back at the hotel as a frontrunner against the perpetually unexciting Mitt Romney. Sitting down for a breakfast interview with Newsweek on Friday morning, following a strong debate performance earlier in the week that helped propel him to the lead slot in several polls, Cain was suddenly the great black hope of the GOP, the anti-Obama. "I believe he's a decent man," Cain says of the president. "But he's a terrible leader."
Cain seems determinedly undaunted by political practicalities, however heavily they weigh against his chances. He remains a black Republican in a predominantly white party who has only a fledgling organization and no ground game in the crucial early primary and caucus states. And until very recently, he didn't seem to have much of a sense of urgency about his own campaign, wandering off the trail to do a book tour for a time—which caused the departure of several staffers who were concerned that he wasn't serious about running for president.
For all those shortcomings, Cain has become the vessel for a loud and stubborn resistance in Republican ranks to the party's tradition of rallying around the big-name, big-bucks establishment candidate. He is the latest beneficiary of the anybody-but-Romney crowd, which fell in and out of love with Michele Bachmann and Rick Perry, and can only think "what if" of Chris Christie. In a year when anti-establishment sentiment is raging and conventional wisdom is useless, Herman Cain has found his moment and seems to be having a blast riding the high. Denying Sarah Palin's charge that he is the flavor of the week, Cain quipped, "I'm Häagen-Dazs black walnut. It lasts longer than a week."
From an early age, Cain, 65, has coped with racism by changing the civil-rights mantra to the singular—"I shall overcome"—to the fury of those African-American leaders who stick to "we." A man who has called himself "the CEO of Self" has become a candidate who allows Republicans to oppose America's first black president without feeling racist. He suggests that a matchup between himself and Obama would prove that race is not a major factor in American politics.
"It's not about color," he says over bacon and eggs. "It's going to be about the content of your ideas."
The content of some of his ideas seems sure to alienate less conservative voters. He is against abortion even in cases of rape or incest. He has denounced global warming as a sham. He has suggested that the way to deal with Iran is by deploying more warships and increasing our ballistic-missile stocks. He has applauded Arizona's immigration crackdown. He has warned against the danger of Sharia creeping into our legal system. He has even come close to saying that many of those who are poor choose to be. "When I heard him on TV I was like, 'What kind of Negro is this?'?" says Ralph Anderson, an unemployed construction worker in Los Angeles. "I've been looking for work for a year, and I dare someone to tell me I don't want a job and that I don't want to have money to pay my bills and take care of my children."
Congresswoman Maxine Waters of California is convinced that Cain's 15 minutes will be up soon, no matter the current uproar over his success. "He's said a few things, in particular about poor people being at fault for their poverty, that simply won't allow him to get much further, and not with African-Americans," Waters says. "He'll have a little run and then fizzle out. You can't insult the people and expect to go far."
Cain chafes at such criticism, including the shot he took from legendary singer and civil-rights activist Harry Belafonte, who called him a "bad apple" during a recent TV interview with host Joy Behar. "I'm pretty sure African-Americans don't take Cain seriously, but I'm not sure about white people," Belafonte tells Newsweek. "They believe this black man is the real deal. He isn't. Anyone who says what he says isn't."
"He's been on that banana boat too long," Cain replies, accusing the 84-year-old Belafonte of trying to "intimidate" people of color who might even consider supporting his candidacy. "Harry Belafonte called me a bad apple. Now he knows he's not going to shut me up."
Cain repeats something he recalls his grandfather often saying: "I does not care what they call me—just call me Mr. Cain. And in 2013, they can call me Mr. President."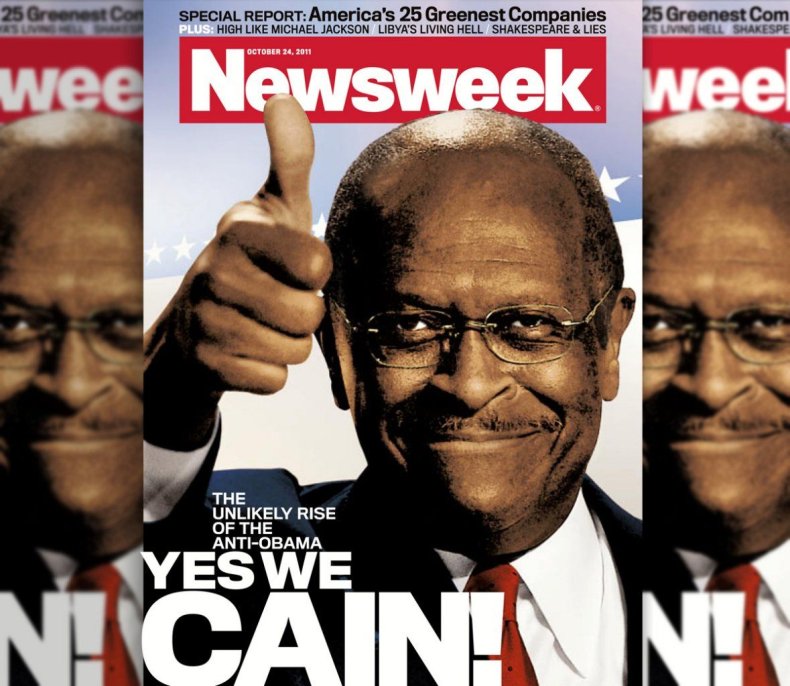 The candidate proudly trumpets his background as a "son of the segregated South." His story of rising from poor origins to being a multimillionaire CEO is a rich illustration of the American Dream.
Cain grew up during the Jim Crow days in Georgia, where his mother worked as a domestic while his father held down three jobs as a barber, a janitor, and a chauffeur. Cain credits his success to a high-school math teacher, Charles Johnson, who told him, "You can be whatever you want to be; you just might have to work a little harder and work a little longer."
Both of Cain's parents were raised by poor farmers in the South. Luther and Lenora Cain met in Mansfield, Ohio, then moved to Memphis and finally to Atlanta. They had little money—the family lived in a housing project when Herman and his late brother Thurman were young—but his father worked overtime to make ends meet. Herman Cain speaks with admiration of his father, who was clearly a shrewd businessman in his own right. As the chauffeur for the CEO of Coca-Cola, Luther Cain persuaded his boss to start paying him in Coke stock. The family gradually moved up, first to a duplex and finally to a stand-alone house—a major accomplishment.
Cain was a diligent young man, with a quietly defiant attitude toward Jim Crow and strong religious convictions from early on—his lifelong love of singing was born when he was a member of his church choir as a child. But he was cautious about flouting the strict dictates of segregated Southern life. He once snuck a drink from a "whites only" fountain, but mostly demonstrated his resistance to racism in academic achievement. In his just-released memoir, he remembers boarding buses as a teenager and being forced to ride in the back—but he was no Rosa Parks. "We saw [sit-ins and the Freedom Rides] every day on TV and read about it in the news," he writes, but "Dad always said, 'Stay out of trouble,' and we did."
Graduating as salutatorian, Cain applied to schools around Atlanta so he could commute to class. Rejected by Georgia Tech, which took few black students at the time, he opted for Morehouse, the prestigious historically black college, where he received a scholarship and decided to study math. Once again, he found himself at a disadvantage: "Everyone was a salutatorian!" Failing to keep a B average, Cain lost his scholarship, so he worked part-time jobs, in everything from construction to Coca-Cola research and development, to pay his tuition bills.
Cain went on to become a Navy civilian mathematician and then worked as an executive at Coca-Cola, until he concluded he was being held back as the "chauffeur's son." Eager to move up faster, he jumped to Pillsbury, where he became vice president of systems. But his ambition still wasn't sated, and he decided in 1982 to enter a fast-track manager program at Pillsbury's Burger King subsidiary, where he started out cooking burgers. Cain's time flipping patties was mercifully short. He was quickly installed as head of the underperforming Philadelphia region for the chain, which included about 400 restaurants. He did well enough that Pillsbury chose him for a new turnaround job: resuscitating the foundering Godfather's Pizza chain.
Dwarfed by Pizza Hut and Domino's, Godfather's was falling further behind by 1986, when Cain was appointed president of the Omaha, Neb. based chain. To save the company from shuttering, he closed hundreds of restaurants that weren't up to snuff and eliminated a layer of management at the corporate level. But more important, he injected a new edginess into the company, taking on the big dogs and commissioning award-winning and unconventional ads that built the brand name. (At one charity event in Omaha, a line of Ziegfeld-style chorus girls introduced Cain, who—clad in a white preacher's robe and backed by a gospel choir—sang a parody of John Lennon's "Imagine" in his resonant baritone: "Imagine there's no pizza ... I couldn't if I tried.")
But by 1988, Pillsbury decided Cain wasn't bringing the company along fast enough, and it announced it would sell the chain. Undeterred, Cain put together a group that bought Godfather's from Pillsbury for an estimated $50 million. He stayed at the helm until 1996, when he left to become president and CEO of the National Restaurant Association, a major trade lobbying group.
Cain got his first taste of political blood during a town-hall meeting in 1994, when he squared off against Bill Clinton over the president's proposed health-reform plan. Cain said the bill would force businessmen like himself to lay off workers. The exchange was broadcast on national TV and helped to sink Clinton's proposal. It also started Cain's name floating as a future political star. In 1996 Cain told the Omaha World-Heraldhe was considering running for office, likely for governor or senator. "I might even run for president," he said. "Who knows?"
A year later, that ambition had started to crystallize into a more realistic goal. He discussed the idea of challenging Sen. Bob Kerrey, a Democrat, in 2000. But then he changed his mind, instead announcing a presidential campaign. He founded an exploratory committee in Omaha in early 1999, but not long after, he dropped out of the race and endorsed fellow businessman Steve Forbes.
Cain was in the race long enough to forge some campaign proposals that will sound familiar to political observers today: market-oriented health-care reform, personal Social Security accounts, and tax reform. What he lacked was a sales pitch.
He developed that pitch working as a radio host in Atlanta, where he returned to live in 2000. After being crushed in a primary run against Johnny Isakson for the U.S. Senate in 2004, Cain turned his oratorical talents to the airwaves. "I think that he saw media and talk radio at that point as a way he could get his ideas out there and be able to touch people," says Pete Spriggs, programming director of WSB radio in Atlanta, who hired Cain away from a smaller station after seeing him speak at a rally for the Fair Tax Act in 2005. "At the event, Herman, in front of this crowd, fired them up so much and got standing ovations and just so completely impassioned the crowd." On his show, which ran from 2006 to 2010, Cain referred to himself as "the president of the University of Common Sense" and used the tagline "Listen and you just might learn something."
Today, Cain has a new tagline that's even catchier: "9-9-9." His tax-reform plan, which would impose a 9 percent flat tax on income, businesses, and sales, will restore fairness and prosperity to America, Cain promises voters. "In January I was proposing a much more modest approach, pivoting off the current tax code, like all of my opponents in this race," Cain says. But "as we started in the year and the unemployment numbers stayed up, the economy was growing at an anemic rate, I said to my senior economic adviser, 'We need a bolder plan. Let's be bolder.'?"
The actual calculations for 9-9-9 were made by an accountant in Cleveland named Rich Lowrie, whom Cain describes as his "senior economic adviser." And Cain says the plan received an "A-plus" from Art Laffer, the Reagan-era icon who has been called "the father of supply-side economics," and who Cain says is a member of his secretive economic team. "Art Laffer, he likes it!" Cain exclaims. "It's good! It's powerful!"
Other economists, citing their own simple math, say that 9-9-9 is just a catchy slogan, akin to Domino's pizza's 5-5-5 deal. They insist that 9-9-9 would bring in $200 billion less a year to federal coffers than the present system does. Cain says that shortfall is based on incorrect calculations resulting from the fact that he may have mistakenly said the flat tax would be on corporations, when he meant all businesses. "If I said that, my bad, mea culpa," he allows.
He also contests the widely held opinion that 9-9-9 would be onerous to the 30 million Americans who make so little they currently pay zero in income tax. Cain insists his math has proved otherwise, then asks, "How do you define poor? I define poor [as] you have no money to eat and you have no shelter," he says. "That's poor."
For the sake of discussion, he agrees to consider the government's definition, which he figures to be about $15,000 in annual income. He proposes that even the 9 percent sales tax would not be an undue burden on the poor because it applies only to "new stuff."
"[The poor] can't even buy new shoes," he says, adding, "Are you going to buy filet mignon or hamburger? People who have a small amount of money learn to stretch that money."
He manages to say this without seeming the slightest bit coldhearted. He had worked his way up from being poor, and he is convinced that his thoughts and actions are guided by none other than God. He simply says what comes to him. "I think of this stuff as I go. My messages are spontaneous." He happily announces what he believes to be the source of his inspirations. "The Holy Spirit," says Cain, who remains an associate minister at the Antioch Baptist Church in his hometown of Atlanta.
It's no surprise, then, that Cain's speeches often have the feel of a revival meeting. Arriving at a gathering of the Tea Party faithful last Thursday evening at Ohio Christian University in Circleville (population: 13,500), Cain enters the hall as Christian-right leader Ralph Reed is speaking. "The Hermanator has just arrived, ladies and gentlemen!" Reed announces.
The crowd forgets Reed and rises to cheer Cain, who has supplanted the lackluster Rick Perry as their champion. A singer performs "The Battle Hymn of the Republic" before Cain takes the stage wearing a gold tie, gold being what he calls "my power color." He then proceeds to give what he later calls "a hybrid of the speech and sermon," perfectly structured oratory without benefit of so much as a notecard and unmarred by so much as a stammer. He tells the crowd that he had intended to cite one passage of Scripture, but the Holy Spirit had intervened to guide him to another.
"Proverbs, Chapter 9, Verse 9," he says.
The crowd instantly gets the joke, laughing at the reference to 9-9-9. The flash of humor makes Cain appear less a zealot and more a candidate capable of charming the mainstream. It's a common reaction: Cain seems to get people laughing in the best way wherever he goes, in happy contrast to the stiff Romney.
He speaks to the crowd of how he listened and discerned the signs from above after he was diagnosed with stage IV colon and liver cancer in 2006: his doctor had been named Lord and there had been a nurse named Grace, and his incision had been in the shape of a J, as in Jesus. He says this was when he got the call to run for president. "I felt like Moses. 'Lord, I think you got the wrong person,'?" he tells the crowd. "This wasn't something I ever thought about doing."
At one point, as he talks about America's great leaders, he invokes the name "Dr. Martin Luther King Jr.!" The crowd applauds politely. But they are on their feet cheering again when Cain says he wants to help restore Ronald Reagan's shining city on top of the hill, where it belongs. "We can put united back in the United States of America!" he exclaims.
Afterward, he retires to a side room and tells Newsweek about how he came to become a Republican.
He had been a registered independent in 1996 when he received an invitation from Jack Kemp, then Bob Dole's running mate.
"Cain ... I'm going to Harlem, I'm going to Sylvia's [restaurant]," Kemp said, by Cain's recollection.
"Why do you want me to go to Harlem with you?" Cain asked.
"I ain't crazy," Kemp replied. "I got to take some of my black friends."
At Sylvia's, an African-American man who was one of a group of Democrats said something like, "There's no such thing as a black Republican. You guys must be Uncle Toms."
The Cain who had worked so hard to make his own way was deeply offended.
"I said nobody had a right to tell me how to think and how to vote," he says. "I was so adamant that I registered as a Republican."
Jesse Jackson doesn't think much of Cain's politics, but he muses at the thought of him winning the Republican nomination and choosing Bachmann or Perry as a running mate. "That would be an interesting race if it is between him and Barack. Black people, and all people, will decide what side of history they are on when it comes to voting this election. It can't be about complexion."
But to many African-Americans, Cain's candidacy is indeed very much about complexion. Georgetown professor Michael Eric Dyson calls Cain "Jimmy Stewart in blackface." "He's Mr. Smith goes to Washington. The good ol' boy you just love. He's the black man white people would prefer over Obama, and he's the black man that is more like them and who thinks like them. He makes them feel they aren't racist because they support him at this level and not Obama.''
Former civil-rights leader Joseph Lowery has known Herman Cain for a number of years through church connections and says he's never been impressed with his stance on the black agenda and the African-American experience. Cain in recent weeks has challenged Obama's American black experience by suggesting he never had one. "First off, no black person takes [Cain] seriously," Lowery says. "How could they? He's done nothing to further black people's lives. All he's doing is saying the racist stuff the mainstream GOP candidates can't say and he's having the time of his life doing it."
But Shelby Steele, a conservative black scholar at the Hoover Institution, says the liberal black establishment is behind the times. "There is a black man who is president. Blacks lead corporations. There is nothing blacks can't achieve in this country—and that's what Cain is saying."
After last week's speech at Ohio Christian University, Cain stayed overnight at the hotel in Columbus where, just months earlier, his dreams of being the first "ABC" president seemed so improbable.
The next morning he is riding high in spirit, answering with a smile when asked why he supported Romney last time, but not this time.
"He didn't win," Cain says. "I like him. I respect him. He didn't win."
Asked if he would consider running as vice president if Romney should prove the pundits right and get the nomination, he responds, "I might do it, but it would depend."
In the meantime, he and the Holy Spirit are off to the next whistle-stop in America's most fascinating campaign.
With Allison Samuels, Lois Romano, Howard Kurtz, Patricia Murphy, and Heather Vincent