Airline Co-Pilot 'Sucked Halfway' Out of Cockpit Window, Landed Plane After Being Pulled Back In
The Sichuan Airlines co-pilot who was forced to make an emergency landing yesterday was "sucked halfway" out of the plane after a cockpit windshield broke off at 32,000 feet in the air.
Liu Chuanjian has been hailed a hero on Weibo, a popular Chinese social media platform, after he successfully landed the Airbus A319 manually on Monday with his co-pilot.
Speaking to the Chengdu Economic Daily, Liu said the cockpit's right windshield broke off after the plane hit 32,000 feet. "There was no warning sign. Suddenly, the windshield just cracked and made a loud bang. The next thing I know, my co-pilot had been sucked halfway out of the window," he said.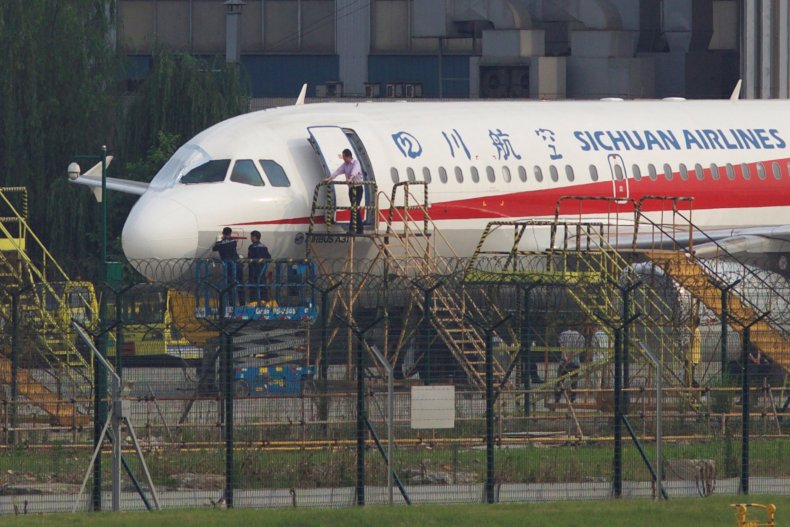 "Everything in the cockpit was floating in the air. Most of the equipment malfunctioned...and I couldn't hear the radio. The plane was shaking so hard I could not read the gauges," Liu added.
Liu's co-pilot, who was wearing a seatbelt, was pulled back in. He suffered scratches and a sprained wrist, the Civil Aviation Administration of China said, adding that one other cabin crew member was also injured in the descent.
None of the plane's 119 passengers were injured.
"The crew were serving us breakfast when the aircraft began to shake. We didn't know what was going on and we panicked. Then the oxygen masks dropped....We experienced a few seconds of free fall before it stabilized again," a passenger told the state-run news site.
"I'm still nervous. I don't dare to take an airplane anymore. But I'm also happy I had a narrow escape."
A video of the incident posted to Chinese social media shows oxygen masks dropping in the cabin while a flight attendant can be heard advising passengers to "trust [we can] properly handle the incident."
The Sichuan Airlines 3U8633 flight from Chongqing to Lhasa made an emergency landing in the southwest city of Chengdu on Monday. The company posted a statement on their official Weibo account that said the incident was due to a "mechanical failure." No details have yet been released as to why the windshield broke.
Sichuan Airlines, a regional company based in Chengdu, offers flights to domestic regions in China and various other international locations, including Japan, Canada and the Czech Republic.