Hero Dog Saves Sibling From Drowning in Dramatic Video
Move over, Superman. South African dog Jessie is to be honored by her local SPCA for saving her canine brother Chucky from drowning.
Footage of the incredible rescue, which was caught on a security camera, went viral after Jessie and Chucky's owners, Byron and Melissa Thanarayen, shared it on Facebook for the purposes of celebrating Jessie's heroism. The original post has been liked more than 15,000 times.
On April 9, the Thanarayens returned to their house in Boksburg, South Africa to find Chucky, a 13-year-old Pomeranian, dripping wet. "We tried to look for clues as to where he could have wet his head. We thought maybe he dipped his head in the water [in the toilet], but there was no mess in the house to support this suggestion," Byron Thanarayen told Times Live.
When the couple eventually reviewed security camera footage, they discovered the dramatic truth. While they were out, Chucky had fallen into the family swimming pool and struggled for more than half an hour before Jessie managed to pull him out by the scruff of his neck.
In the footage, Chucky wanders too close to the edge of the pool and slips in. Perhaps hearing the splashes, Jessie runs over and repeatedly attempts to fish him out as Chucky circles the pool, clawing at the sides in a futile attempt to escape his aquatic prison. Finally, 34 minutes later, Jessie lifts Chucky to safety. Apparently none the worse for wear, the two then run off to play.
"It was heart-wrenching to watch. We still struggle to watch that video today, just thinking of what could have happened if Jessie was not there," Byron Thanarayen said, adding that he and his wife are in the process of installing a pool cover to prevent additional accidents from happening. "Our dogs know how to swim but they always swim with us and not when we are not with them. They also know where the pool steps are."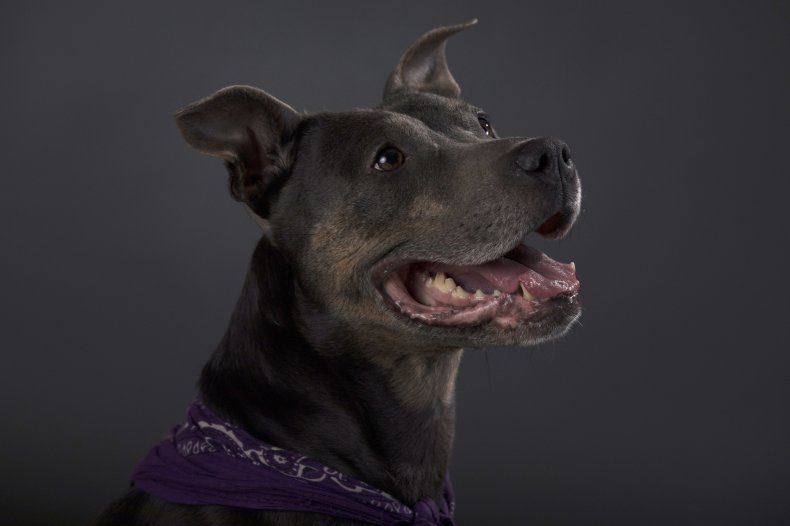 Calling Jessie the best dog he's ever had, Byron Thanarayen said that he and his wife had adopted the now-seven-year-old Staffordshire bull terrier from the Boksburg SPCA four years ago. She had already been surrendered twice for feuding with other pets.
"They said she didn't get along with their other dogs, but I have not experienced this. She got along with our other two dogs from the word go," he said.
The SPCA will hold a ceremony to recognize Jessie's bravery on April 20. There, the shelter alumna will receive a certificate and plenty of treats, according to News 24. In gratitude, the Thanarayens are hosting a fundraiser for the organization.
"We want to show our appreciation to the Boksburg SPCA, especially since we got Jessie from there," Byron Thanarayen told News 24.