Hero Shielded Woman from Machete-wielding Man at California Starbucks: 'I couldn't just let her die'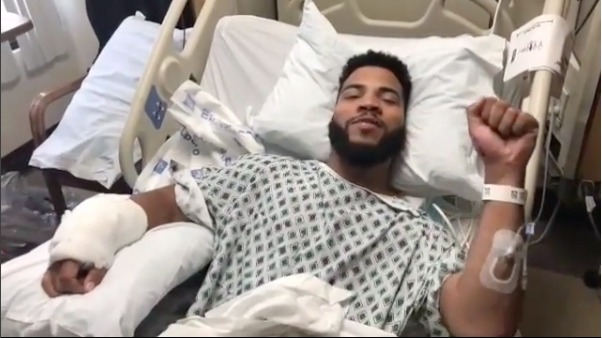 When he saw a woman fearing for her life while being chased and slashed by a machete-wielding man -- he didn't flinch.
Blaine Hodge, 27, a private security guard and musician, endured several machete gashes when he leaped into action to shield the woman while she was being stabbed by the woman's alleged ex-boyfriend.
The machete-wielding suspect was identified as 31-year-old Robert Rivas, 31, who reportedly stalked his victim into the Starbucks located at the Stockdale Fashion Center in Bakersfield, California at around Noon on Sunday and tried to assault his ex-girlfriend by ambushing her.
Hodge threw himself between the man and the woman and managed to spare her of what may have been certain death.
"Stuff happened at Starbucks and I couldn't just let her die," the selfless bystander said from a hospital bed one day after stopping the stabbing attack.
The visibly injured Hodge, who was filmed by his friend Joe Harris, had his right hand and wrist wrapped in gauze and resting on a pillow and wearing a gown, wasn't focused on himself, but the woman he protected.
"I hope she's doing well," he said in a separate testimonial posted on Harris' Instagram account, referring to the woman he protected. "I really hope she's doing well."
He said that he acted automatically when he saw the trouble.
"I didn't realize I was moving," he said. "I am glad I ended up helping save a life."
As a handful of Starbucks employees fled to the rear of the shop, as the woman screamed for help, she pleaded that she was likely to be killed.
"I heard her say, 'He's trying to kill me,'" Harris told Newsweek.
The 30-year-old music engineer and entrepreneur was sitting with Hodge talking about plans for a local ComicCon event as well as Hodge's new album fortuitously titled, "Mind of a Hero."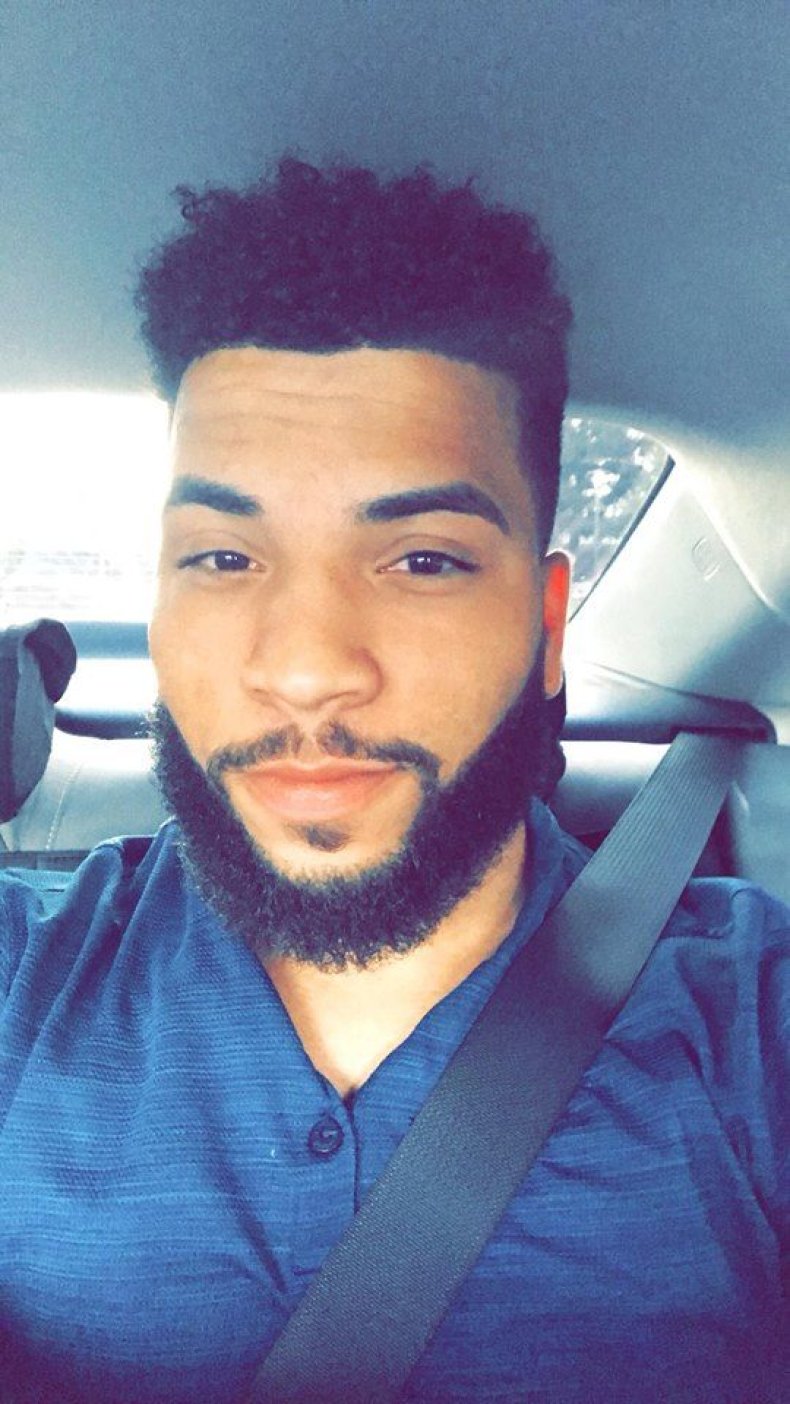 Suddenly, an African-American woman with short hair entered the shop and Harris said she "looked scared" and was "breathing hard."
Then she belted: "Help me!"
She repeated it louder for all to hear.
"Help me!"'
Behind her a dark-skinned man donned in all black strolled in.
Harris said the man "had a blank stare on his face" when he walked up to the woman and uttered words that he couldn't hear.
The woman, Harris said, retreated to the back of the Starbucks and screamed out that she was going to be killed.
Everybody Harris could see was retreating and shouting that the man chasing the woman through the Starbucks was armed.
"I just saw them run shouting 'He's got a knife! He has a knife,'" he recalled.
Harris didn't see a blade, but when stood up he said Hodge did as well.
But Hodge didn't linger.
He rushed the man. "Blaine got up out of his chair and started to sprint toward the back area," he said.
By this point Harris said the man was lurking over the woman who was screaming bloody murder and try to inflict several strikes with what he believed was a blade.
Harris would later watch the attacker sheath the machete to his left side. Police later confirmed the man's weapon measures about 16-inches long (handle to tip); the blade on its own is approximately 11.5-inches.
"Blaine got over there and slipped and fell down and I see the man doing a stabbing motion with his right hand," he said.
The man never spoke and as Harris crept closer he said he lost sight of him.
But Hodge was hurt. As was the woman.
"She was lying down on her back against a wall with her legs kind of bent," he said. "I saw Blaine get up and start walking toward me."
Hodge was soaked in blood, having suffered cuts on his right hand and left leg as a result of his death-defying tussle with the machete-armed man.
"He told me, 'We gotta get out of here,'" Harris said.
Harris helped his wounded pal dress his bleeding arm his own shirt. Then he gave Hodge his shirt to stem other superficial cuts once they were outside of the Starbucks and there was a crowd gathered outside.
A woman offered her shirt to Hodge as well, Harris said.
"He was bleeding like crazy," Harris said, adding that a good deal of the blood was all over him as well.
But while the throng of customers outside were worried and panicking, it was the bleeding Hodge who remained unfazed.
"He was standing up and walking and telling others 'Stay calm. It's OK. I'm alright. I'm alright,'" Harris said.
Harris said he ran over to his car to put some of Hodge's belongings and dialed 911 at the same time.
He said he saw the machete slasher leave the shop and walk across the street to an apartment complex.
That's where he discovered the weapon the man used was a machete.
"I saw it and he had a sheath on his left side, and I saw him sheath it," Harris said, remembering him slowly pace away emotionless.
"He looked like he didn't give a damn," Harris said.
A couple witnesses carrying mobile phones and recording trailed a safe distance behind, he noted.
Moments later, he said, three Bakersfield Police officers on motorcycles arrived.
According to the Bakersfield Police Department release, Rivas was arrested at the apartment complex and charged with attempted murder, assault with a deadly weapon and resisting arrest.
The police also added that Rivas and the woman he allegedly stabbed "previously had a dating relationship."
The woman was taken to a local hospital and was originally listed in critical condition. A Bakersfield Police Department official confirmed to Newsweek that the woman's health has improved and her status upgraded to "fair."
Rivas was arrested back in June of 2014 for a domestic assault incident, Kern County Superior Court records show. However, it doesn't appear that he was convicted.
Meanwhile, Hodge has been in and out of surgery but is expected to recover.
A GoFundMe page has been set up for the musician which by the time of publication surpassed the $9,000 goal by a slew of well-wishers.
Harris described Hodge, who trains in martial arts, as "selfless" and a "tough dude."
"He saw danger and immediately jumped in," Harris said. "Everybody was running from this situation and he was the only one who ran into save her."