'Hero' Tow Truck Driver Saves Drowning Woman at New Jersey Beach
Philadelphia auto mechanic Tyree Ward has been dubbed a "true American hero" after saving a woman from drowning at a beach in Wildwood, New Jersey, on Monday night.
"His quick response to help a person in distress saved a life. Tyree is a true American hero who made a difference in our community," said the City of Wildwood Fire Department on its official Facebook page.
Ward was enjoying the beach off Baker Avenue after lifeguards had finished for the day, when a woman came up to his family and explained that her friend was in trouble in the ocean. "She was screaming 'call 911 call 911!'" said Ward.
"I saw the girl's head bobbing." After scanning the horizon he noticed "there's somebody out there. I threw my phone in my towel and took off out there."
The City of Wildwood Fire Department commended the tow truck driver for his fast thinking. "Mr. Ward did not hesitate to enter the water and execute an effective rescue of the woman prior to the arrival of first responders," wrote the department on their official Facebook account.
Firefighters, police and the after-hours beach patrol were alerted to the incident and lifeguards rushed to the scene to help the 22-year-old woman out of the ocean. Officials said that when they arrived Ward was already helping the woman out of the water.
"Mr. Ward's selfless actions most certainly saved this woman's life," officials said. "A family day trip to Wildwood resulted in Mr. Ward becoming an instant hero."
"Job well done Tyree!" said a post on the fire department's Facebook account with pictures of Ward being congratulated by the department.
When the woman in trouble was back on dry land "she had no energy or strength left," said Ward. The Wildwood Fire department transported the woman to the Cape Regional Medical Center for further evaluation.
According to the World Health Organization, drowning accounts for 7 percent of all injury-related deaths, and is third on the list for "unintentional injury" deaths. There are some 320,000 drowning deaths worldwide per year.
The best advice is to only swim in the sea when lifeguards are on patrol and there are no red or a yellow flags flying. Ask a lifeguard about rips and currents at the beach when possible before entering the water.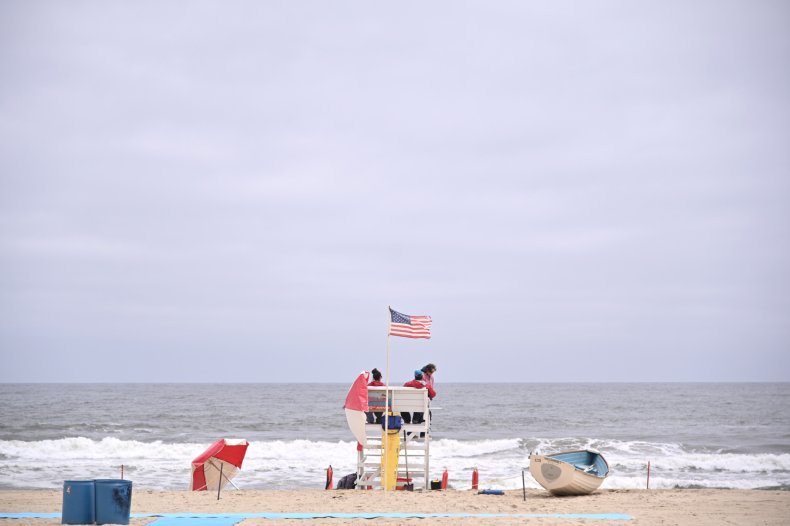 'Hero' Tow Truck Driver Saves Drowning Woman at New Jersey Beach | News