'Heroes In Crisis' Variant Covers Open Sanctuary's Case Files
Heroes in Crisis follows Wonder Woman, Batman and Superman at Sanctuary, the new mental health treatment center of the DC Universe. As the superheroes residing there heal, we'll learn about the past traumas fueling their internal struggles. What's more, DC has revealed that readers will now have a chance to see some of Sanctuary's most devastating case files depicted in special variant covers from Ryan Sook. The themed open-to-order covers are tied to all seven issues of the series.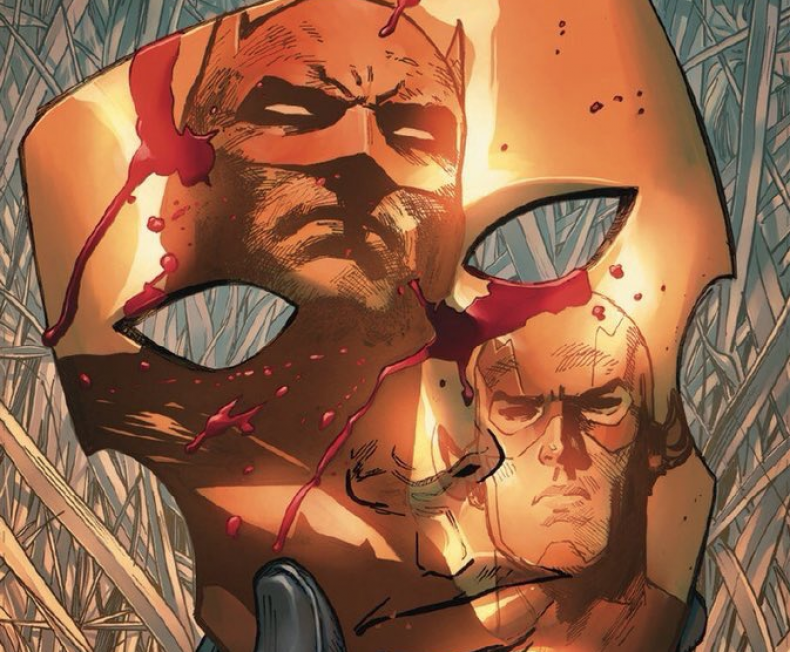 The covers will reference familiar incidents from throughout the DC Universe. In issue #1, it's the death of Superman. In issue #2, it's Batman's spinal fracture. Wonder Woman killing Maxwell Lord is featured in issue #3, Aquaman losing his hand in issue #4, Jason Todd's death for issue #5 and Hal Jordan killing Kilowog for issue #6. An unspecified "special Harley Quinn" moment will be featured in issue #7, according to DC Comics.
"I think these momentous occasions fit so naturally into the scope of the project as a whole. Many devoted readers know these events, but even new readers can instantly connect to them or may be aware of them already. Like the death of Superman or Batman's back being broken—these defining moments have already come out in other media like film, animation and games, because they are lasting, character-defining moments. They go beyond the comic book page into something human that we can all relate to. It's what makes the series so compelling, to see how the heroes have to deal with [trauma]," Sook explained on the DC Comics blog.
The case files are dated without a year, because "the trauma can't be locked in to history when you carry it with you; it becomes kind of timeless," Sook said. Take a look at Sook's art for the first three issues below.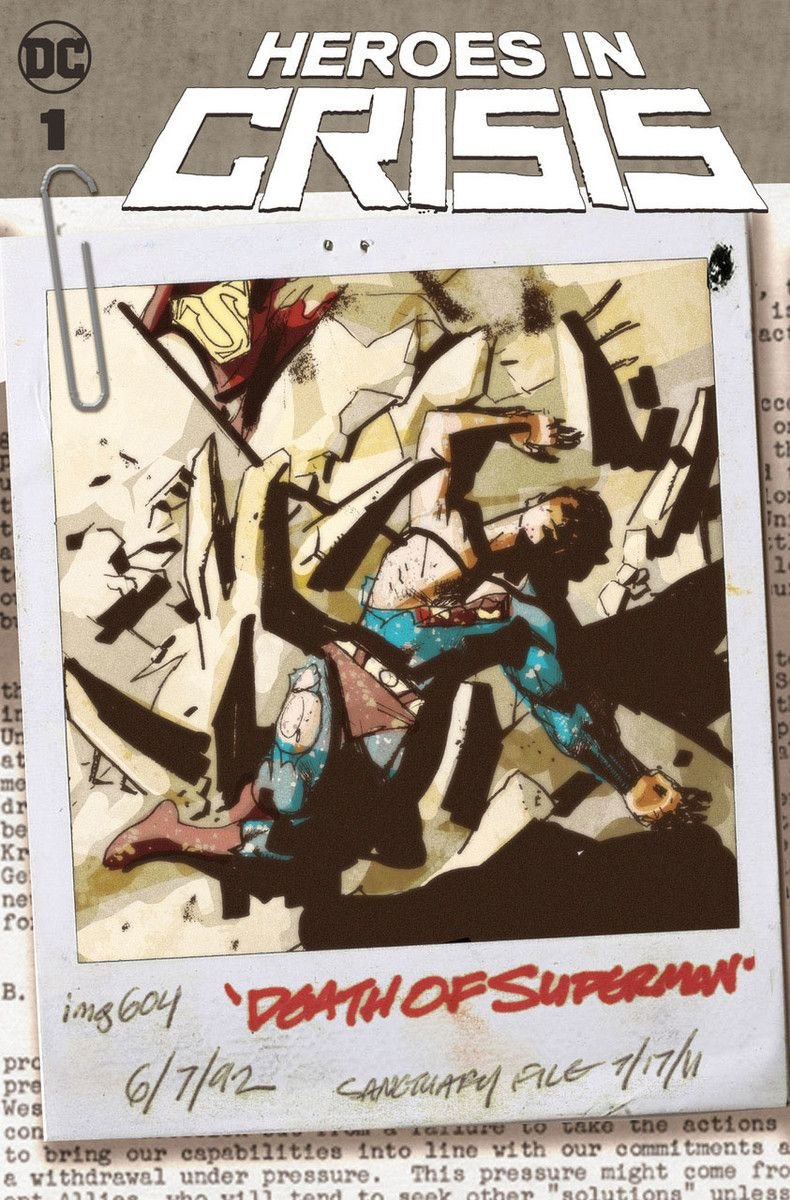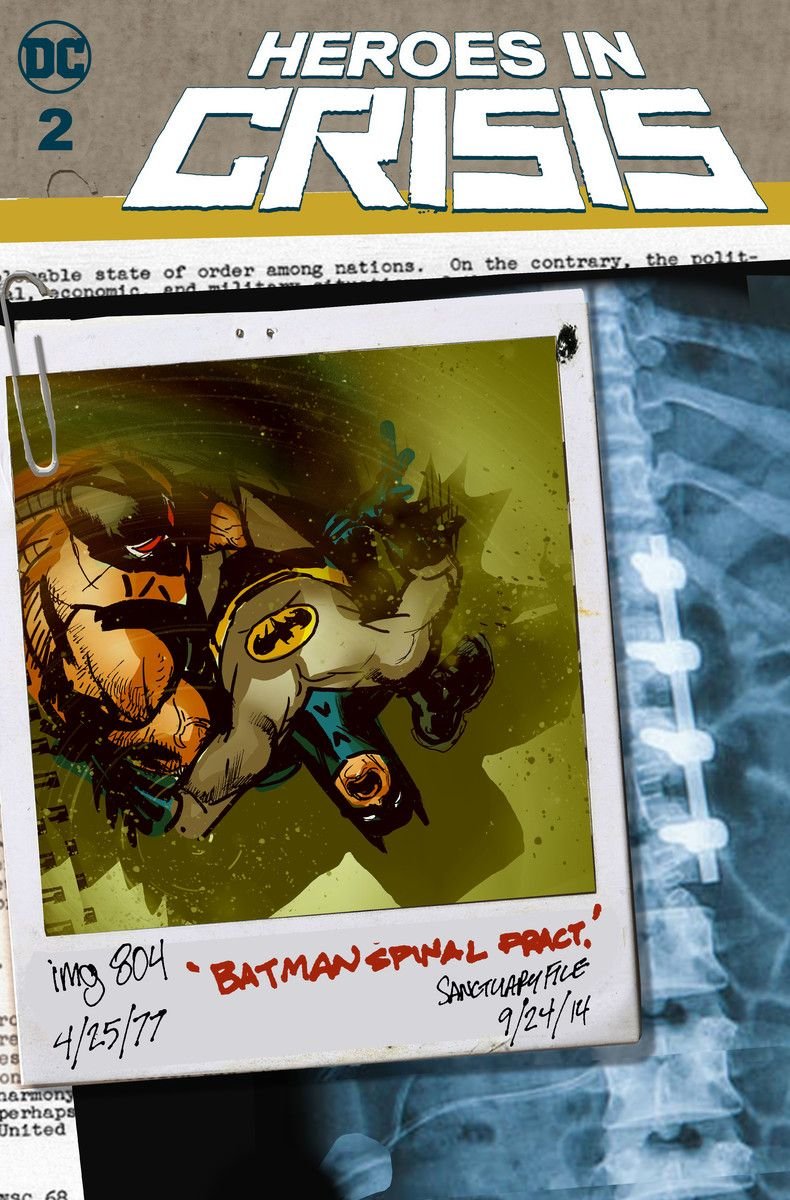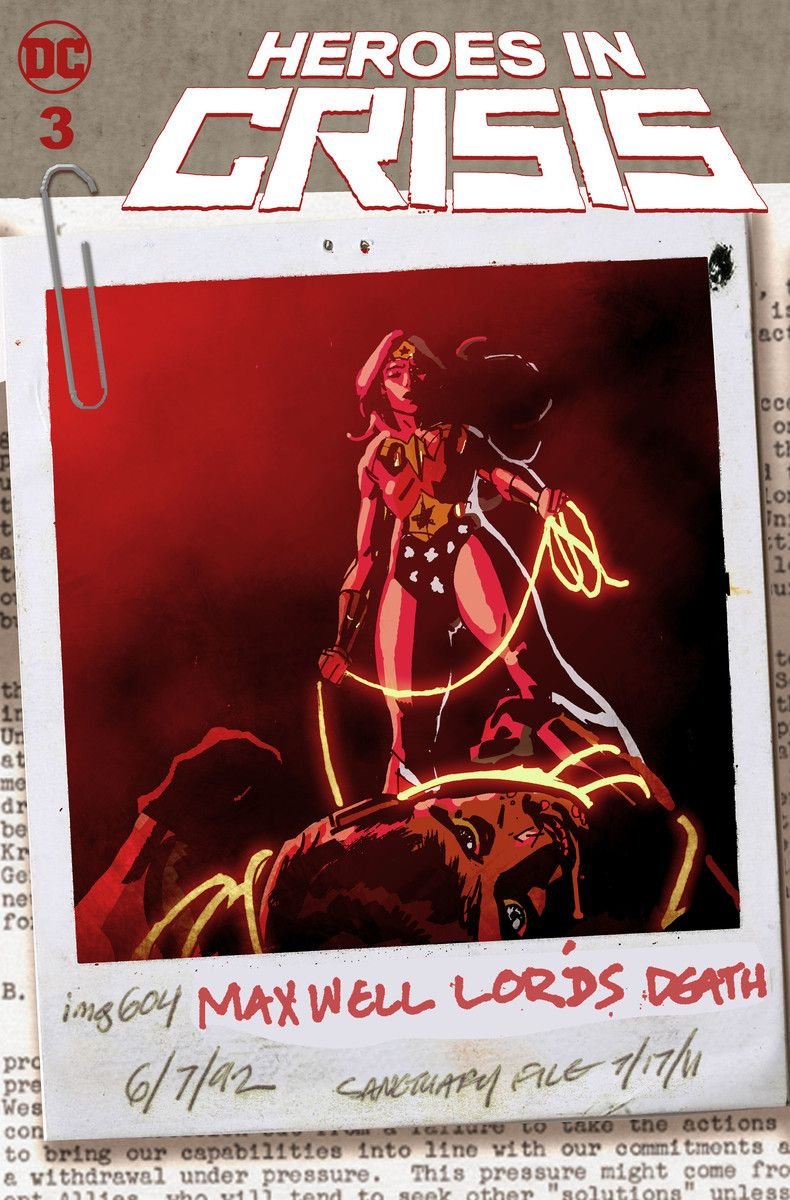 This level of openness about the superheroes' mental health and in-depth consideration of the roots of their stay at Sanctuary doesn't come as a surprise. At SDCC, series writer Tom King talked about how his own personal struggles fueled Heroes in Crisis. "I had my own crisis," he began, following with detail about the day he had his first nervous breakdown (full story here).
In addition to Sook, J.G. Jones, Mark Brooks and Francesco Mattina will also provide variants for issue #1. One features Booster Gold and Harley Quinn brawling mid-air. Another features Harley Quinn in a padded cell. The final features Batman, Wonder Woman and Superman with a masked man in the background. Take a look: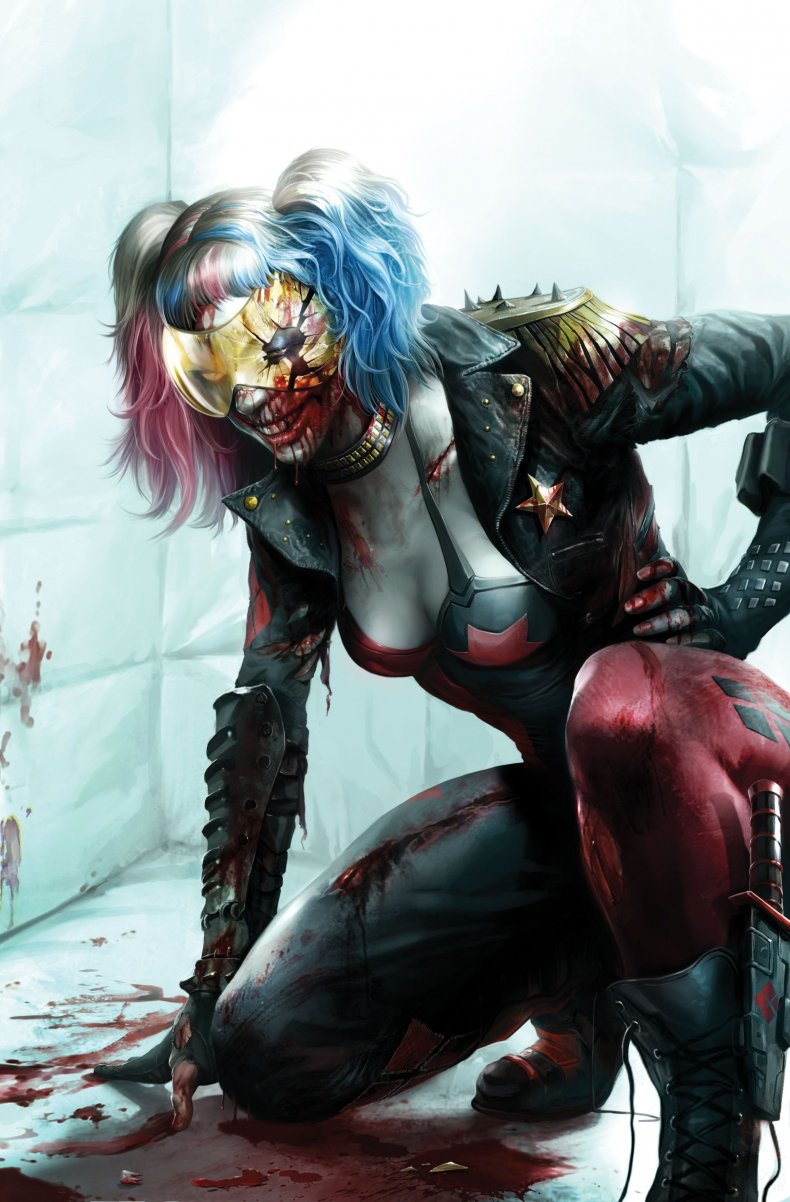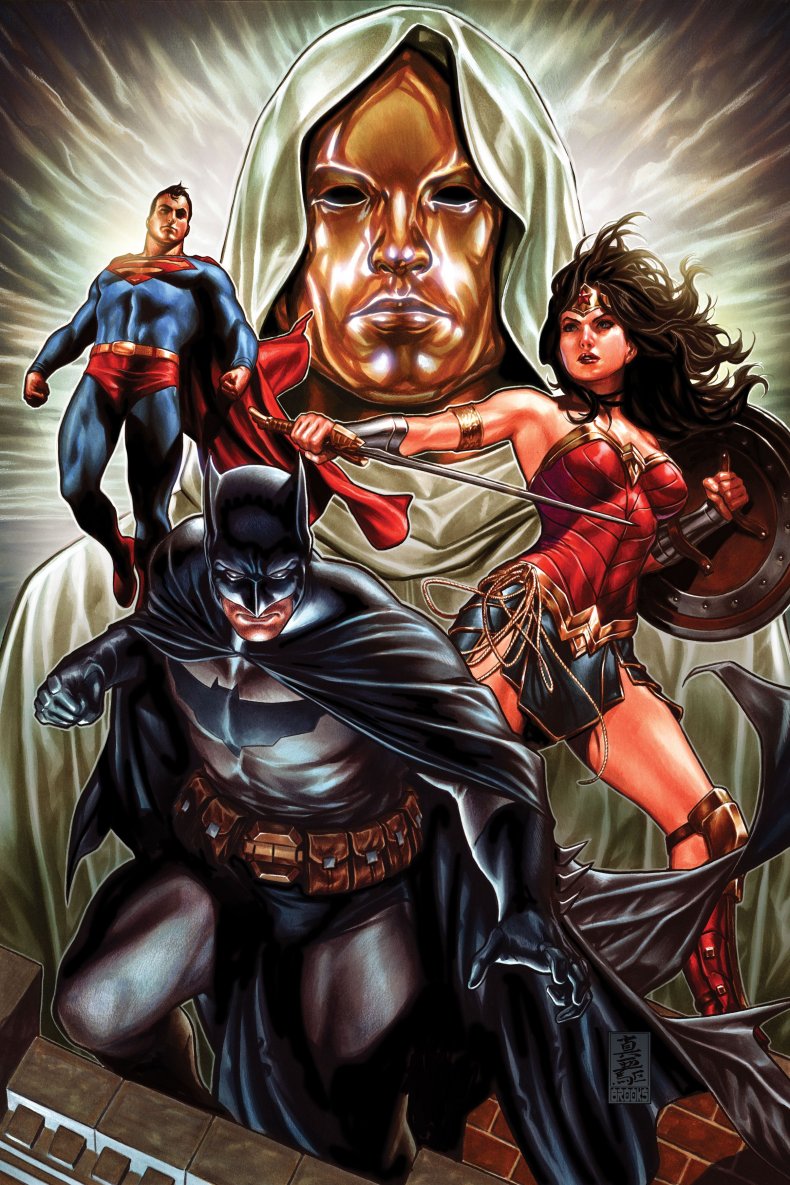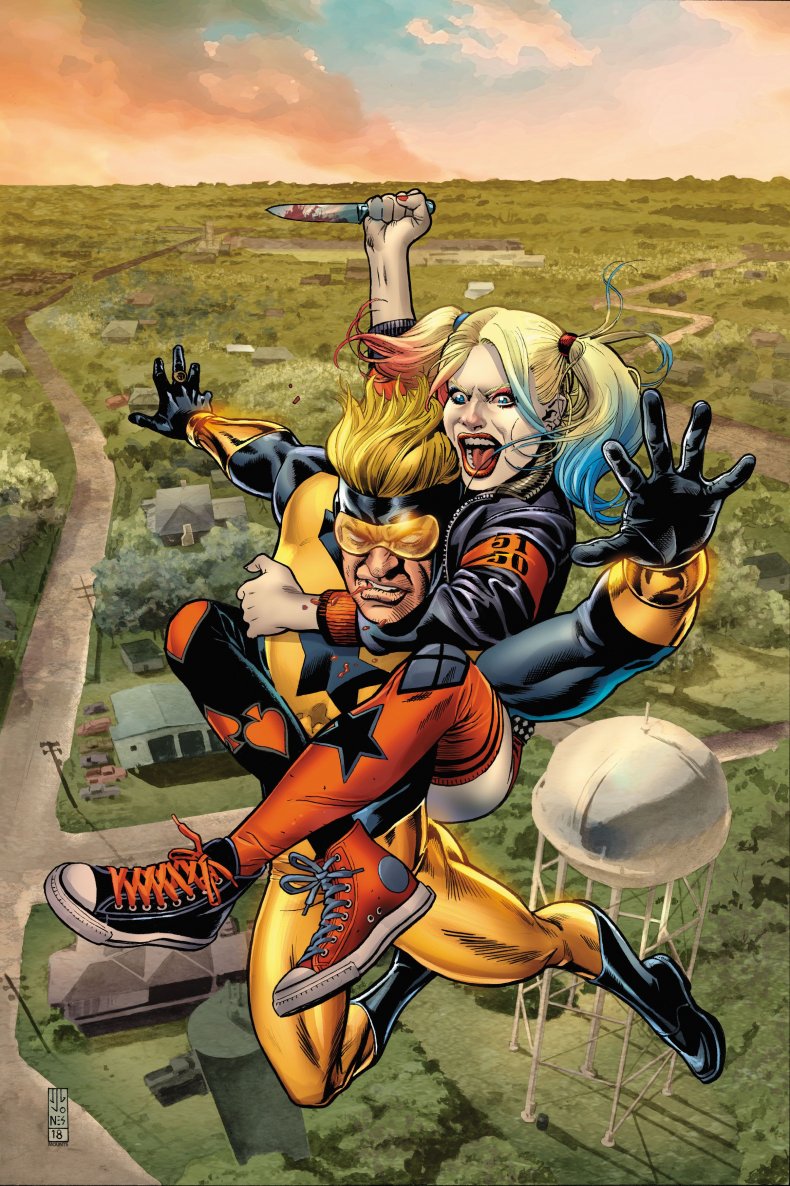 Heroes in Crisis, from King and Clay Mann, arrives Sept. 26. Sook's variants are published with a spot varnish treatment. For more on Heroes in Crisis, including a preview of four pages, check out our previous coverage.