Heroic Bystander Pulls Man Out of Burning, Exploding Car in Viral Video
A heroic man from Missouri is being recognized for his courage after rescuing a driver who was trapped in a burning car on the highway.
Antonio Morgan was driving down the I-70 on his motorcycle when he saw 23-year-old Kielen Robinson crash into a cement median on the highway Tuesday evening. Morgan immediately pulled over to help the unconscious driver out of the vehicle engulfed in flames.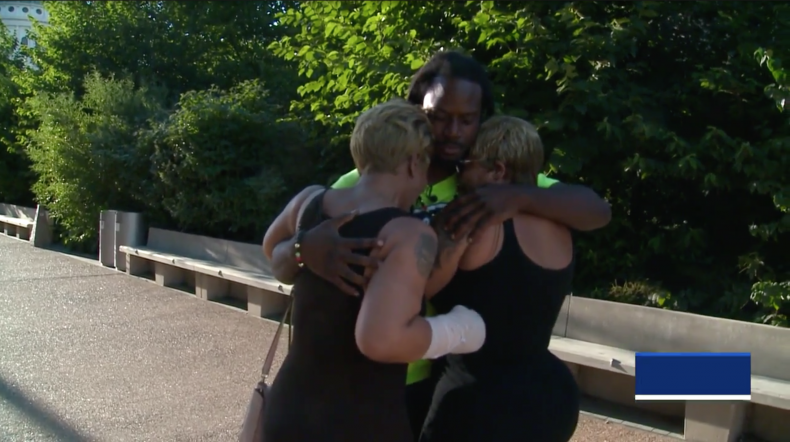 At first, the viral video, which was captured by Morgan's 14-year-old son, showed the motorcyclist unsuccessfully trying to yank Robinson out of the car, but Morgan's persistence and determination to go back for the driver pays off.
"The smoke and the fire and all that stuff started coming. It started burning my eyes and hurting my throat, but I was still trying to get him out. I had to get him out," Morgan told Fox News.
As another bystander attempted to subdue the flames with a fire extinguisher, Morgan goes back. Realizing Robinson's seatbelt was still clipped in, Morgan unbuckled the driver and was able to pull him out of the car.
Morgan and the other bystander dragged Robinson to safety, where St. Louis County police officer La-Keshia Wells then tended to the driver and called an ambulance.
Wells publicly thanked Morgan and the other bystander in a Facebook video on Thursday. She said she had been on her way to another call when she saw the two good Samaritans trying to help Robinson out of the vehicle.
"I looked around for the truck driver and Mr. Morgan to just thank them because if it wasn't for them, for them to stop and help this young man, he probably wouldn't be here today," Wells said.
Morgan said he didn't think twice about pulling over to help.
"I'm a leader. I'm a protector by nature. It's in me. I'm just doing what comes natural to me," he said.
Hours later, Robinson's mother, Kim Johnson, had the opportunity to meet the man that saved her son's life.
"When I saw the video I just broke out in tears," Johnson told KMOV. "So many emotions."
"If he would not have been persistent and stuck on that my son would be dead right now and I would be planning a funeral," Johnson said through tears. "My guardian angel saved my baby. This man, hallelujah, thank you, Jesus."
Robinson told KMOV he only had a small headache as a result of the incident on Tuesday night. He's set to celebrate his 24th birthday on August 10.
"I can't thank him enough man. He will always be a part of my life and my family's life. That's a good man," Robinson told Fox News.
"I feel like that was my second opportunity at life, and now it's time for me to show the world my change," he added.