'Heroic' Oregon Police Officer Rescues Baby From Burning Building
Astoria police officer Jason Robinson has been commended for his "heroic" actions, after he entered a burning building to rescue a baby in Oregon on Friday.
Passerby and grateful resident Christine Lawler sent an email to the Astoria Police Department outlining her gratitude to the aforementioned police officer. Robinson had documented the incident, but hadn't even mentioned it to his team, who until Monday were unaware of his "selfless act of bravery".
"Law enforcement and fire definitely deserve recognition that they still put their life on the line every single day," said Lawler in the thank you note.
Lawler was driving on W. Marine Drive when she noticed the home ablaze and pulled over to see if she could help. A woman and her children had already gotten to safety but police officer Robinson was helping a man get out of the house, before he went into the smoke to find a baby. Hearing the distress of the mother, Lawler also intended to help rescue the baby, but Robson was already on his way out of the building holding the infant in his arms. "It was nothing short of a miracle," said Lawler.
"With so much outrage about police officers who engage in unscrupulous behavior, this selfless act of bravery should not go unrecognized," she said.
Chief of Astoria Police Geoff Spalding told Newsweek that he was proud to have officer Robinson as part of the team. "Officer Robinson acted without hesitation in entering a burning and smoke-filled occupied home and was able to encourage an elderly gentleman to exit the house. He reentered the home after learning there was still an infant inside. He located the infant asleep in a swing and carried the infant to safety. His actions are commendable and heroic and we're proud to have him as part of our team."
The Astoria Fire Department also arrived at the scene and were ready to enter the burning building and make a rescue if necessary. They brought the fire under control within 10 minutes.
"I do think the officer's actions were heroic and reflective of the kinds of dangers that we do on a regular basis," said Astoria Fire Chief Dan Crutchfield to The Daily Astorian.
While the house suffered fire damage, nobody was harmed in the incident. It is believed the fire was accidental.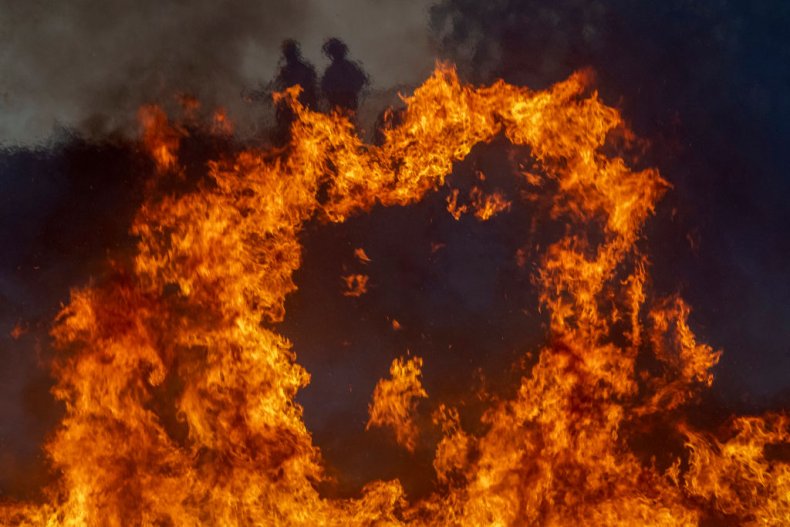 "I believe officer Robinson's actions did save lives," said Crutchfield. "And I think that in a small community like Astoria, first responders rely on each other. And I think we're really fortunate to work with some well-trained and exceptional police officers. And really, we may wear different uniforms, but we are one team here in Astoria."
This story has been updated to include a quote from the Astoria Police Department.