Twitter has widely praise the actions of a "heroic" therapy dog, after he reportedly was able to help diffuse a situation in which a woman was contemplating suicide.
Digby, a therapy dog with the Devon and Somerset Fire and Rescue Service in England, reportedly was called in to calm a woman who was allegedly going to end her life.
The Devon and Somerset Fire and Rescue Service shared with Twitter followers the events that unfolded on June 15.
"This is Digby. Today he did something amazing and helped save a young woman who was thinking of taking her own life on a bridge over the M5 near Exeter," the department shared in the first tweet on a thread.
The fire officials reported that as other emergency responders made their way to the spot where the woman was on the bridge, verbal negotiations did not appear to work.
"We were at the incident as part of a multi-agency response," the Devon and Somerset Fire and Rescue Service tweeted. "Police negotiators were speaking with the woman but the situation was becoming increasingly worrying."
That's when the fire department decided to bring in Digby. Digby is a 3-year-old Labradoodle "supporting the delivery of critical incident defusing," which allows members of the team "to discuss their experience after dealing with challenging and difficult incidents where members of the public have been seriously injured or lost their lives, according to a press release from the Devon and Somerset Fire and Rescue Service obtained by Newsweek.
"The purpose of defusing is to reduce the risk of developing post-traumatic stress and where necessary, supporting individuals to gain access to counselling or other support," the release noted.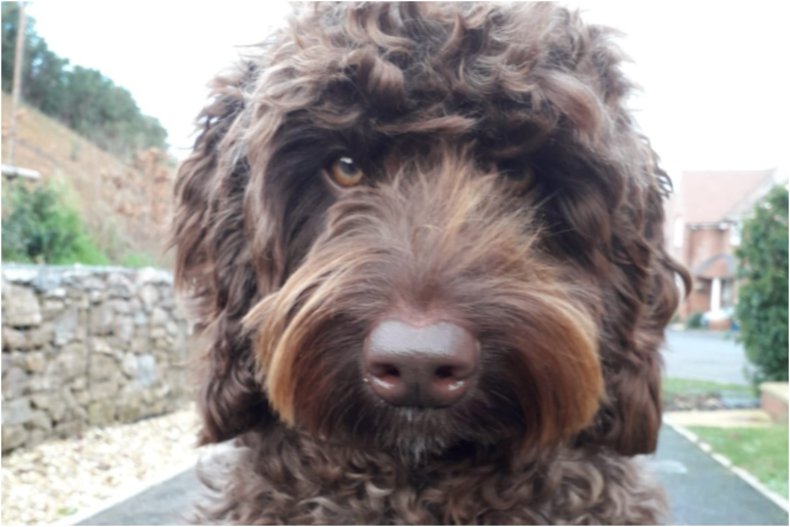 Fortunately, upon Digby's arrival things quickly deescalated.
"When Digby arrived, the young woman immediately swung her head round to look, and smiled. This got a conversation started about Digby and his role at the fire service," the department reported on Twitter.
After a few moments of chatting, the unnamed woman reportedly requested help coming down from the bridge's ledge to spend time with Digby.
"She was asked if she would like to come and meet Digby if she came back over the railings, which we are pleased to say she did," the Devon and Somerset Fire and Rescue Service reported. "We wish the woman involved all the best in her recovery."
The woman was later taken to into the care of medical professionals, and the road on the bridge reopened at 3 p.m. BST, according to a report from the BBC.
The Twitter thread quickly became a fan favorite and has been liked over 85,000 times and retweeted by nearly 14,000 users. Many took the opportunity to share photos of their own beloved pets, who "congratulated" Digby.
"Jasper the Cockapoo would love to give Digby a big high five for his awesome, or should I say 'paw-some', work. Hoping the lady receives all the support and help she needs," one viewer wrote.
"Digby, meet Stanley. whilst you are both extremely good boys, I think one of you may have *slightly* more intelligence than the other," one joked, posting an accompanying video of her dog chewing on his foot.
One viewer even shared how her dog, much like Digby, has saved lives like her own.
"Amazing Digby. This is Lucky my toy poodle, he has stopped me from taking my life on a number of occasions and is the reason I reached out for help. I am now awaiting [cognitive behavioral therapy] and take antidepressants," one viewer tweeted.
The Instagram account @WeRateDogs, known for its humorous ranking of dogs for their various talents and poses in photos, also took notice of Digby's impressive work. While the account always "rates" dogs with high scores, Digby achieved a rare 15/10 ranking.
"This is Digby. Last week he saved a young woman from taking her own life. He is nothing short of a hero and we'd like to award him the very rare 15/10," the account posted, along with their thanks to the Devon and Somerset Fire and Rescue Service for their work saving the woman.
Officially @WeRateDogs rates dogs on a scale of 1 to 10, but in reality ratings occasionally exceeds 10, though 15/10 is quite rare.
The fire department also noted in its press release that Digby and therapy dogs like him have been linked to "lower blood pressure and heart rate which in turn helps the defusing process.
"Therapy dogs are simply themselves and people automatically feel at ease and comfortable engaging with a dog that is comfortable being stroked and made a fuss of," it said.
The Devon and Somerset Fire and Rescue Service also noted that Digby "requested" that, in lieu of treats and gifts for him that fans donate financial contributions to other local charities that work in crisis situations.
Newsweek reached out to the Devon and Somerset Fire and Rescue Service for comment on the situation, but they did not immediately respond in time for publication.
If you have thoughts of suicide, confidential help is available for free at the National Suicide Prevention Lifeline. Call 1-800-273-8255. The line is available 24 hours every day.