Ukraine's military on Friday hailed the valor of a soldier who blew himself up along with a bridge to thwart Russian troops from advancing further into his country.
The General Staff of the Armed Forces of Ukraine described the sacrifice made by Vitaly Skakun Volodymyrovych in a post on the agency's Facebook page. The message praised Volodymyrovych's "heroic act," which was said to have prevented Russian tanks from crossing a bridge in Henichesk, a city in the country's southern Kherson region.
The region is one of many areas in Ukraine where the opposing forces have fought since Russia began military strikes early Thursday morning, local time. The attacks began with missiles hitting locations near the Ukrainian capital of Kyiv, while long-range artillery was reportedly fired on the city of Kharkiv. Russian forces then expanded the invasion from three sides, and explosions were reported in Kyiv by early Friday.
The Russian military eventually moved into Kherson, but Volodymyrovych's actions slowed the troops down enough for Ukrainian soldiers to "relocate and organize defense," according to the Facebook message.
The post added that Volodymyrovych will be posthumously honored with an award for his sacrifice.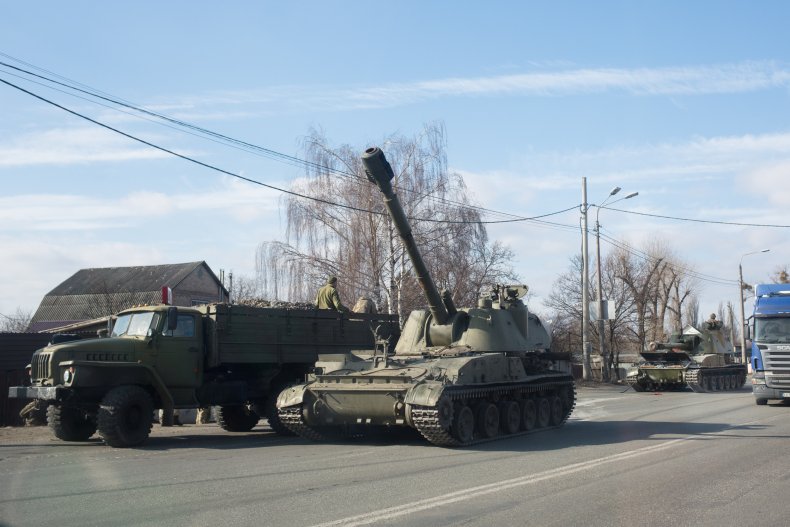 The Henichesk bridge was mined, but the Ukrainian military did not have time to detonate it remotely with Russian forces advancing, according to the General Staff. Volodymyrovych a military engineer from another battalion, reportedly contacted the unit by radio and told them he would do it himself manually.
"An explosion was heard immediately. Our brother died. His heroic deed significantly slowed the advance of the enemy, which allowed the unit to redeploy and organize the defense," the General Staff's Facebook page read.
The post ended with the following message: "Russian occupiers, know that the ground will burn under your feet! We will fight as long as we live! And as long as we are alive we will fight!"
The full Facebook post about Volodymyrovych from the General Staff can be seen below.
Although Ukraine President Volodymyr Zelenskyy delivered a warning during a call with leaders of the European Union that the moment "might be the last time you see me alive," Ukraine's military has been saying its forces have withstood the invading Russians.
The Ministry of Defense of Ukraine posted on its official Twitter account Friday that Russia has suffered deep losses.
The ministry wrote that since the beginning of the invasion, Russia has seen 2,800 soldiers lose their lives, along with the destruction of up to 80 tanks, 516 armored combat vehicles of various types, 10 aircraft and seven helicopters.
"We are strong! Victory for us," the ministry declared.