Heroin and Meth Discovered Hidden at Alaska Airport in Rancid Goat Meat
More than 11,000 doses of heroin and methamphetamine were discovered Wednesday in Alaska at Ted Stevens Anchorage International Airport hidden in a package of rotting goat intestines. Cenen Placencia, 71, was arrested on federal drug trafficking charges, according to a press release by Alaska State Troopers.
As Placencia prepared to board a Ravn Air flight to Kodiak, he allowed law enforcement agents to search his checked luggage, which was a fish box that weighed in at 47 pounds. The box was sealed with duct tape and tied with a rope.
"Investigators opened the contents of the frozen meat and located 10 slightly larger than golf ball-sized balls of duct tape inside the intestine of what Investigators believed to be a goat," wrote agent Adam Carron in an affidavit. "During further inspection, it was determined that inside of the duct tape wrapped balls were plastic bags containing what appeared to be heroin and methamphetamine."
When a drug-sniffing dog reacted to the scent of narcotics in the box, Placencia withdrew his consent and bought a ticket for a later flight.
Placencia told authorities he knew nothing about the drugs and was planning on eating the goat's intestines which he had allegedly purchased from a California rancher for $140. It was at that point that Placencia was arrested.
Troopers reported that 740 grams of heroin and 389 grams of methamphetamine were stashed within the goat intestines.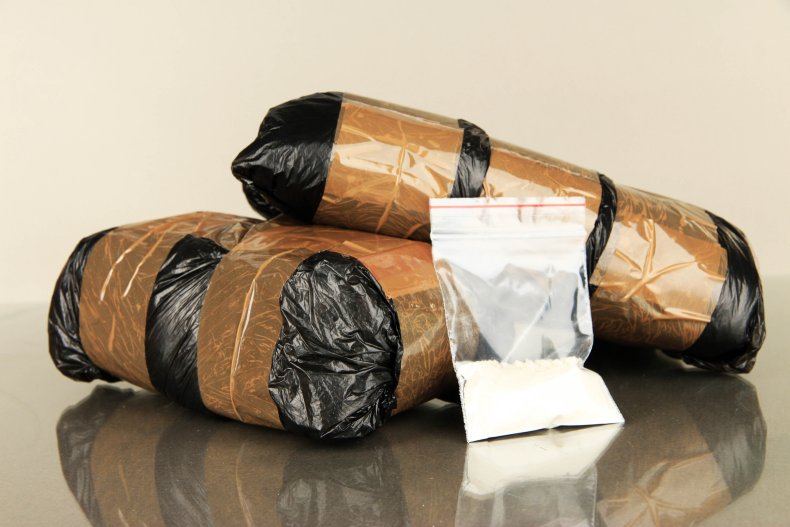 Since February, Placencia had been on the authorities' radar as a possible drug source in Kodiak.
After warrants were served at Placencia's home in March, 130 doses of meth and 2,470 doses of heroin were seized, along with $2,279 in what a Coast Guard Investigative Service special agent referred to as "drug proceeds."
Placencia was not arrested at the time, but in July, authorities were informed that Placencia had used the carcass of a lamb to move drugs into Kodiak from Anchorage.
Counting the drugs seized at Placencia's home in March with the narcotics seized at the airport, the estimated street value of the entire haul would be $400,000.
Livestock isn't the only kind of animal smugglers have used to move drugs from place to place.
Along with the Marine Corps, Mexican authorities found packages of cocaine inside the bodies of frozen sharks in 2009. Containers suspected of carrying illicit cargo were x-rayed. There was enough evidence from the radiographs to warrant examining the containers with drug-detecting dogs.
German customs officials arrested a Colombian woman in 2016 at a Frankfurt airport after she confessed to having over two pounds of cocaine hidden inside her recently obtained breast implants, according to Business Insider.
After the woman complained of severe stomach pain, airport officials noticed her fresh surgery scars. Doctors removed a plastic-wrapped 500-gram lump of cocaine from each one of her breasts.