Former NFL star Herschel Walker has criticized congresswoman Maxine Waters (D-CA) for saying she would "never forgive" Black Americans who voted for Donald Trump.
Earlier this week, Waters told The Joe Madison Show on SiriusXM she was flabbergasted by the prospect of Black voters backing the incumbent Republican.
"It just hurts me so bad to see Blacks talking about supporting Trump. I don't know why they would be doing it. I don't know why it is on their minds," she said.
"For those Black young men who think somehow they can align themselves with Trump, not only are they terrible mistaken, any of them showing their face, I will never, ever forgive them for undermining the possibility to help their own people and their own communities."
Walker, a long-time friend of Trump, hit back at Waters' comments, suggesting the reason parts of the Black electorate were shifting towards Trump was they felt let down by Democratic administrations at both federal and state levels.
"She's been in office for a long, long time. Have you seen her pass any laws for social justice? Have you seen her pass anything to make anything equal? I don't want to hear them [the Democrats] putting the blame on anyone else," he said during an appearance on FOX Business' Varney & Co. on Election Day.
"Now she is upset that people are starting to educate themselves and see policies that fit them. [...] So don't come here to me with this rhetoric right now.
"I want people to realize that the person that should be in office is someone who cares about America, someone who cares about the people and someone who's not going to try to put money in his pockets but put it in the people's pockets."
Walker subsequently retweeted the clip of his appearance on the show, captioning it: "Please forgive me for looking out for people of Color & America".
Throughout his first term, Trump has repeatedly been criticized for declining to condemn far-right groups such as the Proud Boys and self-proclaimed vigilantes such as Kyle Rittenhouse, the teenager who fatally shot two people when he opened fire on protesters demanding justice following the shooting of Jacob Blake in Kenosha, Wisconsin.
Conversely, the president has been an outspoken critic of NFL, NBA and MLB players kneeling during the national anthem to protest police brutality and racism, suggesting they were all disrespecting the flag.
Walker, however, has repeatedly dismissed suggestions the president is a racist, insisting he had simply been misrepresented by the media.
"I want America to know the truth. Donald Trump is not a racist," the 1982 Heisman Trophy winner told former OutKick host Clay Travis two weeks ago.
"It's tough because we have become so political today, and the worst thing that you can say to someone today is that 'he's a racist.' They take bits and parts of a speech and they try to make him a racist, and that's what's very, very sad to me and the reason I got involved."
Waters, meanwhile, looks set to win another term as representative for California's 43rd Congressional District. According to data from the New York Times, at the time of writing the incumbent Democrat had received 72.6 percent of votes with approximately 75 percent of the votes counted.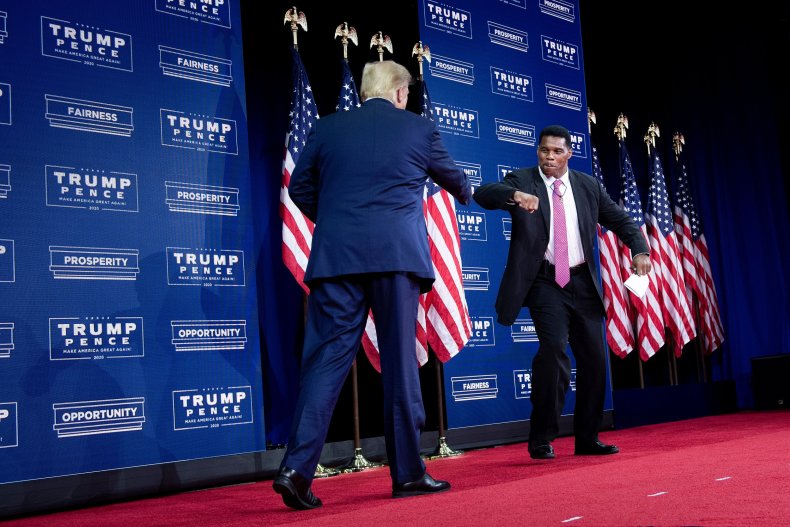 Uncommon Knowledge
Newsweek is committed to challenging conventional wisdom and finding connections in the search for common ground.
Newsweek is committed to challenging conventional wisdom and finding connections in the search for common ground.
About the writer
Dan Cancian is currently a reporter for Newsweek based in London, England. Prior to joining Newsweek in January 2018, he was a news and business reporter at International Business Times UK. Dan has also written for The Guardian and The Observer.