Former President Donald Trump has long supported Herschel Walker in running for a United States Senate seat in Georgia. Last week, Walker registered to vote in the Peach State.
Walker, who played college football at the University of Georgia and led the Bulldogs to a national championship and won a Heisman Trophy there, registered last Tuesday to vote in Georgia, according to the Associated Press.
Walker, who has been living in Texas, registered to vote in Georgia, which means he's a resident of that state now.
This comes just five months after Trump told members of his super PAC that he hoped Walker would run for the Republican seat in the 2022 election.
"Wouldn't it be fantastic if the legendary Herschel Walker ran for the United States Senate in Georgia?" Trump said in March. "He would be unstoppable, just like when he played for the Georgia Bulldogs, and in the NFL. He is also a GREAT person. Run Herschel, run!"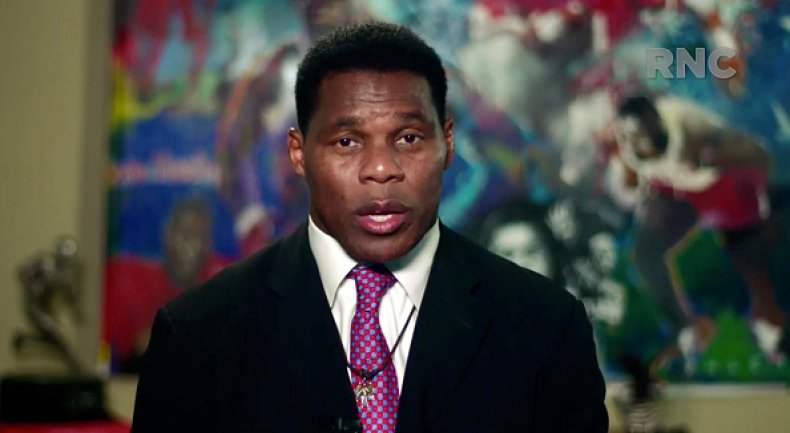 The current seat is held by Democratic Sen. Raphael Warnock, who won a hotly-contested special election over Kelly Loeffler last fall. Two Senate races in Georgia went to runoffs last fall, ultimately winning Democrats both seats and control of the Senate. Jon Ossoff won the other Senate seat, which expires in 2027.
Warnock's term ends in January 2023, which means he will be up for election next year. Republicans in Georgia had hinted at Loeffler-Warnock rematch, but Trump's encouragement of Walker to run could bring more GOP energy to a Walker-Warnock race.
It's not like a Trump-Walker relationship development happened in thin air. They met in the early 1980s when Trump was owner of the New Jersey Generals of the now-defunct United States Football League (USFL) and Walker was one of the most-coveted college players.
The USFL may have dissolved in a quick time, but Walker and Trump became good friends at the time, both on and off the field.
"I have known Donald Trump for 37 years. And I don't mean we just casually ran into each other from time to time. I'm talking about a deep personal friendship," Walker said.
Walker said he recognized other characterizations of Trump that stuck with him through the years.
"I watched him treat the janitors, security guards and waiters the same way he would treat a VIP. He made them feel special because he knew they were. He understands that they are the people who make this country run. They clean. They cook. They build. They drive. They deliver. He told me, 'Herschel, make an effort to get to know people. Remember their names,'" Walker said.
During the presidential campaign of 2020, as Trump ran for reelection against Democratic challenger Joe Biden, Trump was constantly called a "racist," in which Walker said he was personally "insulted" by the remark against Trump.
"He's the best guy to be the leader for this country, and I wanted people to know the truth. I'm not getting paid, and I'm not getting anything from it, I just love America and want America to know the truth," Walker said at the time.
Walker was a guest speaker at the 2020 Republican National Convention last year, speaking for far-right conservatives and supporting Trump. Walker also supported Loeffler in last year's Senate race.
About the writer
Scott McDonald is a Newsweek deputy night editor based in Cape Coral, Florida. His focus is assigning and writing stories across all topics, from news to politics, business, weather, sports and international news. Scott joined Newsweek in 2018 after a lengthy career of print journalism in Texas, including The Dallas Morning News, where he was a sportswriter, and he's a voter for the Heisman Trophy. He has been a newspaper editor-in-chief and also a newspaper publisher. He is a graduate of The University of Texas at Austin. You can get in touch with Scott by emailing s.mcdonald@newsweek.com. Languages: English